We believe that sustainability is about not just reducing impact, but driving forward cleaner, more environmentally-friendly innovation for the future. Travel is a fundamental part of what it means to be human, enabling more access, connection, and experiences across the globe. Travel is essential to sustainable development.
That's why we chose to incorporate sustainability from day one of founding. Our aircraft will be designed for net zero carbon flight because we believe faster travel and sustainability must go hand-in-hand.
From the design, assembly, performance, and even retirement of our aircraft, we lead with a supersonic commitment to sustainability.
Here is our promise for the future of travel.
Overture, the world's fastest airliner, will be sustainable.
Design: Overture's design will feature modern turbofan engines, advanced composites, and use state of the art computational aerodynamic analysis to maximize efficiency and minimize noise. Overture will not have afterburners.
Assembly: Every Overture will be assembled in a LEED-certified production facility, leveraging clean electricity generation and waste-minimizing production practices.
Performance: Overture is being designed to run entirely on sustainable aviation fuels, and together with high-quality offsets, achieve net-zero carbon flight. We are designing our aircraft to minimize community noise impacts.
Retirement: Overture will be designed with repurposing and recycling in mind.
We're well on our way to delivering on this commitment.
Design: High performance design translates to greater fuel efficiency. We're all in on the AWS cloud so we can run thousands of advanced computer simulations in a matter of hours, instead of weeks or days. These rapid iterations allow us to optimize aerodynamic efficiency down to every millimeter of design.
Assembly: Just like our supersonic demonstrator XB-1, Overture will be built with resource efficiency in mind. We're planning for waste-minimizing production now, through the material selection, sourcing, and certification involved during the design phase.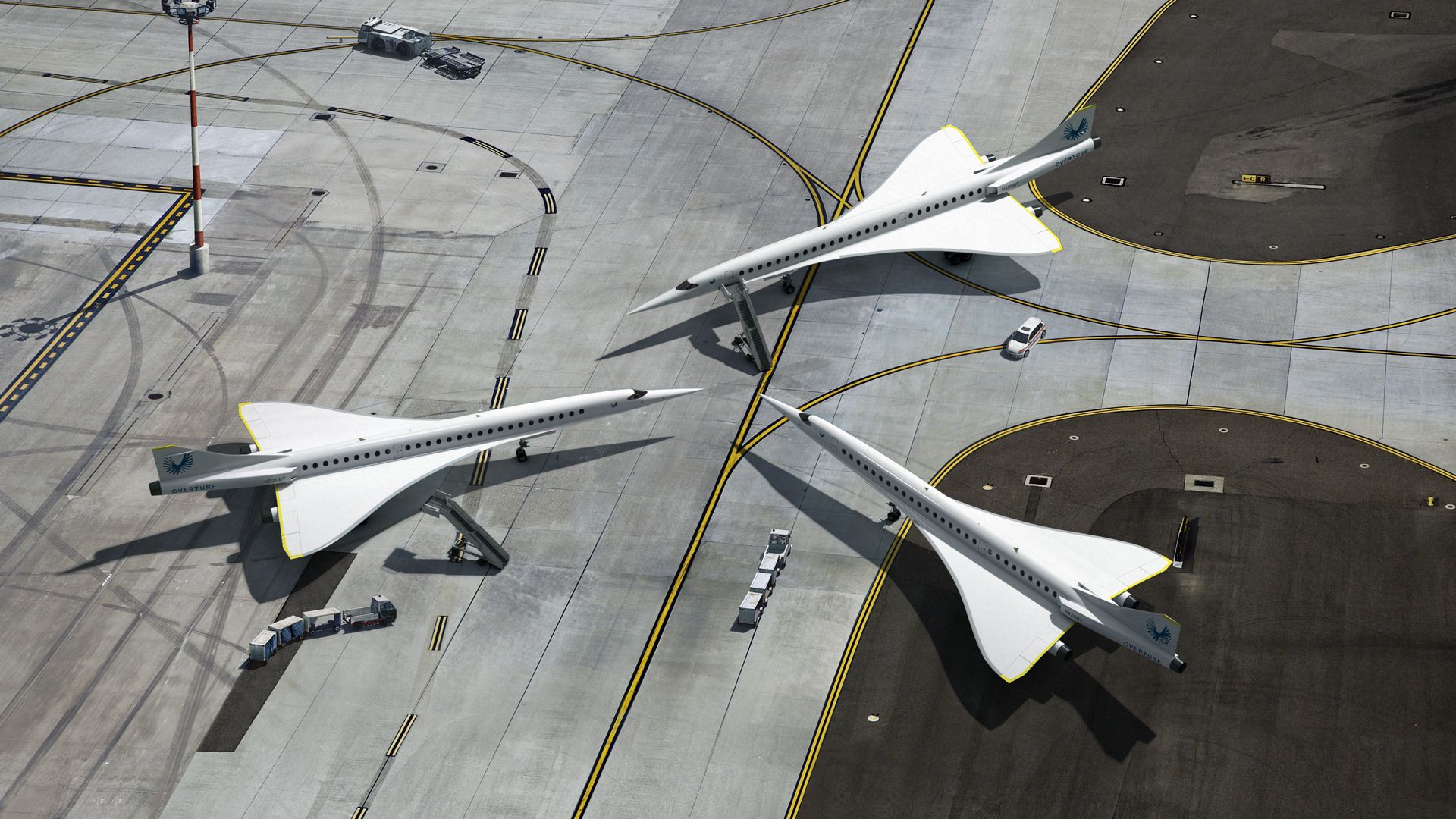 Performance: We work with both Rolls-Royce and Collins Aerospace today to maximize the efficiency and minimize fuel burn of Overture's propulsion system. Through our partnership with Collins, we're reducing nacelle weight and innovating on fan- and jet-noise-reducing technologies. Our engine program with Rolls-Royce is supporting our ability to maximize Overture's fuel efficiency and leverage the latest emissions-reducing innovation.
Retirement: Our commitment to building a recyclable airliner begins in design. Today, our review of materials, parts and fluids, certification, and even disassembly ensure we can maximize how much of Overture can be recycled.
Most excitingly, we've done this before.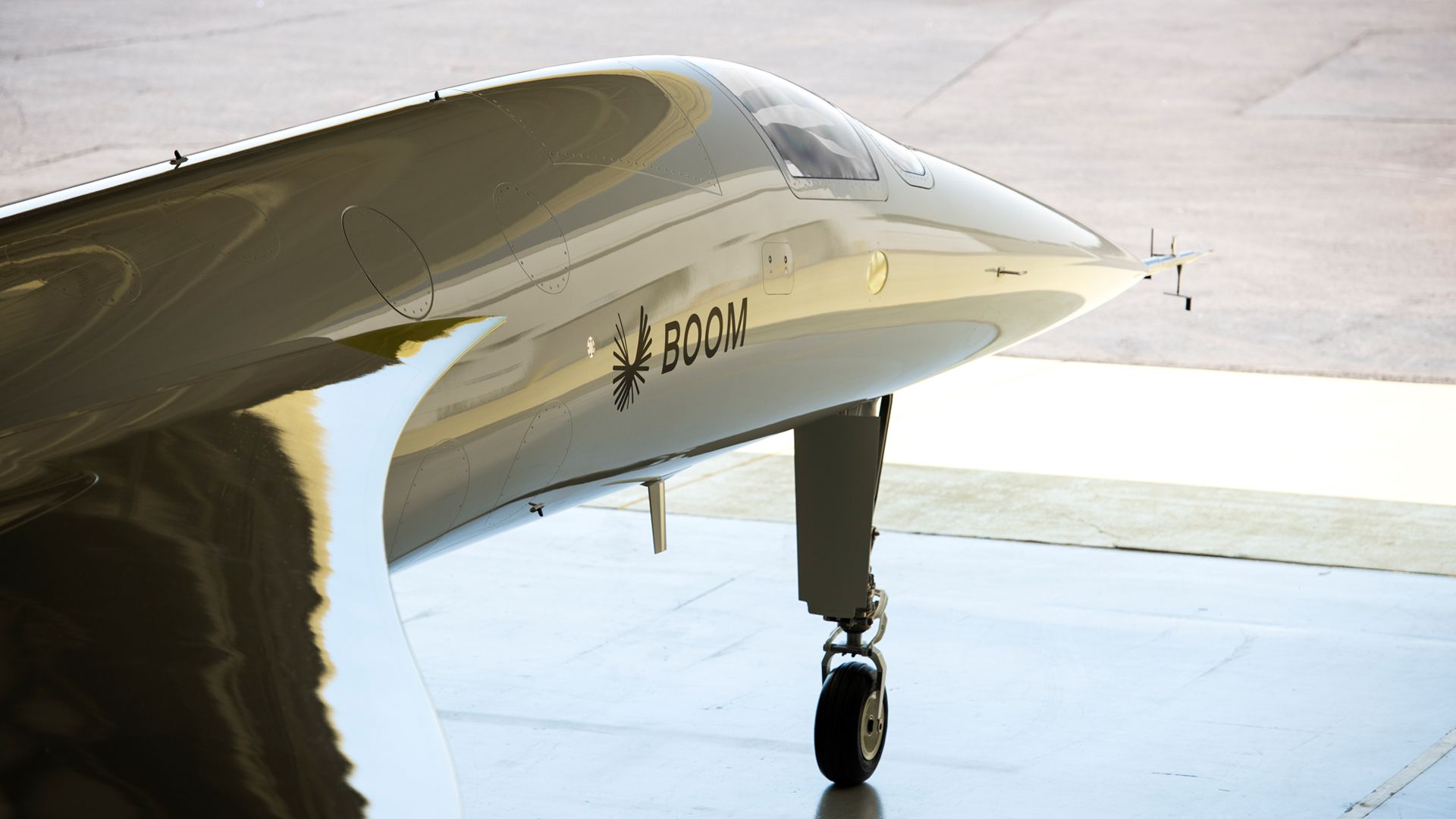 We're able to build sustainability into Overture, because we've already had practice on XB-1. Our supersonic demonstrator has provided valuable learnings for the future of sustainable aircraft development.
Design: We used more than 53 million compute hours on AWS to design XB-1 to ensure the shape was optimized for fuel-efficient operation.
Assembly: XB-1 was designed and built at our hangar in Denver. We leveraged advanced prototyping techniques with Stratasys, repurposed tooling, and defined our process for resource minimization.
Performance: Data gained from XB-1 testing have laid the foundation for optimizing fuel-efficiency on Overture, and XB-1 offered us practice in designing an airplane that performs both efficiently at supersonic speeds and safely at low subsonic speeds.
Looking forward
We are committed to making the world not just closer and more accessible, but a better place for future generations. In the words of Founder & CEO Blake Scholl: "Travel is a fundamental good for humanity. A planet where we can sustainably go more places, more often is a better place to live."