PARTNERS
Building the supersonic future
We believe in a supersonic future built on speed, safety, and sustainability. Our partners, suppliers, and collaborators are part of this mission and driving a future of mainstream, high-speed flight.
Supersonic airlines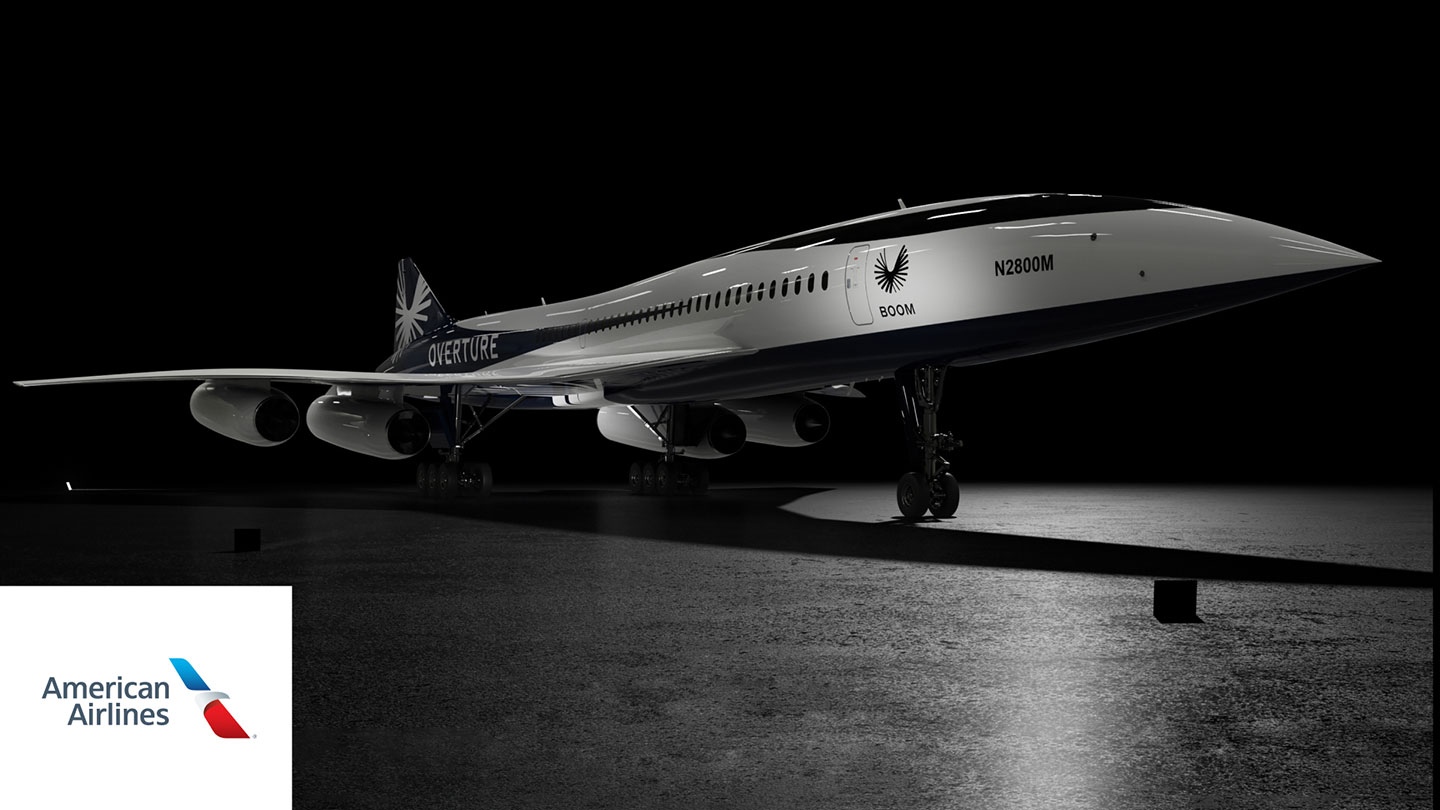 American Airlines
American, the world's largest airline, is poised to have the world's largest supersonic fleet with new Boom Supersonic aircraft.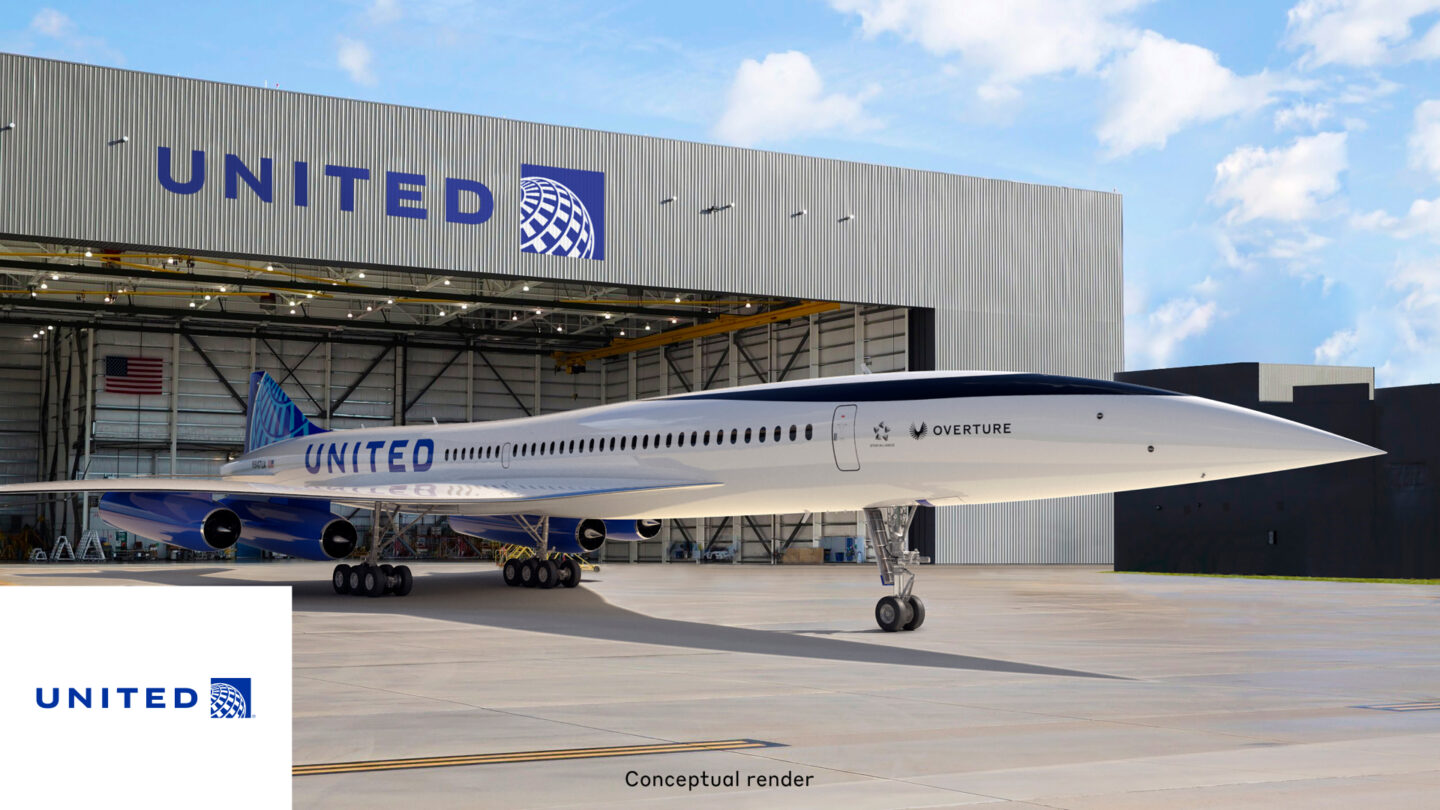 United Airlines
United will purchase 15 of Boom's Overture airliners, once Overture meets United's demanding safety, operating and sustainability requirements, with an option for 35 more aircraft. All aircraft will fly on 100% sustainable aviation fuel (SAF), subject to available supplies, and flights will be net-zero carbon, making United the first U.S.-based carrier to invest in more sustainable supersonic travel.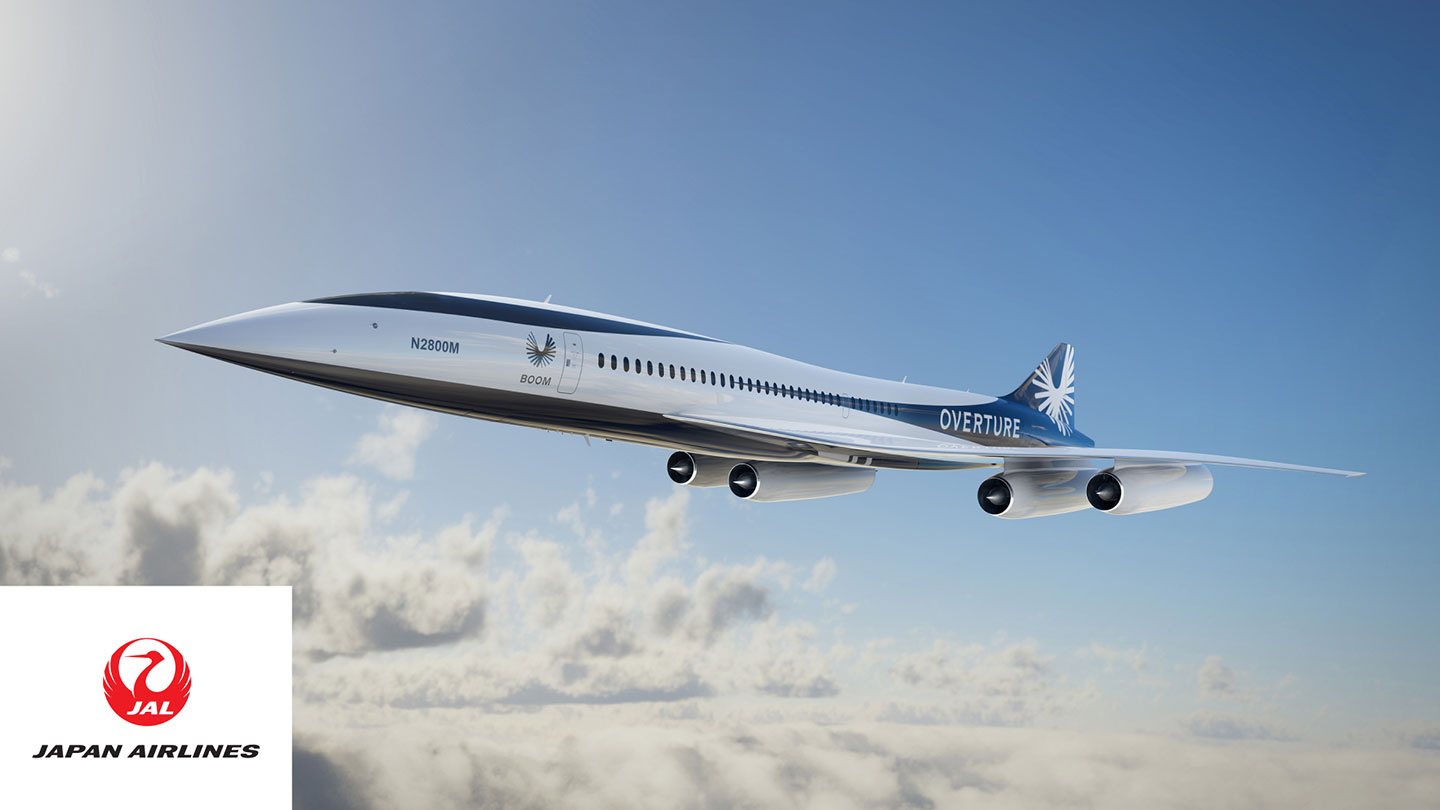 Japan Airlines
In 2017, Boom and Japan Airlines (JAL) formed a strategic partnership aimed at bringing supersonic travel back to passengers. As a strategic investor, JAL collaborates with Boom to refine the aircraft design and help define the passenger experience for supersonic travel. JAL has the option to purchase up to 20 Overture aircraft through a pre-order arrangement.
High-speed government transport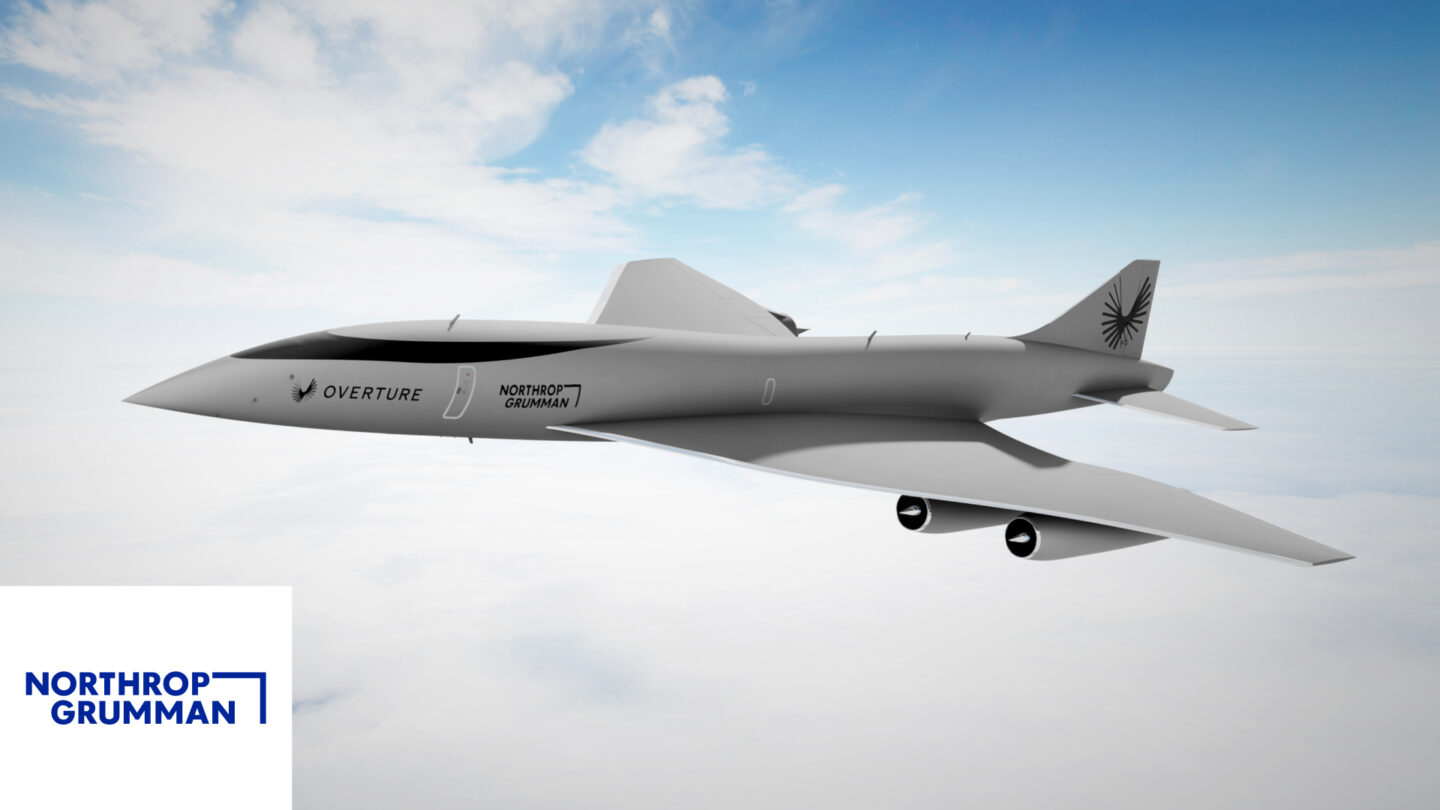 Northrop Grumman
We are exploring a partnership with one of the world's leading military technology providers to optimize Overture for government and military missions that require speed for success. This strategic partnership unlocks new opportunities for special supersonic use cases in the U.S., UK, Australia, and parts of Asia.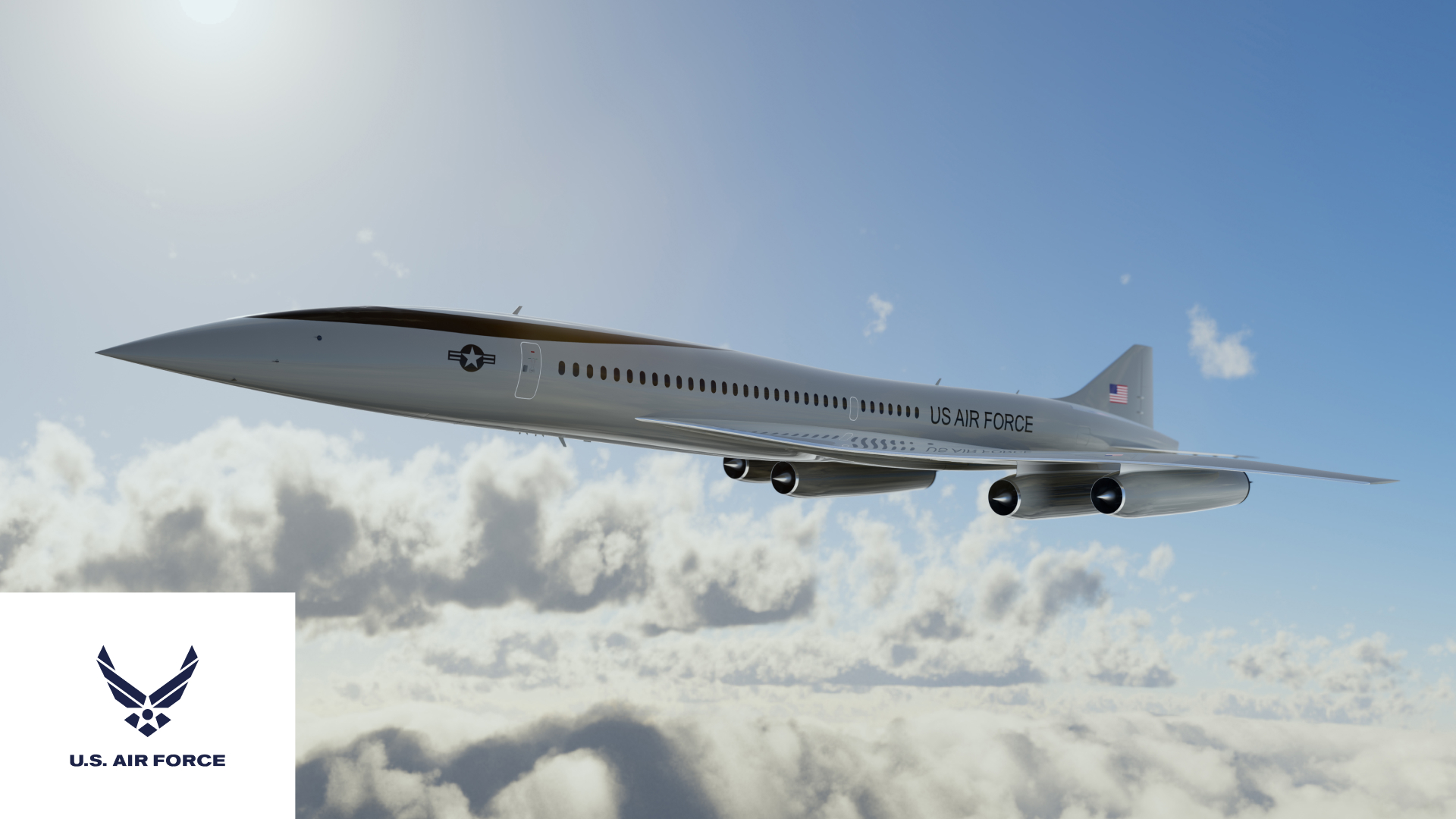 U.S. Air Force
We're exploring an Overture configuration to support the United States Air Force. Providing a unique combination of speed, capacity, and power to the United States, Overture will allow diplomats and leaders to connect more frequently in person.
"The United States Air Force is constantly looking for technological opportunities to disrupt the balance of our adversaries. We're extremely excited to team with them as we work to shrink the world and transform the future of executive airlift."

Brigadier General Ryan Britton

PROGRAM EXECUTIVE OFFICER FOR PRESIDENTIAL AND EXECUTIVE AIRLIFT DIRECTORATE
Supersonic suppliers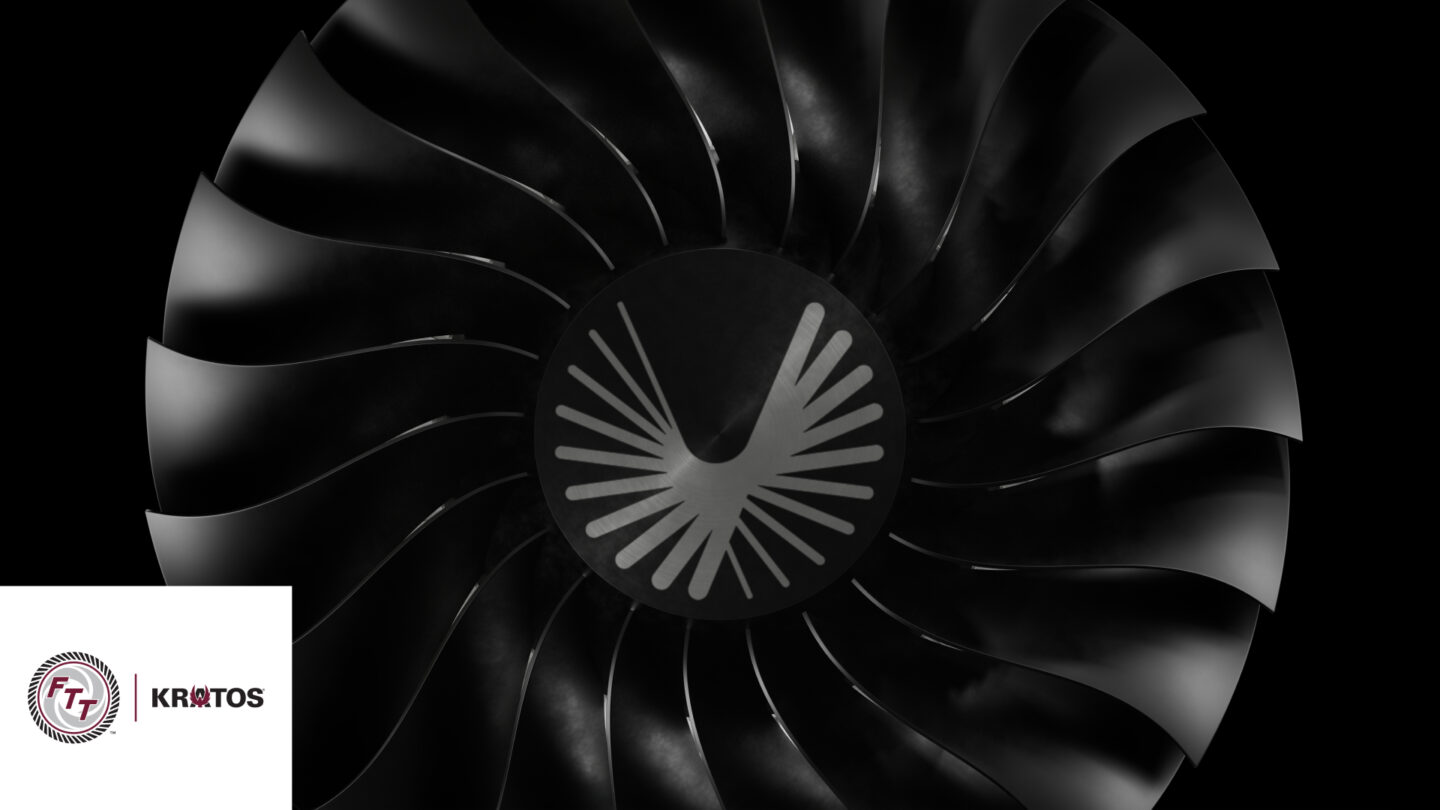 Florida Turbine Technologies (FTT)
Boom has selected Florida Turbine Technologies, a business unit of Kratos Defense & Security Solutions, as its engine design team. FTT has leading supersonic engine design expertise, including key engineers among the team responsible for the design of the F-119 and F-135 supersonic engines that power the F-22 and F-35.
"The team at FTT has a decades-long history of developing innovative, high-performance propulsion solutions. We are proud to team with Boom and its Symphony partners to develop the first bespoke engine for sustainable, economical supersonic flight."

Stacey Rock

PRESIDENT OF FLORIDA TURBINE TECHNOLOGIES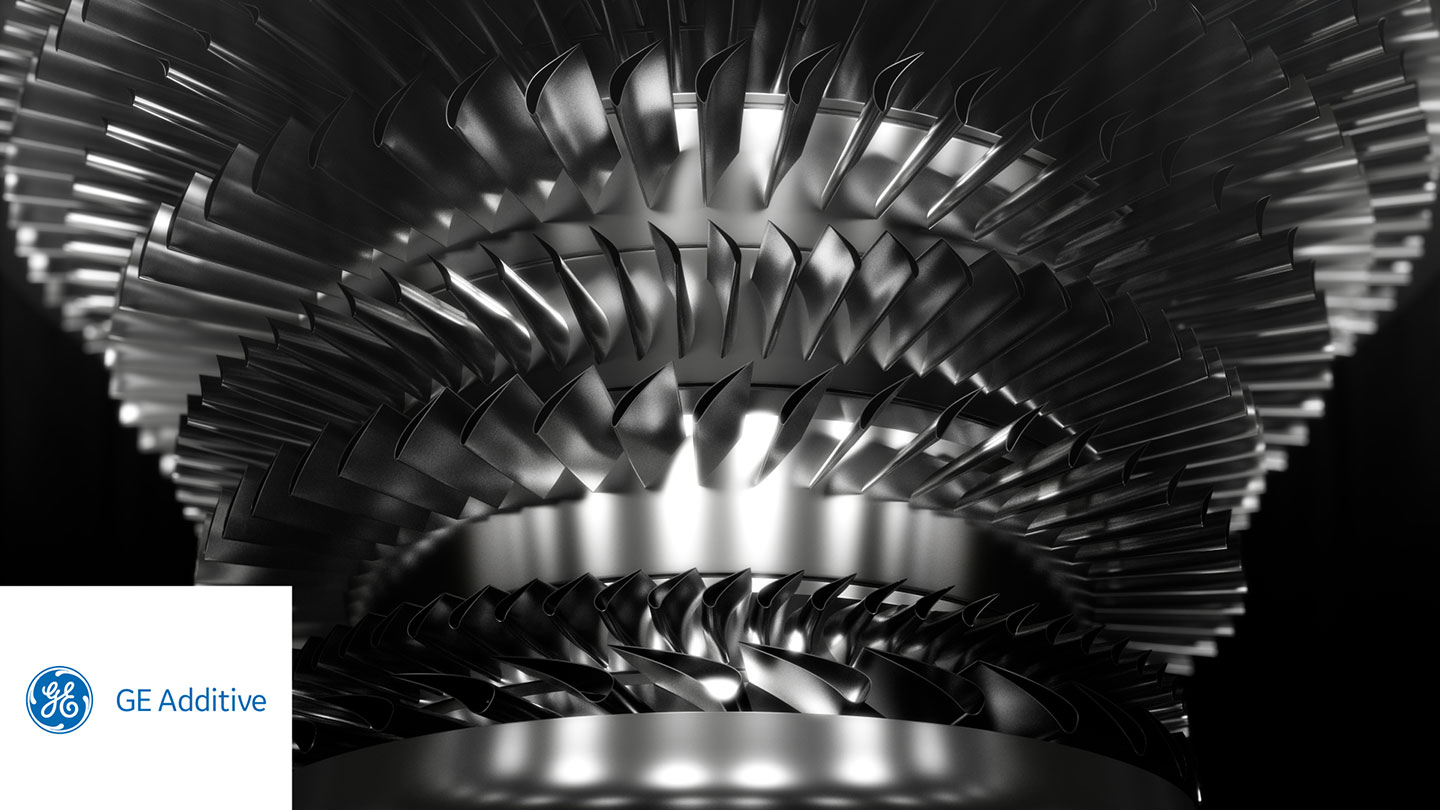 GE Additive
GE Additive will be collaborating on the Symphony program. Symphony will leverage GE Additive's proven track record of manufacturing and certifying additively manufactured engine components, enabling more streamlined development, reduced weight, and improved fuel efficiency.
"We are excited to support Overture and Symphony. GE Additive will bring industry-leading capabilities to Symphony, providing additive manufacturing design consulting and technology, while looking for additional areas to potentially collaborate."

Chris Schuppe

GENERAL MANAGER ENGINEERING AND TECHNOLOGY AT GE ADDITIVE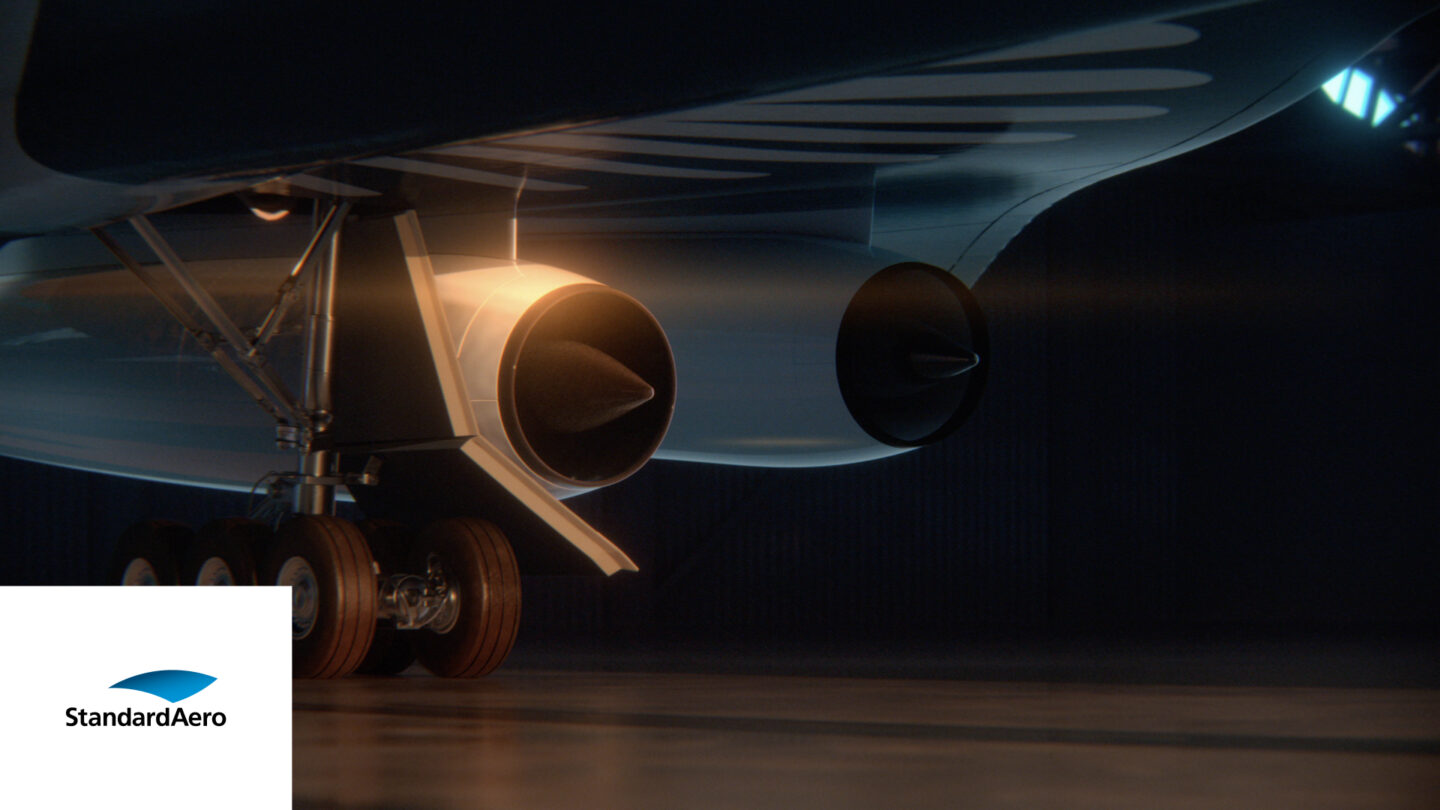 StandardAero
StandardAero, one of the aerospace industry's largest independent maintenance, repair, and overhaul (MRO) providers will ensure that Symphony is designed for maintainability. Boom's collaboration with StandardAero aims to deliver reliable and economical operations for the life of the aircraft. Boom will also benefit from StandardAero's experience as an assembler of supersonic engines.
"We are excited to team with Boom as its strategic engine MRO partner and the opportunity to contribute to the company's bright future, ensuring its aircraft will receive the industry's finest engine MRO services. Our current qualifications, capabilities and experience assembling and servicing supersonic military jet engines makes us the intelligent solution for future commercial, supersonic engine MRO applications."

Russell Ford

CHAIRMAN & CEO OF STANDARDAERO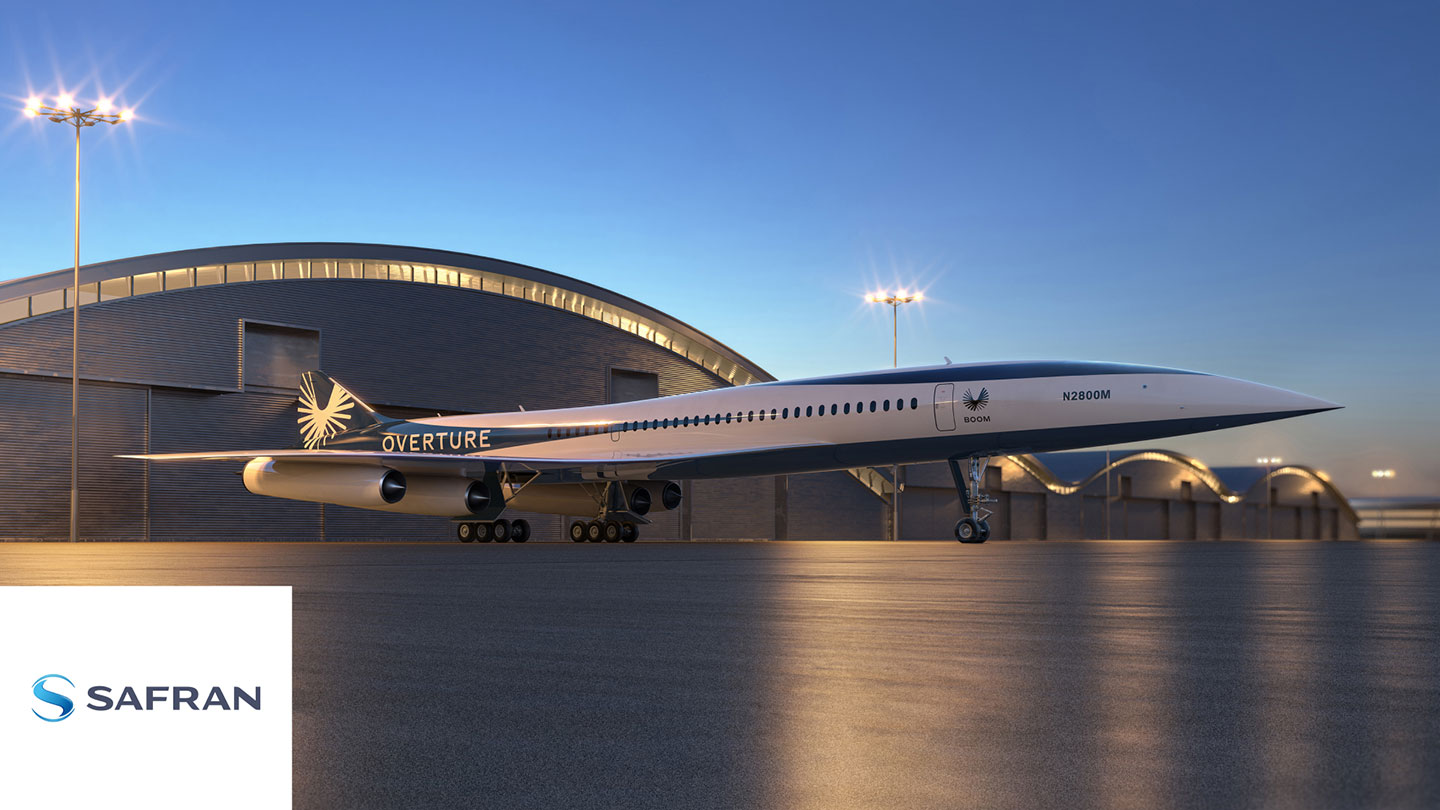 Safran
Safran is a leader in landing systems, working with nearly 27,800 aircraft worldwide. Now, we will work with Safran to advance Overture's landing system technology while improving safety standards and reducing aircraft noise.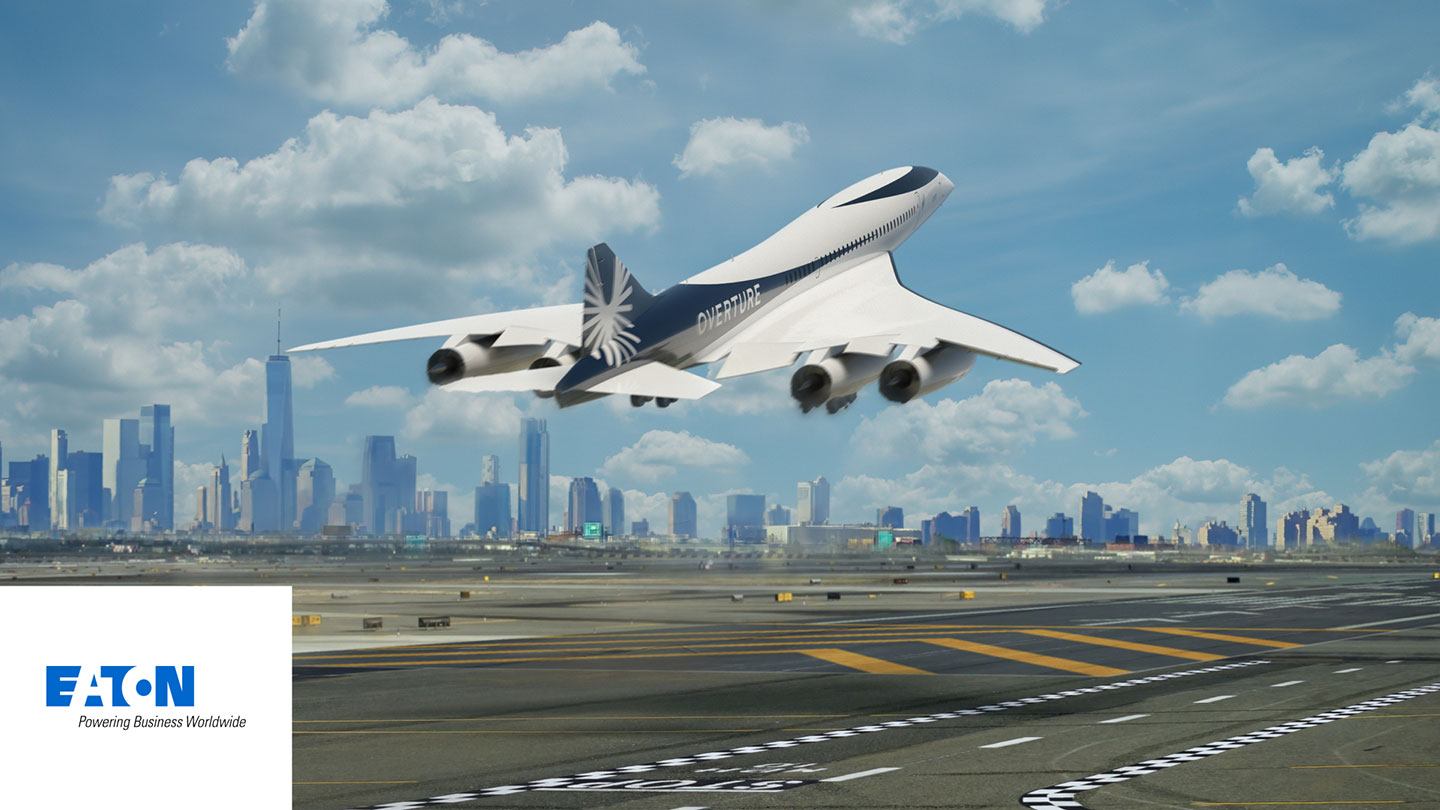 Eaton
Our partnership with Eaton Aerospace will exercise efficiency in the design for Overture fuel and inerting systems while maintaining top safety standards in build and operation. Eaton's in-depth knowledge of fuel systems will contribute to the safety, efficiency and sustainability of the supersonic airliner.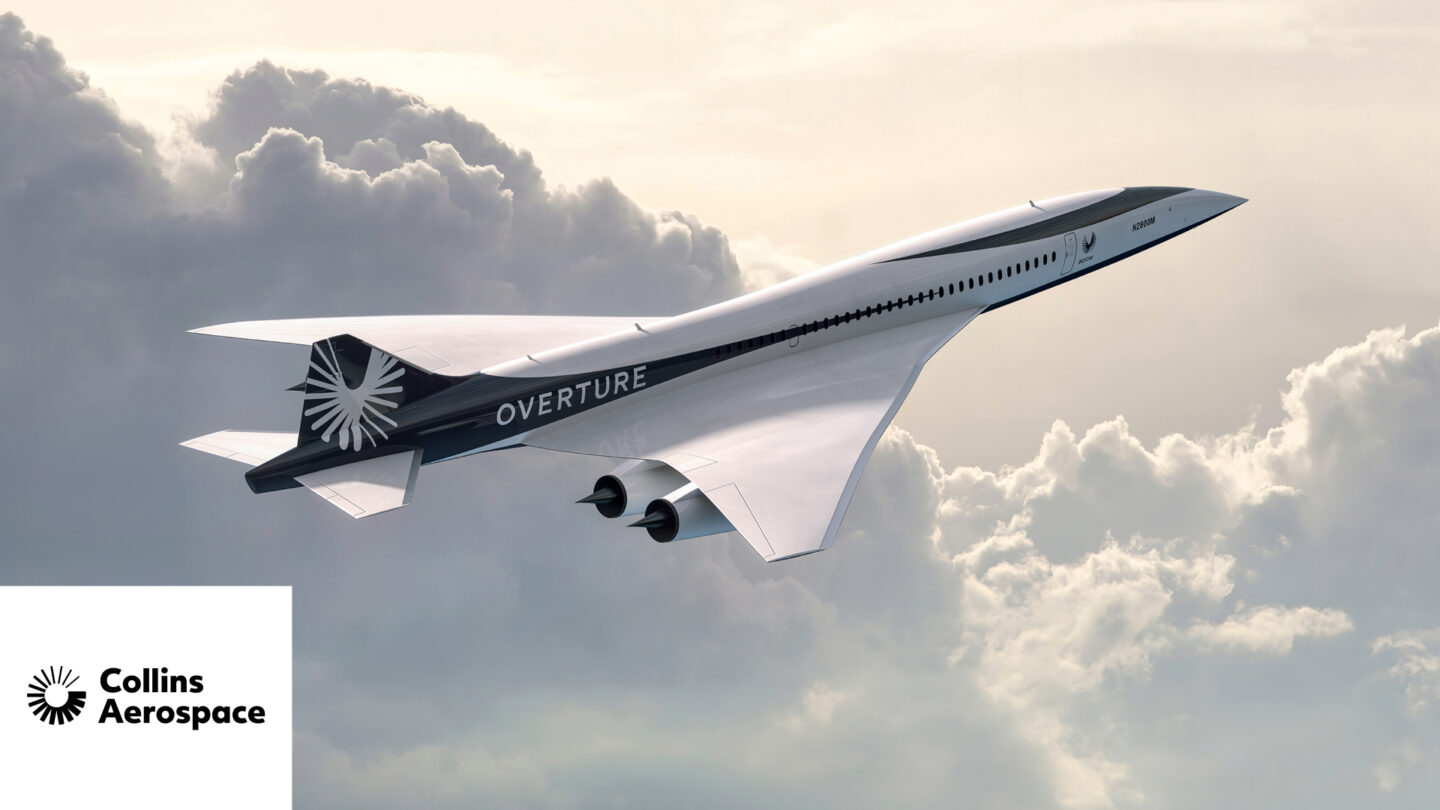 Collins Aerospace
Collins and Boom are collaborating on the Ice Protection and Air Data Systems for Overture.
"Through improved acoustics and lightweight materials systems, we can provide the next generation of supersonic propulsion systems with the nacelle technologies that not only enable higher performance and lower fuel burn, but also quieter operation."

Marc Duvall

COLLINS AEROSPACE AEROSTRUCTURES PRESIDENT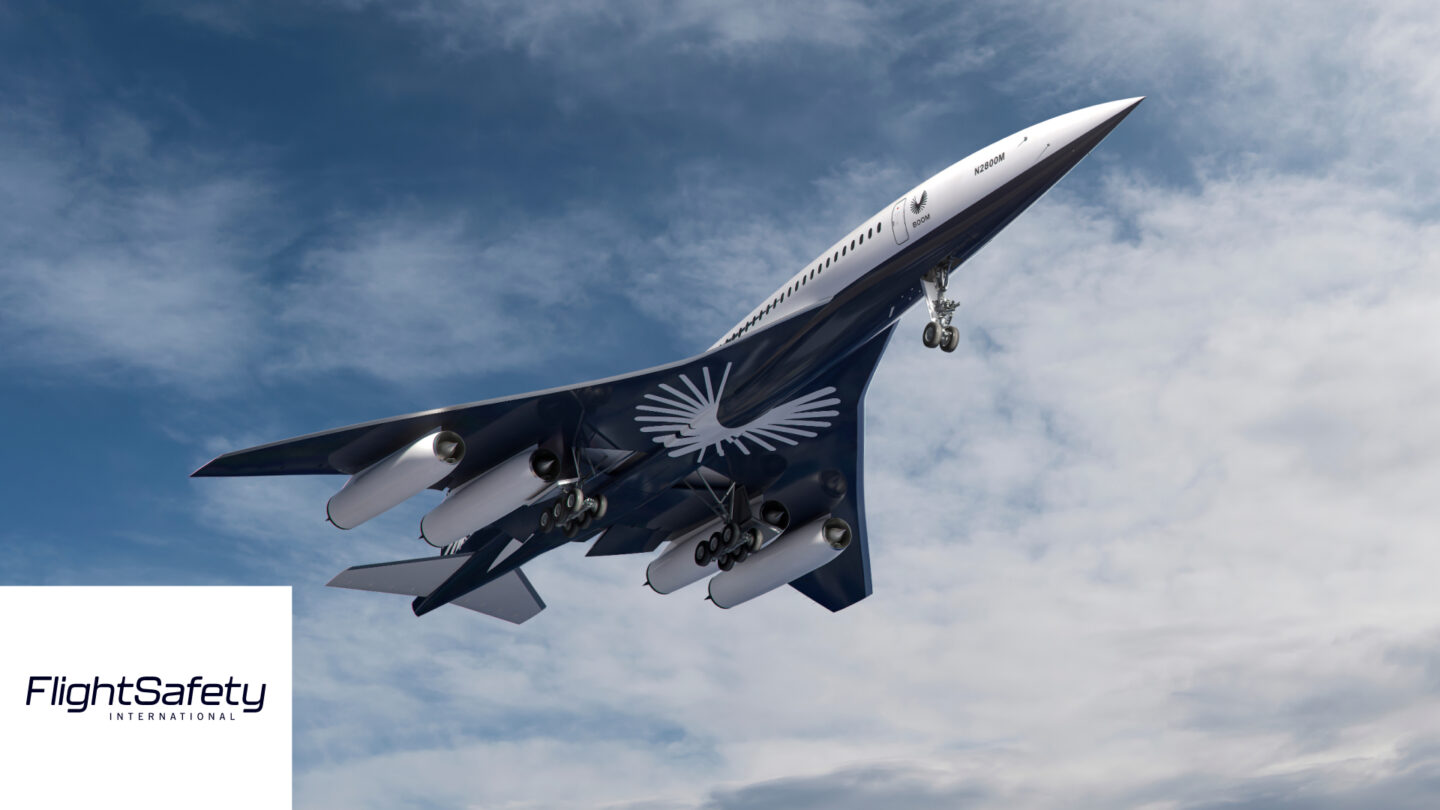 FlightSafety International
The exclusive partner for Overture supersonic flight training and education is FlightSafety International (FSI). FSI is the premier professional aviation training company and supplier of flight simulators to the world's leading commercial aircraft manufacturers and operators.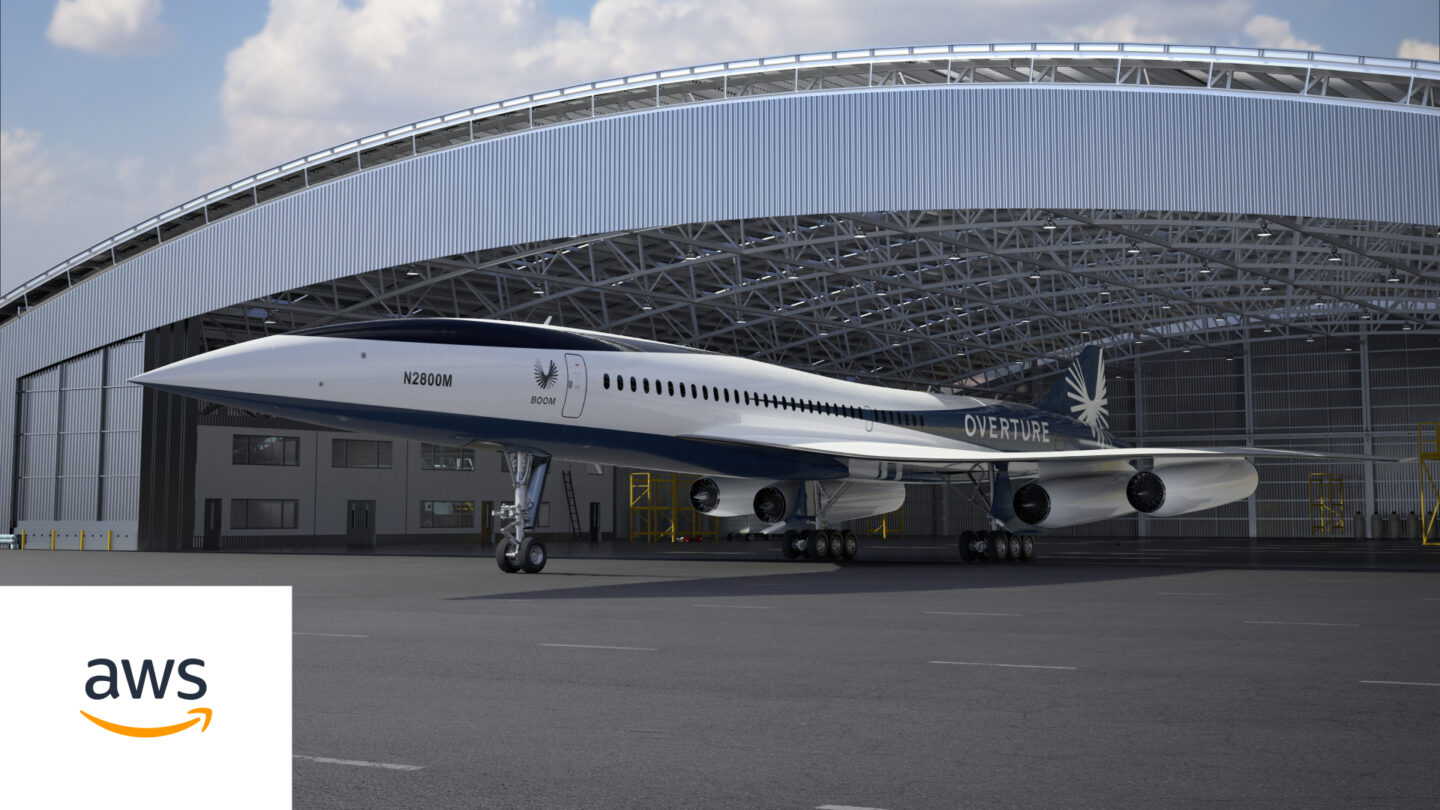 Amazon Web Services
High-performance computing is key to the next generation of supersonic aircraft design. Collaboration with AWS allows us to rapidly iterate and refine design without compromise, so we can deliver a superior flight experience.
"We are thrilled to be collaborating with Boom to leverage the cloud to launch the next era of travel. By going all-in on AWS, Boom can innovate without bounds and more quickly than was previously possible, to make the world more accessible to everyone."

Teresa Carlson

VICE PRESIDENT, AWS WORLDWIDE PUBLIC SECTOR AND REGULATED INDUSTRIES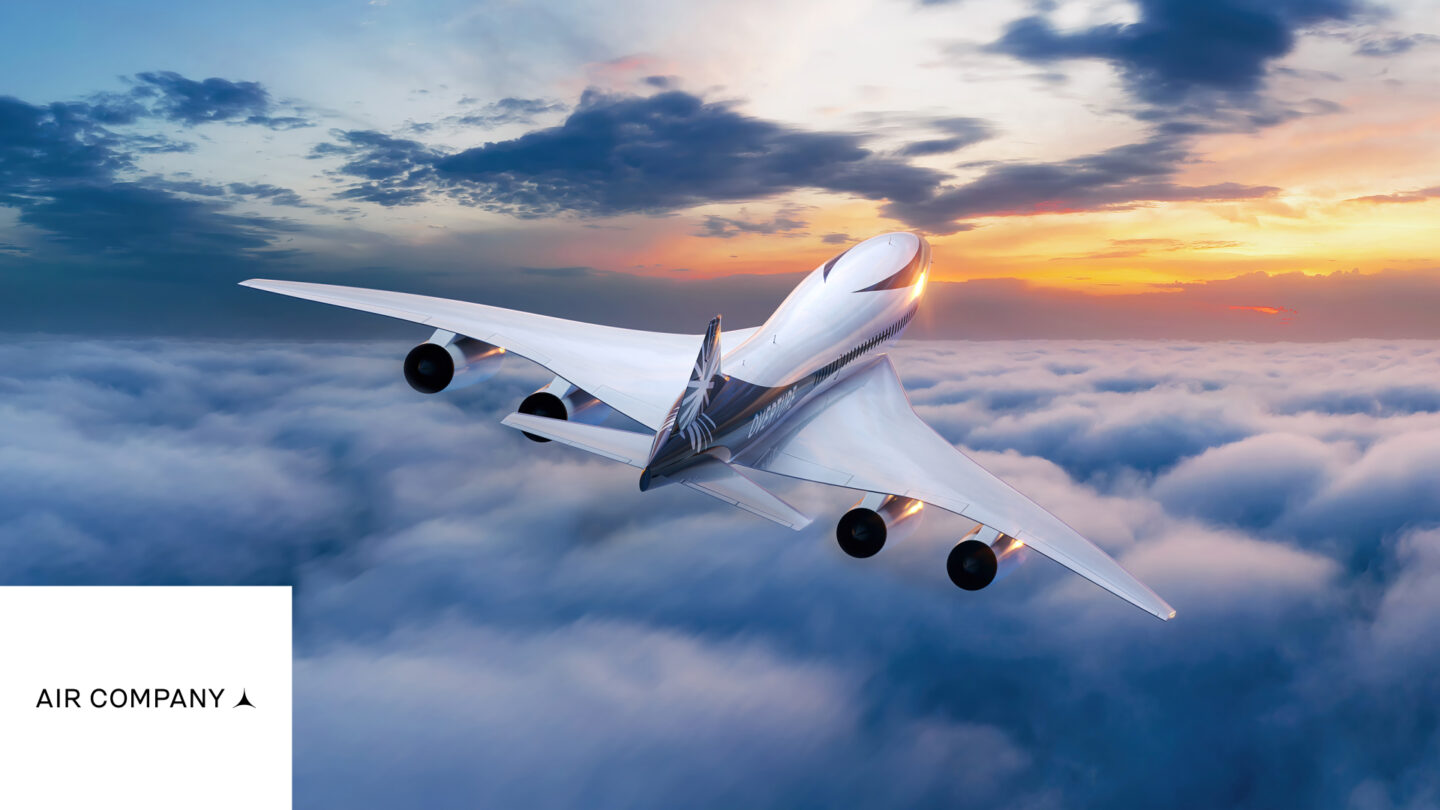 AIR COMPANY
Advancing our net zero commitments, Boom will purchase up to 5 million gallons of AIRMADE™ SAF on an annual basis over the duration of the Overture flight test program. A carbon-neutral jet fuel made from CO2, AIRMADE™ SAF turns the planet's most abundant pollutant into a never-ending resource by transforming captured CO2 into sustainable aviation fuel (SAF).
"Working with Boom Supersonic to offer the first commercially available power-to-liquid SAF has been an incredible marriage of two forward-thinking companies, ready to improve the world in which we live and fly. We look forward to a long partnership and are excited to share more innovation as the relationship continues."

Gregory Constantine

CEO OF AIR COMPANY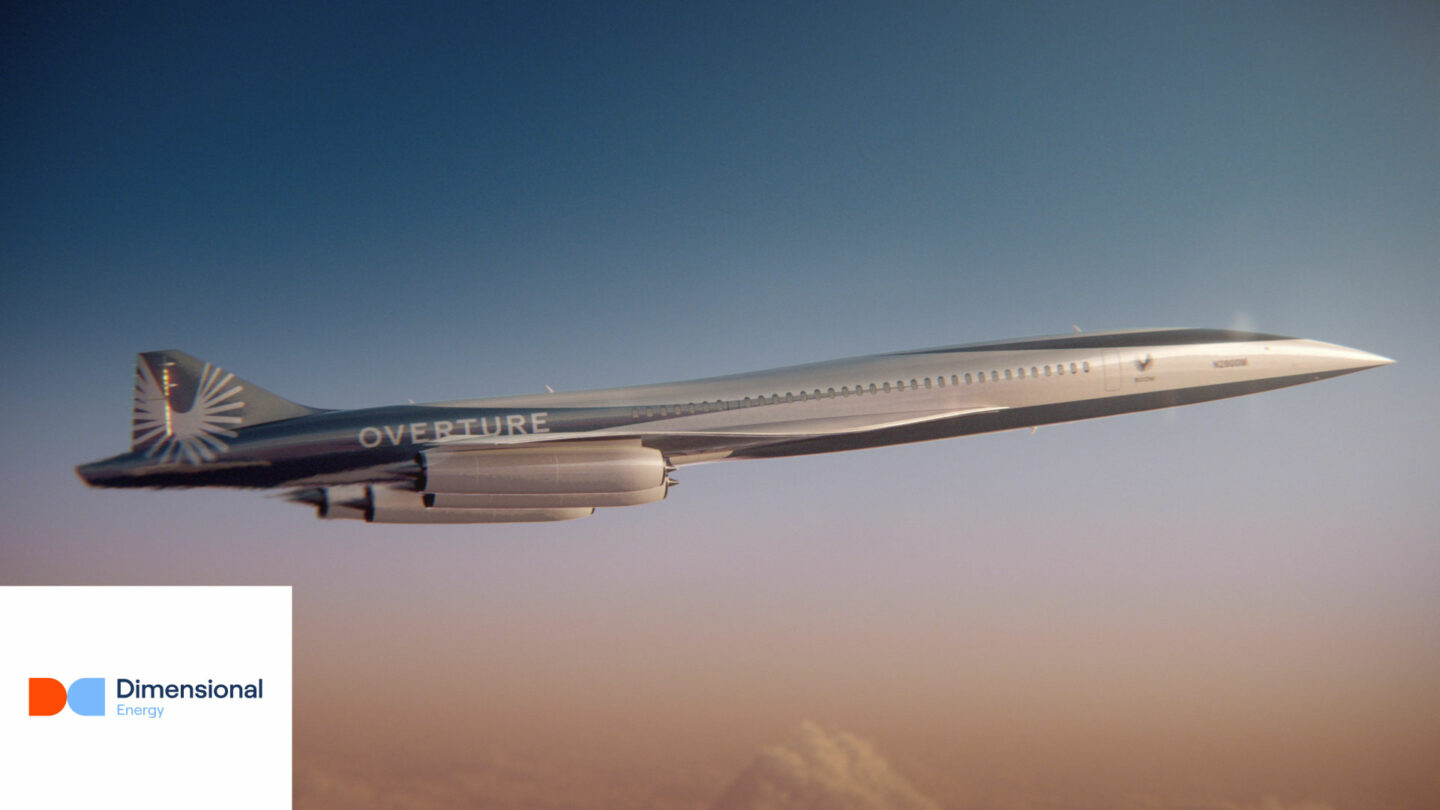 Dimensional Energy
As a leader in power to liquid SAF technology and production, Dimensional Energy produces carbon neutral fuels and products by recycling carbon dioxide. We are partnering on a sustainable aviation fuel (SAF) offtake agreement to purchase up to 5 million gallons of SAF on an annual basis over the duration of the Overture flight test program.
"Boom and Dimensional Energy share a vision for the future of sustainable aviation. Overture has the potential to completely transform how we experience the world, and we are excited to play a critical role in its net zero flight test program, and beyond."

Jason Salfi

Dimensional Energy CEO and Co-Founder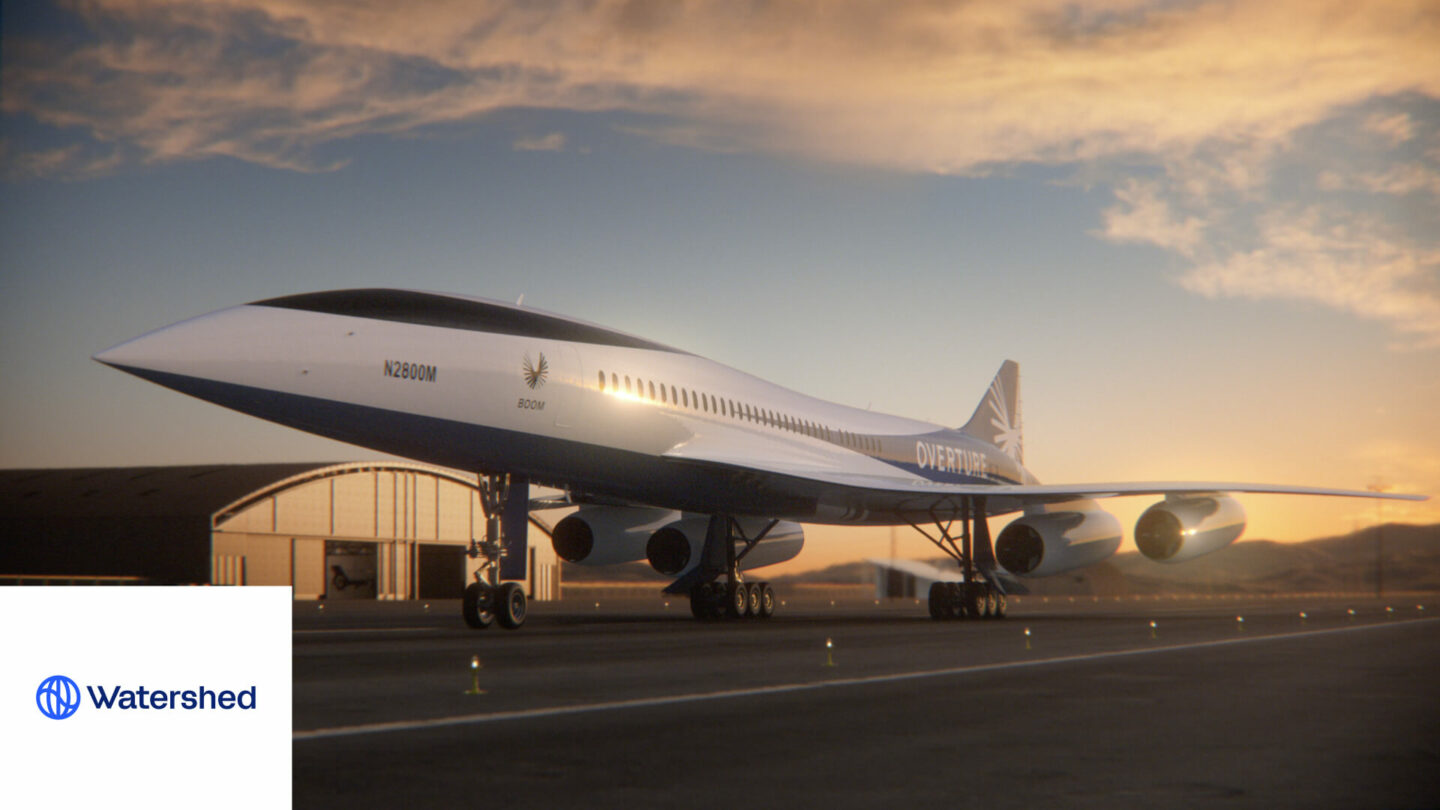 Watershed
We partnered with Watershed to track and mitigate carbon output in taking another step toward our commitment to net zero by 2025. We are also participating in the Frontier program through our partnership with Watershed to accelerate permanent carbon removal solutions from direct air capture to enhanced weathering.
"Our unprecedented partnership with Frontier means that companies of all sizes will be able to meaningfully buy in to the most promising permanent carbon removal pathways – paving the way for a thriving sector whose success is critical to hitting climate goals. This is the next phase in Watershed's mission to help companies across sectors, geographies, and scales uplevel their climate ambition. We're excited to lead the way alongside Frontier and our customers to spearhead the future of carbon removal technology."

Christian Anderson

WATERSHED CEO AND CO-FOUNDER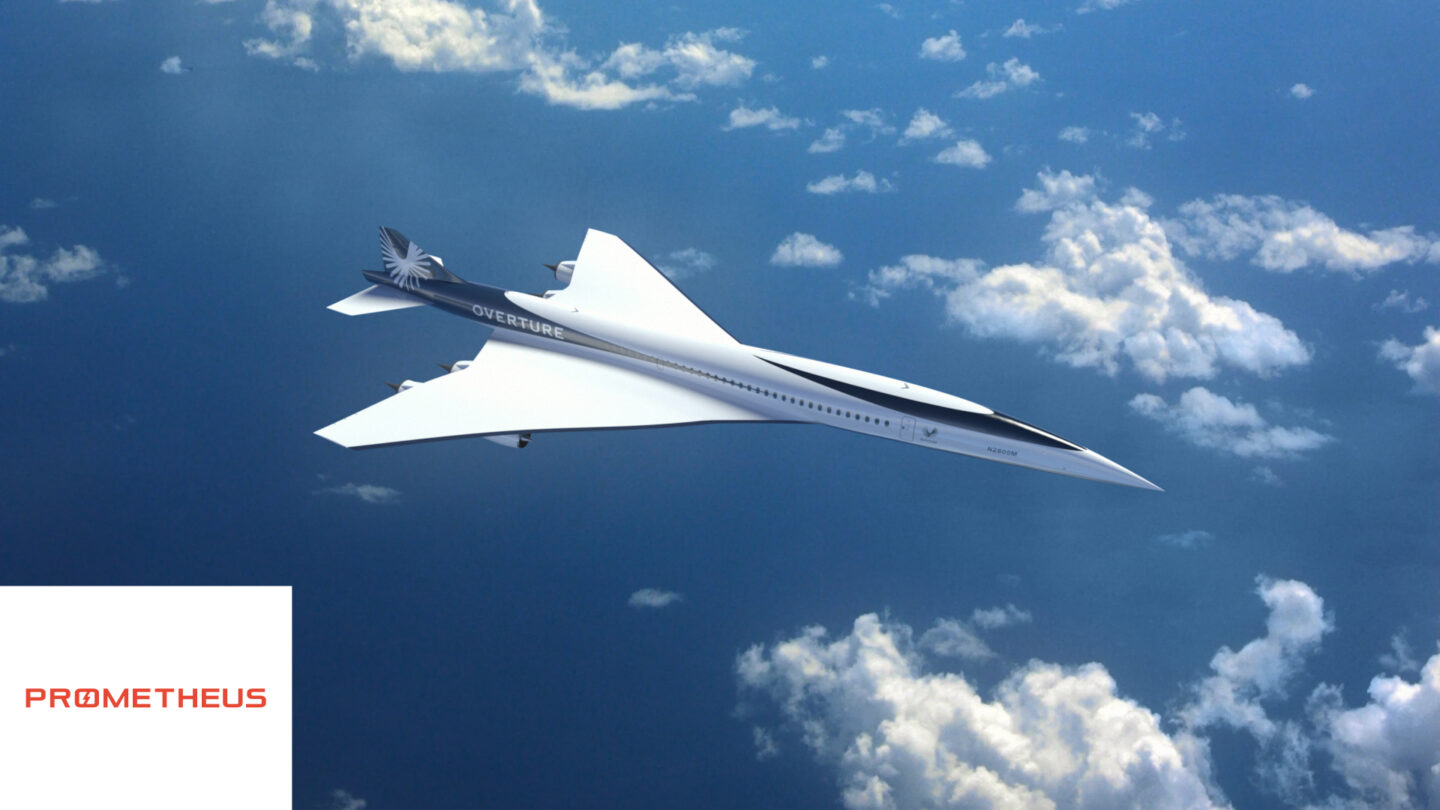 Prometheus
Overture is designed to operate on 100% SAF and will be net-zero carbon on every flight. As a company, we've committed to net-zero carbon and encourage our partners to achieve the same. Toward this goal, Boom has partnered with Prometheus Fuels, a leader in replacing fossil fuels with net-zero carbon fuel made from CO2 in the air. Prometheus' unique process uses renewable energy and eliminates the need for distillation, enabling them to produce zero net carbon synthetic fuel at a price that can compete with fossil fuels.
"We believe it's possible to solve global warming with innovation, and to push human achievement higher and faster while we do it. We're proud to partner with Boom to do just that."

Rob McGinnis

PROMETHEUS FOUNDER AND CEO