Aircraft manufacturing facilities can't be located just anywhere. And supersonic manufacturing facilities, well they really can't be located just anywhere.

Following a yearlong search, Boom celebrated its selection of the Piedmont Triad International Airport in Greensboro, North Carolina as the site of its new manufacturing facility, the Overture Superfactory.

At this state-of-the-art facility – located in the U.S. Southeast near the Atlantic coast – Boom will produce and assemble Overture, its supersonic commercial airliner. Overture will carry 65 to 88 passengers and is capable of flying on 100% sustainable aviation fuel (SAF) at twice the speed of today's fastest passenger jets.

So why North Carolina?

For one, it's a state steeped in aviation history. From the Wright Brothers flying first to Luther Paul flying a twin-rotor helicopter to Thomas Davis founding Piedmont Airlines, Boom is honored to be a part of a group of innovators who made waves in North Carolina before them.

Boom's Overture Superfactory selection is rooted in history, but focused on the future.
The land
Many complex factors matter when building a supersonic manufacturing facility. A location near the ocean is vital, as civilian aircraft are restricted to flying supersonically over water in the U.S. So in order to test Overture, Boom will need a big stretch of water and the Atlantic Ocean is ideal for this purpose.

Boom also chose the location because:
It has a large amount of land available for construction, allowing Boom to grow
Progress has already been made to prepare the site
It's located close to a port, allowing for easier shipment of parts and supplies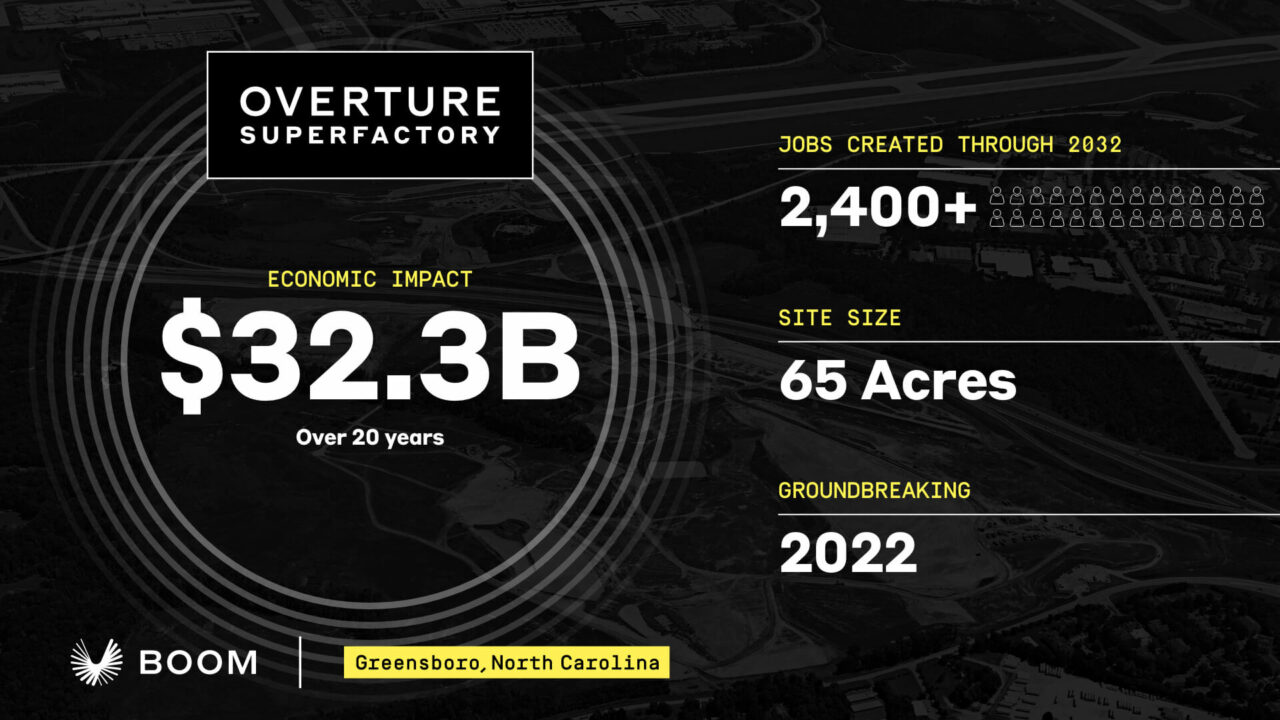 The state
The people, infrastructure and institutions around a superfactory also matter. Boom chose North Carolina for its:
Focus on aviation with hundreds of aerospace companies and suppliers already located in the state
Affordable and plentiful housing options, great schools, strong communities and wealth of recreation opportunities, which also make it easier to attract talent
Abundance of colleges and universities growing the workforce of the future
The partnership
In the end, it was the people of North Carolina that made this happen.

North Carolina, specifically Greensboro, is the right place to build the supersonic future. The state is both a partner in innovation and an advocate for moving the industry forward, all while never losing sight of accelerating economic development, which will benefit generations to come.

Through the Overture Superfactory, Boom will bring more than 1,750 jobs to the Greensboro area by 2030, expanding to a total of more than 2,400 jobs by 2032. North Carolina economists estimate that the Overture Superfactory will grow the state's economy by at least $32.3 billion over 20 years. And, to develop the next generation of supersonic professionals, Boom will also create 200 internships through 2032 for students who attend publicly funded North Carolina universities, community colleges, or technical schools.

This forward-looking vision made North Carolina the perfect partner for Boom. With eyes firmly on the future of aviation, dedicated teams in both the "Centennial State" and the "Tar Heel State" are ready to go supersonic.