In leading the design and development of Symphony™, the engine that will power Overture, Boom tapped industry leaders Florida Turbine Technologies, a business unit of Kratos Defense & Security Solutions, Inc., GE Additive, and StandardAero as its foundational suppliers. StandardAero, one of the world's largest independent providers of services including engine and airframe maintenance, repair and overhaul (MRO) and assembly, engine component repair and manufacturing, engineering services, interior completions, and paint applications, will ensure Symphony is optimized for economic and environmental sustainability.
"We are excited to team with Boom as its strategic engine MRO partner and for the opportunity to contribute to the company's bright future, ensuring its aircraft will receive the industry's finest engine MRO services," said Russell Ford, Chairman & CEO of StandardAero. "Our current qualifications, capabilities, and experience assembling and servicing supersonic military jet engines makes us the intelligent solution for future commercial, supersonic engine MRO applications."
StandardAero and Boom will work together to consider ease of maintenance during the conceptual development, detailed design, and production phases of Symphony in order to deliver reliable and economical operations for the life of the aircraft.
"Developing a supersonic engine specifically for Overture offers by far the best value proposition for our customers," said Blake Scholl, Founder and CEO of Boom Supersonic. "Through the Symphony program, we can provide our customers with an economically and environmentally sustainable supersonic airplane—a combination unattainable with the current constraints of derivative engines and industry norms."
Symphony will be a bespoke design leveraging proven technologies and materials to achieve optimal supersonic performance and efficiency. When compared to derivative approaches, Symphony is expected to deliver a 25% increase in time on wing and significantly lower engine maintenance costs, reducing overall airplane operating costs for airline customers by 10%. Overture's new propulsion system will be 100% SAF compatible and meet Chapter 14 noise levels.
What does it mean to design for maintainability?
Designing for maintenance from day one creates a significant advantage. The performance and efficiency benefits–realized through FTT's design and validated by StandardAero's early involvement–will impact every part of the engine lifecycle, from future maintenance operations to overall costs.
"This has to occur at the very beginning of the development process and also provide a proof of concept throughout the design cycle to accurately capture any potential future efficiencies," the StandardAero team said. "Decisions made early in the development process may add complexity to future maintenance activities, adding to both cost and turnaround time during planned maintenance events."
StandardAero will also use extensive past expertise of over 100 years as a leader in the aerospace industry to optimize Symphony's engine design for maintainability. With operations around the globe, StandardAero serves a diverse array of customers in business and general aviation, airline, military, helicopter, components, and energy markets.
"Designing for maintainability is envisioning the performance attributes of the engine to simulate the anticipated maintenance cause and effects and embed preventative lessons learned from other engine designs by implementing experiences, know-how, techniques, and technologies to anticipate and minimize potential future maintenance cycles or repairs," the StandardAero team said.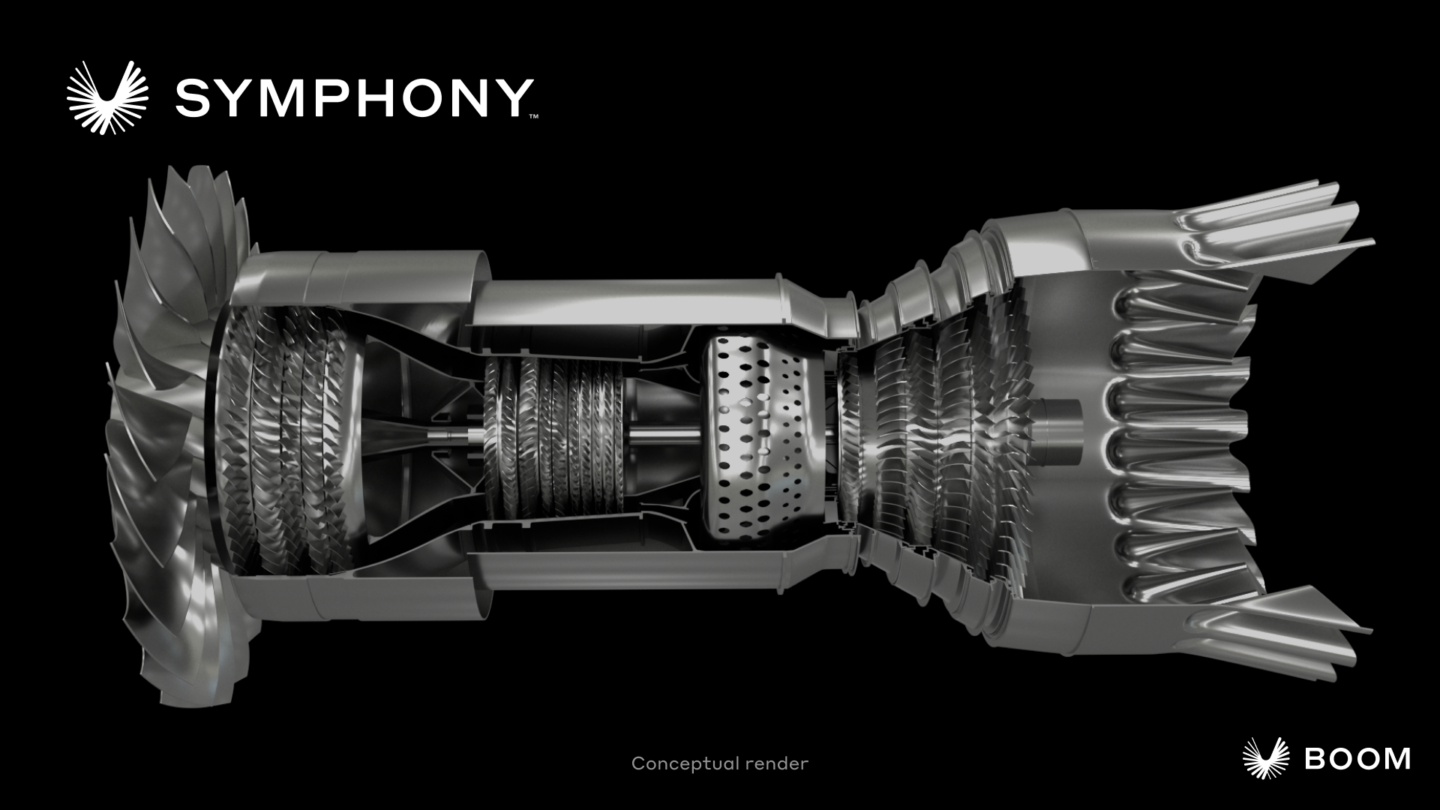 Previous supersonic expertise
Boom will also benefit from StandardAero's experience as an assembler of supersonic engines, working with U.S. armed forces for many decades providing engine MRO for turboprop, turbofan, and supersonic engines.
"There are many lessons learned working with military propulsion customers and many of the military aviation advancements can be applied to Boom's Symphony engine," said StandardAero team when asked how servicing supersonic military jet engines translates to commercial engines."Our expertise ranges from design, optimization, and manufacturing to general MRO maintenance programs."
StandardAero also emphasized a commitment to significant investments in test cells and facilities that can accommodate testing supersonic engines–including development, cold-weather/icing, raw material/components, and final engine pass-off.
World-class collaboration
Last December, Boom announced Symphony, the sustainable and cost efficient engine for Overture. Joining StandardAero for the Boom-led collaboration on Symphony are Florida Turbine Technologies, a business unit of Kratos Defense & Security Solutions, Inc. as its engine design team and GE Additive for additive technology design consulting. In June, at the Paris Air Show, Boom will share additional news on Symphony, including information on program milestones.
"Boom's strategy with Symphony is quite innovative. Their approach makes it compelling for top-tier suppliers to have the opportunity to contribute their expertise and capabilities to this exciting, breakthrough supersonic engine program," said Ric Parker, Chair of Singapore Aerospace Programme & former Rolls-Royce CTO.