This week at the 2023 Paris Air Show, one of the largest and most significant events in the aerospace industry, Phil Condit, former chairman and CEO of The Boeing Company and current Boom advisor, returned to the event for the first time in two decades.
Condit opened Boom's Paris Air Show press conference on Tuesday, noting his work on Overture brings him full circle. "I began my career almost 60 years ago, working on the Boeing SST. And so now I get to go full circle. I found, in Boom Supersonic, the right team with the right product. I get the privilege of advising as Boom designs and brings to production a sustainable, supersonic airliner." This before turning the stage over to Boom founder and CEO, Blake Scholl who detailed the company's significant advances on Overture, highlighted by the addition of three tier-one structure suppliers and milestones for Symphony™, among them the reveal of the engine's architecture.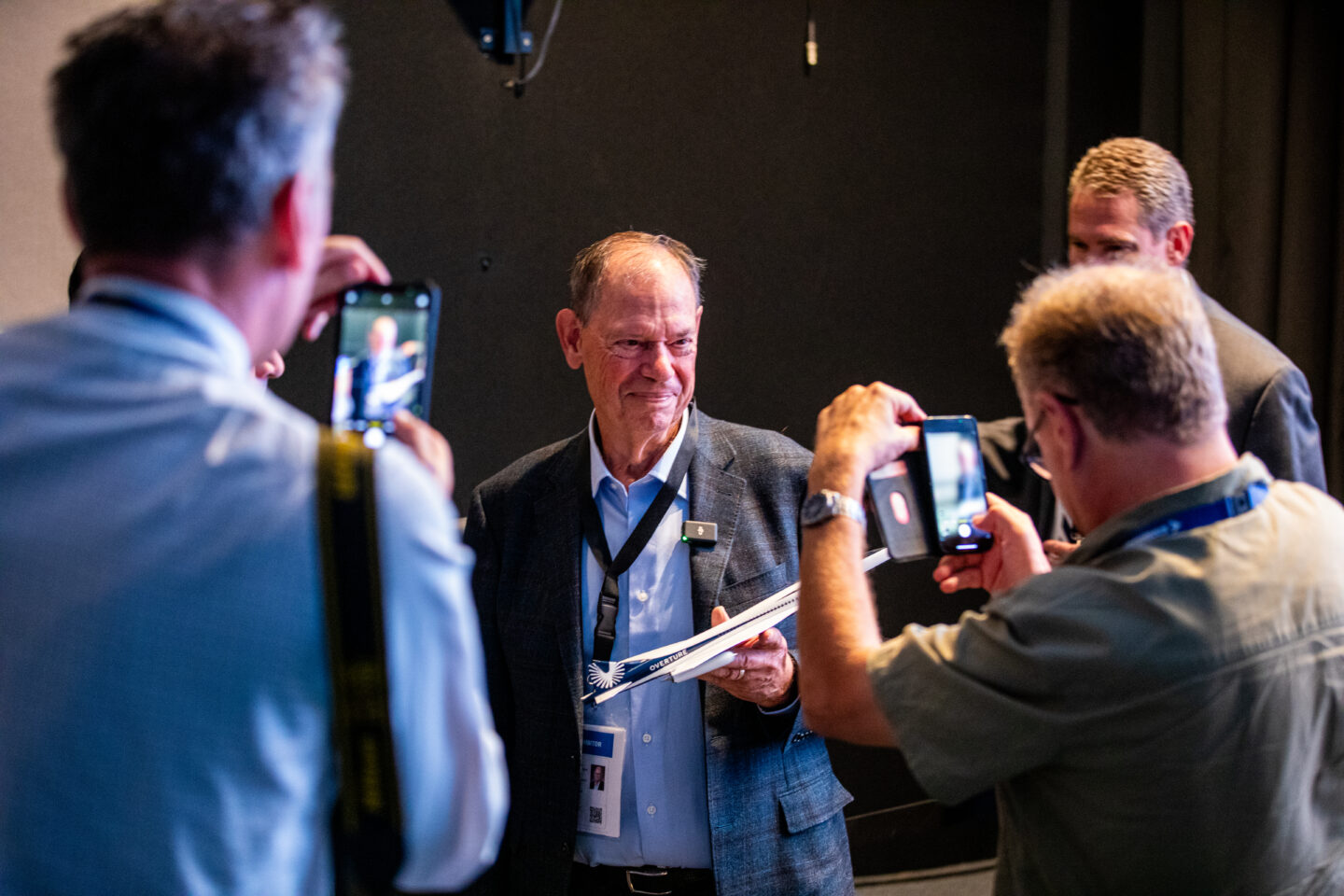 In 2021, Condit joined the Boom Advisory Council—a group of distinguished leaders providing strategic advice to the company. He remarked at the time that, "The potential of faster flight is an exciting next step in civil aviation," and that excitement carries through to today.
Condit's career spanned more than 35 years at Boeing. After receiving a B.S. in mechanical engineering from the University of California at Berkeley (1963) and M.S. in aeronautical engineering from Princeton University (1965), Condit joined Boeing as an aerodynamics engineer on the Supersonic Transport (SST) program. He played integral roles across several Boeing aircraft before becoming vice president and general manager of the 757 division in 1983. Condit then went on to become executive VP and general manager of the 777 program, before taking on the CEO role in 1996.
"I will always be proud of the airplanes that I worked on, but even more excited by the future," he said when asked about his legacy in the industry. "Flying higher and faster will be really exciting."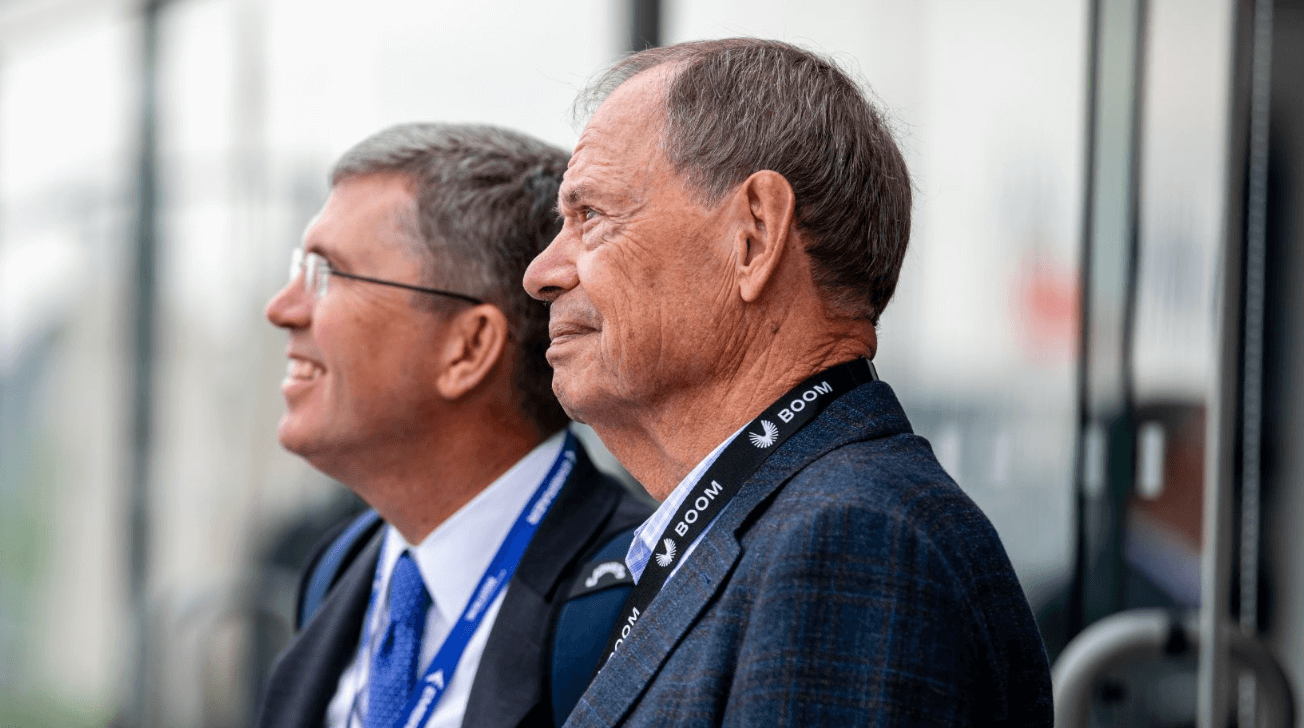 Boom talked with him recently about what prompted him to return to this year's show; why Overture, Boom's sustainable, supersonic airliner, is the right aircraft to bring back supersonic travel; and what he envisions air travel looking like in the decades ahead.
What made you decide to return to the Paris Air Show after a 20-year hiatus?
With Boom's progress on Overture and particularly on Symphony, the excitement "is back." The other significant factor for me has to do with sustainable aviation fuel (SAF). I strongly believe that SAF is the best path for reducing net carbon emissions. Boom's commitment to SAF is another reason to be part of the Boom presence at the PAS.
You worked on supersonic in the early 1960's while at Boeing, at a time when the Concorde was putting together its first prototypes. Why is the world, some 60 years later, now finally ready for commercial supersonic air travel?
I think that there are two significant factors. The first is the progress that has been made in composite structure and engine efficiency. This progress makes a much more economical SST [supersonic transport] possible. The second factor is size. The world is moving to a more point-to-point airline system. This makes a small SST a much better fit and optimizes travel time by reducing hub connections.
With Overture, Boom is leveraging proven technologies and partnering with top-tier suppliers to bring an innovative aircraft to market. With the 777, you had a "5 new things" approach to balance innovation against proven technologies, and ensure the team produced a state-of-the-art airplane family for customers on their timelines. What are the five new things that will help bring commercial supersonic flight back to the public?
My first would be the new engine optimized for a supersonic airplane. Then composite primary structure, pilot vision systems, and the supersonic engine inlet. I know that is only four, but the first one probably counts for two.
Symphony, the sustainable and cost-efficient engine that will power Overture, is a Boom-led program that includes partners such as Florida Turbine Technologies, GE Additive, and StandardAero. What are some keys to success here?
There is a wonderful opportunity with a new engine to reduce part count with additive manufacturing. The key will be thoughtful design which takes advantage of new capabilities that only occur with a new engine.
History shows us that breaking new ground, or even breaking the speed of sound, stirs up its fair share of detractors. You've been a part of great innovation at Boeing. How did you manage with your teams, the organization, or even business partners through this dynamic?
The culture of the organization is critical. That culture should be intentional and be supported by lots and lots of internal communication.
Teams need a crystal clear picture of what needs to be done to produce a successful product. For the 777, the overarching mission was simple — "People working together to produce the preferred new airplane family." Everyone understood that "None of us is as smart as all of us" so that "Working Together" was critical to success. That included not only internal teams like engineering, manufacturing, finance, etc. but also customers and suppliers. "Preferred" meant that only the airline customers and the passengers can define success so that listening to customers was critical to the design.
You have famously said, "none of us is as smart as all of us." This presumably speaks to the power of a unified and communicative team. Can you give us an example or two of this ideal being realized across your career?
A high performing team needs information to flow up as well as down. When the first composite rudder [on the 777] came out of the autoclave in Australia, it was warped. They immediately raised the problem, experts were dispatched, the problem addressed, and the second rudder was perfect.
What's it like to be a passenger on one of your airplanes? Do you feel a great sense of pride, do you see things you would have fine-tuned? A little of both?
I love to fly. I am always amazed to find myself seven miles above the earth traveling at 600 miles per hour. I find that I look more at the innovations than what was done in the past. I will always be proud of the airplanes that I worked on, but even more excited by the future. Flying higher and faster will be really exciting.
A great deal of innovation will be on display at the Paris Air Show. If you were to look into your crystal ball and forward to the year, 2040, what does commercial air travel look like?
To the outside viewer, it will not look all that different. Remember, the 747 was in production for over 50 years and 2040 is only 17 years away. Below the surface, there will be changes in fuel to SAF, changes in automation possibly allowing single pilot operation and, of course, supersonic travel.
Last question, do you have a favorite restaurant in Paris?
I have two answers. At the high end, there is Pavillion Ledoyen, a Michelin 3 star restaurant with incredible food. However, perhaps my favorite is Lescure Restaurant Traditionnel on the Rue de Mondovi. It is a simple, family style restaurant.
Learn more about Boom's announcements at the Paris Air Show here.