As Boom's tenth hire — and its first female employee — Erin Young knows what it's like to take on a challenge. Young, an engineer who joined the company three years ago, is the lead of mechanical systems, responsible for the design and development of all flight control systems on Boom's XB-1 supersonic demonstrator. She's also driving Boom's STEM education outreach to inspire more girls to consider careers in engineering.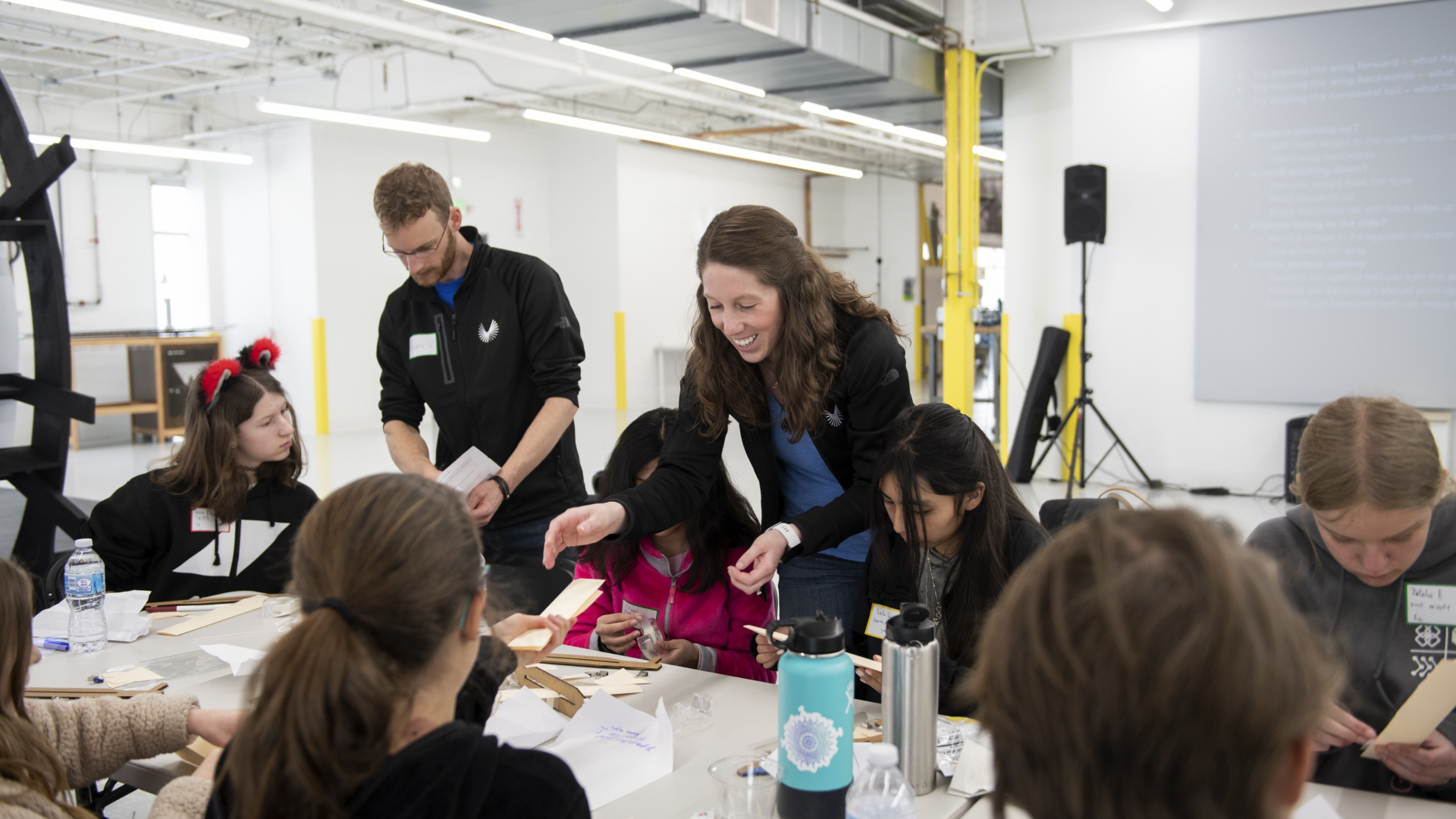 Opportunity is key
Young attended space camp at age 13 — an experience she describes as transformative. But at the time, she had few resources to help her explore aerospace engineering as a career path. Instead, she was determined to pursue studies in creative writing. She didn't consider engineering until a career counselor helped her connect her passion for STEM, creativity and dreams of space travel — explaining the opportunities she could explore in aerospace engineering.
Exploring innovation in aviation
Like her journey to becoming an aerospace engineer, Young's path to Boom was not predictable. Following graduation from the University of Notre Dame, she had the opportunity to work with Textron AirLand on its Scorpion Jet, an armed reconnaissance jet developed for the military.
"After graduation, I wanted to work in aviation (versus space) but found there's not much development or rapid innovation in commercial aviation — you can spend two years developing a better door handle," said Young. "Experimental programs, and at times the military sphere, is where you find fast-paced development and innovation. It made working on the Scorpion a draw."
"Following Scorpion, I wanted a project that was changing the industry, and that was Boom," continued Young. "For aerospace engineers, building a brand-new aircraft is a rare, career-changing opportunity. You will enhance a huge range of engineering skills and have a real sense of accomplishment."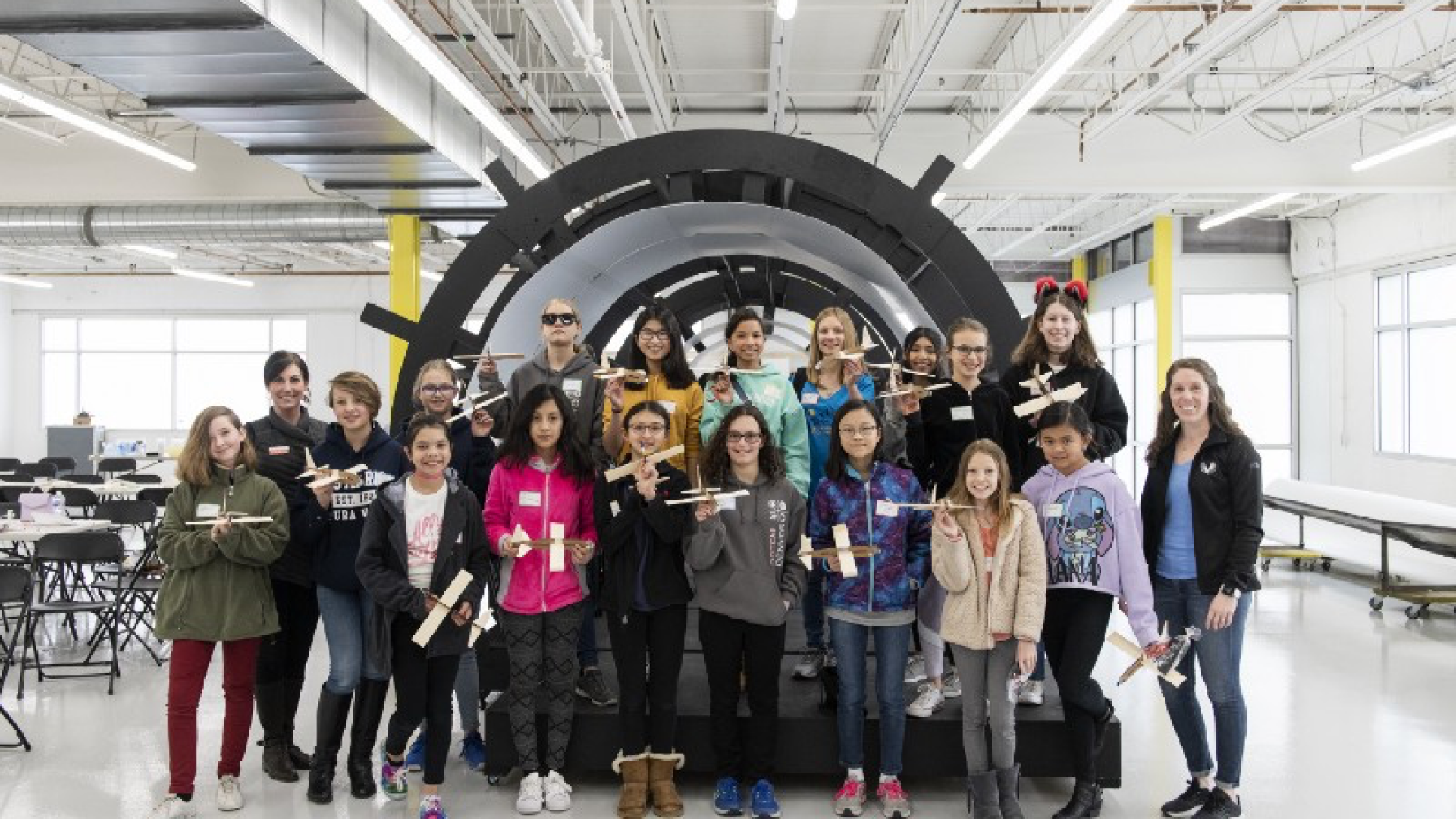 Improving diversity by empowering employees
During Young's first year at Boom, the company embraced the opportunities she brought to improve diversity through recruiting.
"As a small company, there is a starting point for everything," said Young. "One of the most rewarding steps Boom took was to give me recruiting responsibilities — the power to make hiring decisions."
Since joining Boom, she's recruited three talented and driven female engineers to her team, and has had a key role in recruiting outreach throughout the industry.
Experimental physics in the hangar
During the past two years, Boom has welcomed STEM programs for girls to the hangar, helping them learn more about careers in engineering. Whether groups build gliders or experiment with egg drops, the results are identical: girls quickly become fascinated and more engaged in STEM.
"You can change the world in aerospace engineering, and that's a key message Boom shares with girls at the hangar, as well as events like Denver's GESTEM and the Girls In STEM after-school program," said Young. "It's critical that girls have the opportunity to visualize themselves in engineering careers and are well-informed of their options."
Generating the spark to inspire future engineers
Working at Boom was an opportunity that Young and 105 of her fellow engineers seized. The team has also seized the opportunity to pay the inspiration forward, growing the company's STEM education outreach to inspire more children to set their sights on careers in aerospace. They know first-hand that sometimes career aspirations begin with the spark of an idea.
Young, who is also a pilot, shares this advice with girls: find something that inspires you, something you care about, and pursue it relentlessly. She advises girls to discover extra-curricular activities that have an engineering component, such as rocket clubs and design-build-fly clubs, to get hands-on experience.
"Without practical applications of knowledge, everything will remain theoretical, which makes it a challenge to pursue in the long-term," concluded Young. "Know that you have to work hard — but that the reward is huge."