XB-1's supersonic paint job is more than cosmetic. The exterior coat provides a number of safety benefits, including protection from physical damage, UV rays, and epoxy breakdown, and as a visual tool for leak detection.
Beginning with design, teams worked closely to ensure XB-1's final exterior balanced form, function, and safety. From paint weight and the surface temperature of colors to the best application across surfaces like titanium versus carbon composite, read on to learn more about the considerations behind a supersonic paint job.
Color: Design for desert flight
At supersonic speed, an aircraft exterior can reach temperatures upwards of 200°F. Add a black coat of paint and the heat may climb by roughly 100°F more.
Because XB-1's test flight program is set in the Mojave desert, XB-1's paint colors were optimized for temperature control both in-flight and on the ground.

As striking as a fully jet black exterior might have been, the teams chose white to prioritize the comfort and wellbeing of the test pilot, and to make it easier to identify potential leaks or damage occurring during testing.
While XB-1 featured an all-white fuselage with black wrapped aft during its first unveiling at rollout, this black wrap will ultimately be removed as a matter of safety and utility during flight testing.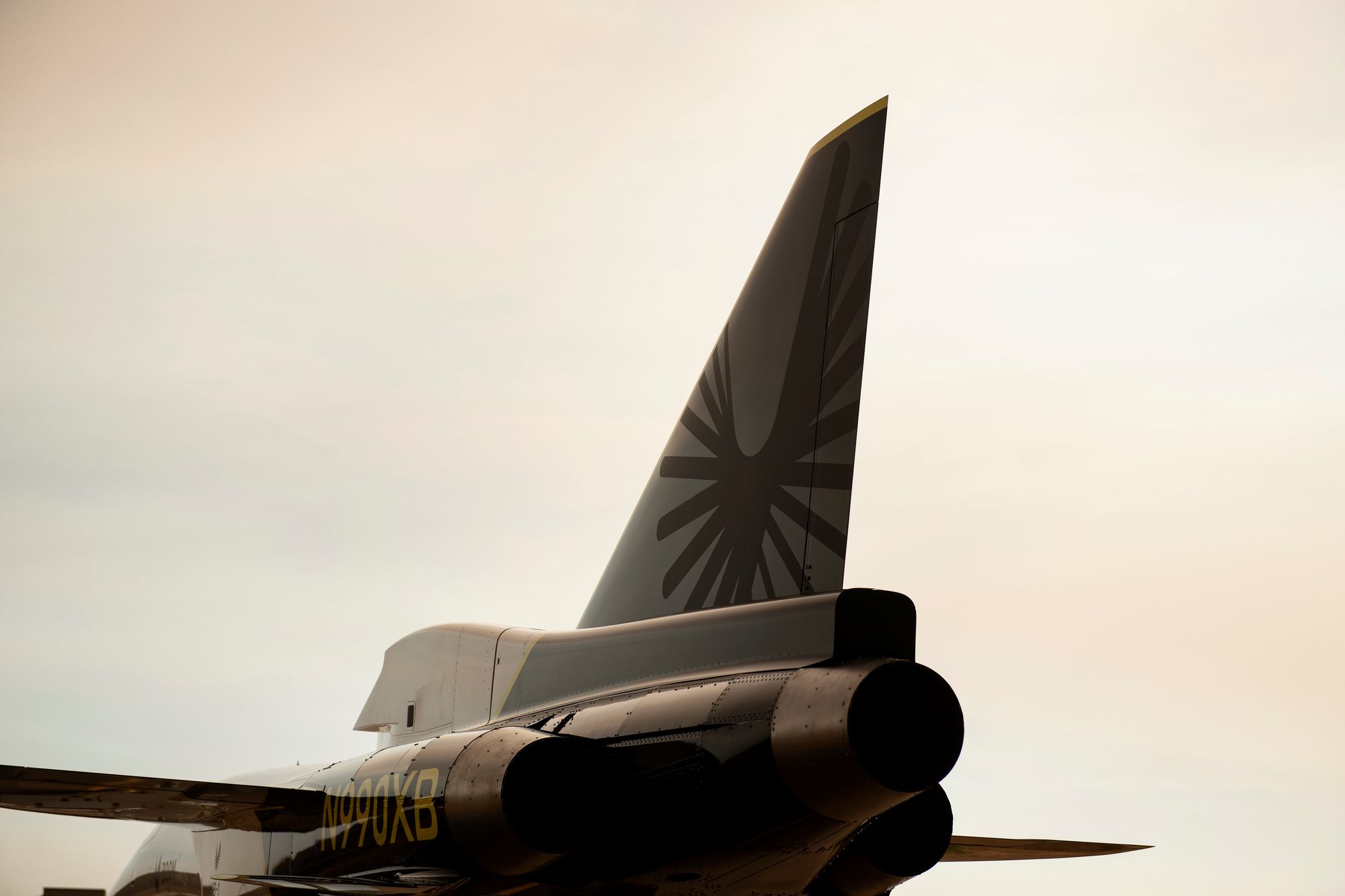 Weight: Paint adds pounds
XB-1's exterior surface area spans nearly 1,500 total square feet. Long before painting could begin, Boom's engineers incorporated a paint weight estimate into the aircraft design using a projection model.
The team monitored and optimized the projection model as the earliest parts were painted pre-installation. By simply weighing the parts before and after paint, they kept a consistent pulse on the full aircraft weight model's accuracy and made sure the plane's center of gravity remained within the necessary limits.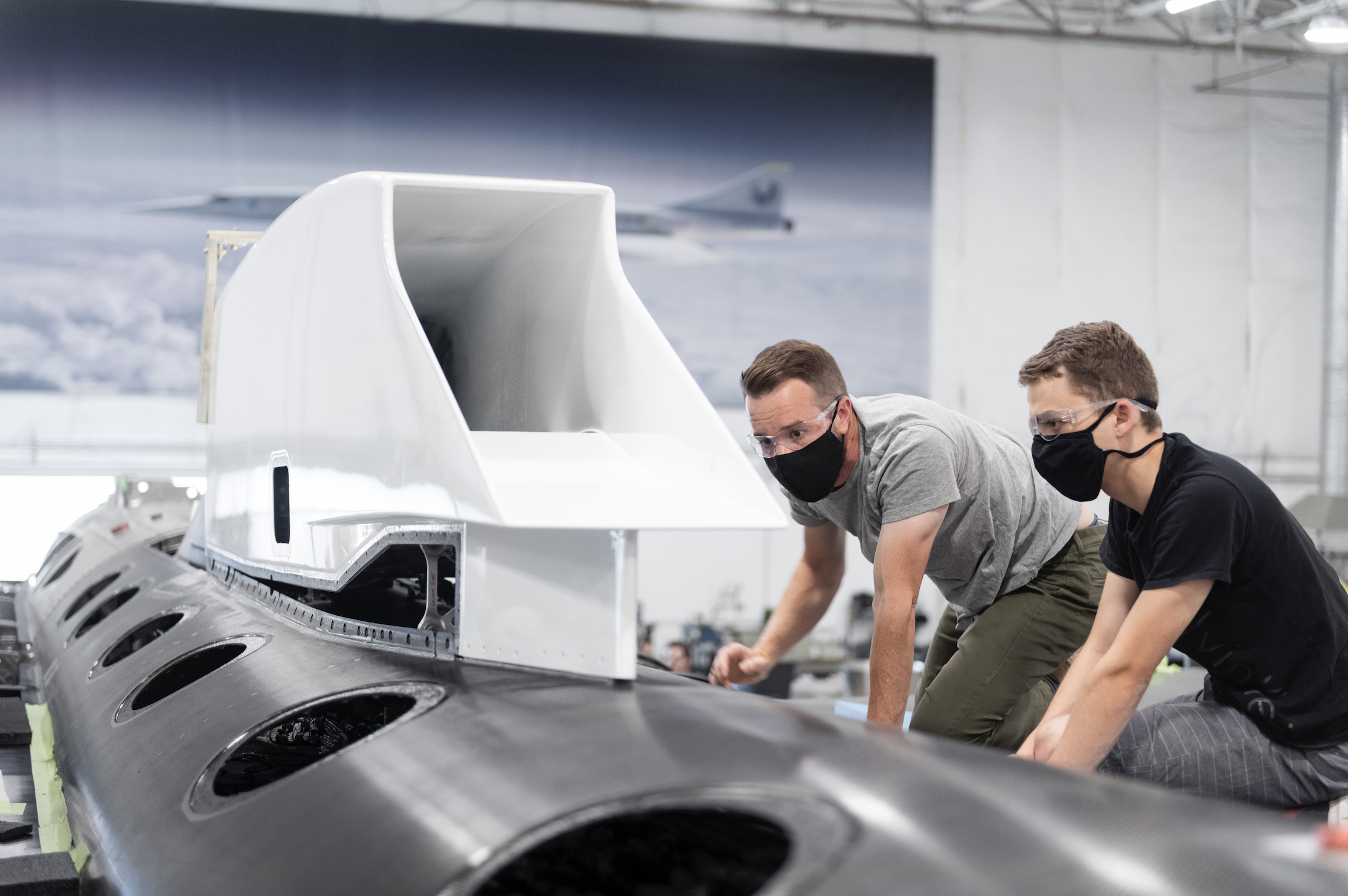 An estimated 20–25 gallons of high gloss thunderbird white PPG Aerospace CA9800 was used to complete the painting, meeting weight requirements and model prediction of roughly 125 pounds.
Material: Built to take the heat
XB-1 employs a number of different materials, including carbon composites, titanium and aluminum. Each of these materials was carefully selected to balance the strength, weight, and performance of the aircraft, not a seamless paint application.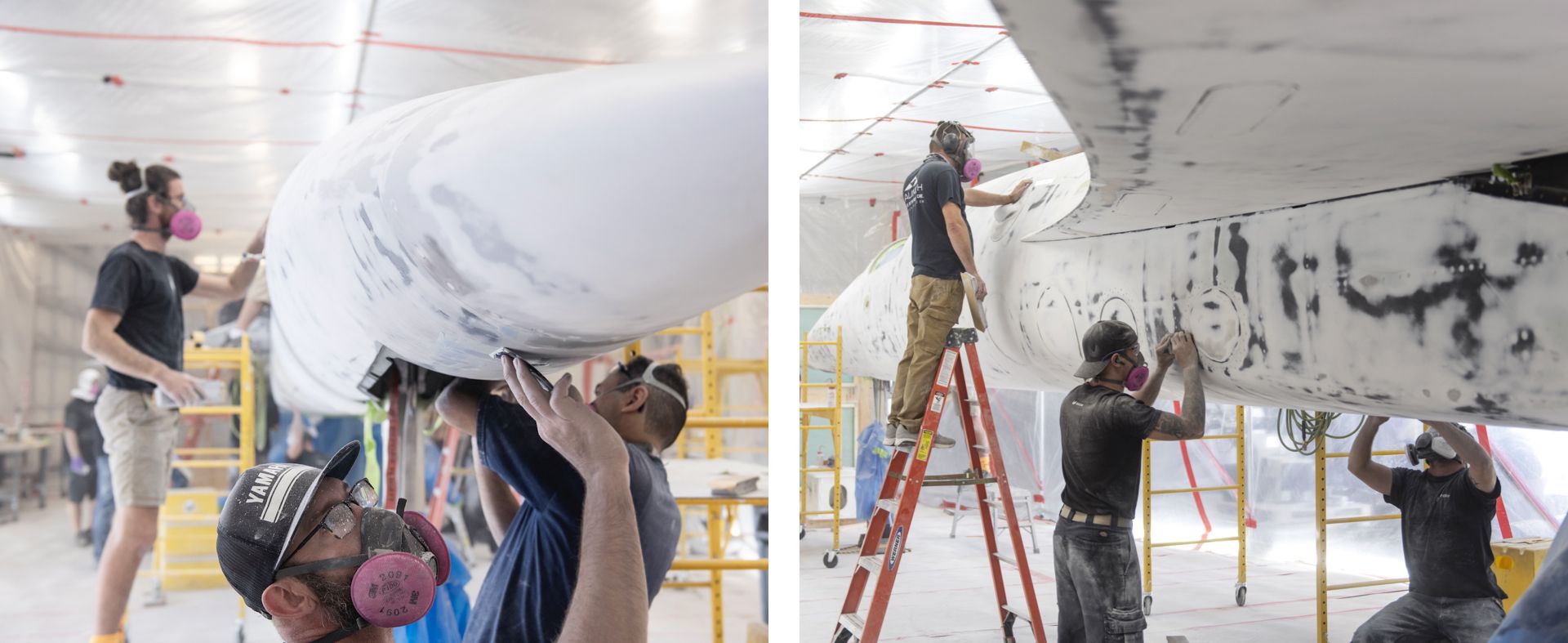 As a result, the team had to consider the best paint type and design to work around material constraints. They set requirements for each material, which impacted the preparation process and optimal type and amount of primer and surface cleaner used.
Even still, some parts of XB-1 remain paint-free. Take the titanium aft fuselage, host to XB-1's three J85 engines. The material was carefully selected because of its ability to withstand temperatures exceeding 800°F. A coat of paint would have risked discoloration and flaking under the extreme heat in-flight.
A flight-ready paint job
Just like every supersonic aircraft before, XB-1's paint job serves a variety of functions beyond aesthetics, including the safety and comfort of the pilot, protection of the airframe, and durability of the exterior material at supersonic speed.
XB-1's flight testing is slated for 2021.