Many kids grow up with a love of watching airplanes. Nick Sheryka, Boom's Principal Flight Test Engineer, turned that love into a life-long adventure.
Story by Nick Sheryka, Boom Principal Flight Test Engineer:
—
My grandfather was a World War II ace fighter pilot — one of the best in the Pacific Theatre — known for his aerial skill and honorable disposition. The imagery of flying above the world that his stories would conjure was enough to inspire a lifetime's pursuit.
I earned my start in aviation with crayons and blank paper. My constant points of reference were the photos of my grandfather's P-40 Warhawk and P-38 Lightning — both named "My Marie," after my Grandmother. I dutifully tried to replicate the lines that these machines made against the sky. Crayon drawings gave way to plastic model aircraft I assembled with my father. In high school plastic models gave way to radio control models I built and learned to fly. Naive daydreams of building a radio control flying model big enough to sit in began to occupy my mind.

It wasn't until I arrived at the University of Rhode Island in 2001, that I discovered kit airplanes, AKA amateur-built experimental aircraft. The idea piqued my interest and continued to occupy my mind through college. Despite my near-obsession with aircraft, neither my courses nor my first job involved aviation. After earning my B.S in Mechanical Engineering in 2005, I began a career as a nuclear test engineer for the Navy working on submarine reactors.
I continued my avid consumption of aerospace literature without much focus until one day, seemingly out of nowhere, a vision appeared: to fly across the United States in an airplane that I built with my own two hands.
Inspired by kit airplanes
Strapped for cash, but full of patience and with a high tolerance for pain, I began shopping for my own kit airplane and pursuing my pilot's license. As it goes, kit airplanes are available in a number of different flavors and variety: pay more money for less assembly or bootstrap a much more labor-intensive project. I opted for the cheapest, most basic package, assuming that the best way to learn was from the ground up. That December, a Sonex kit airplane arrived at my door, not long before I earned a private pilot's license.
My life became submarines by day, kit airplane by night.
Although the build could be physically arduous at times, it was a learning curve I was happy to climb. I learned to wire avionics, install engine systems, paint, and even sew my own upholstery, realizing quickly that building an airplane is about much more than riveting metal together. I learned to appreciate the details in every single inch of that plane, and how each and every component worked together with one another to accomplish a mission. As I gained this wide breadth of experiences, I asked myself:
"Why on earth am I working on submarines in my day job? I should be working on airplanes."
A passion becomes a career
My amateur aircraft building experience earned me a job at Scaled Composites in 2010, a rapid prototyping aircraft company in Southern California. I operated first as a design, then flight test, and eventually project engineer, working on six different prototype airplanes during my tenure. For the next five years, hyper-focused on both my work and my own build, I dedicated all of my effort to learning the craft.

From my scorching, spider-filled garage in the Mojave Desert, all of the sub-components I had been working on began to take the shape of an airplane. I quickly learned that although the cheapest option presented the most learning opportunities, the eightieth aluminum bracket assembled much like to the fifth. The process proved daunting, painstaking, and sometimes even downright miserable in the Mojave heat. Flipping to the next page in the instruction manual, I'd discover a new tool or skill I lacked, and have to hunt down the necessary equipment, and buy or rent it for as cheap as possible and climb the next learning curve. For several years, little more than my dream of flying across the USA kept the project going.
In 2015, everything paid off
July 4th, 2015 — a date I fondly recall as my airplane's birthday. The FAA arrived at the hangar to inspect the fully-assembled aircraft I poured years of my life into. The inspector circled the aircraft, assessed the interior, airframe, systems and engine, and approved her for Phase 1, a required 40-hour flight test period. I named her "My Marie III" and wondered if any woman on earth had more airplanes named after her than my grandmother.
The learning curve did not stop, and fortunately I quite enjoyed teaching myself to become an amateur test pilot. I completed Phase 1 testing after a few months and soon, a whole new world opened up for me. I was visiting new destinations on weekends, providing rides for friends, and cruising above the world in an aircraft I built with my own two hands. As the ultimate generalist with no formal training, I carved out a place for myself in the world of aviation. I built an airplane from a box, earned a position at an aircraft prototyping company, and now looked forward to accomplishing the dream that launched me on this trajectory in the first place. At the same time, I was learning more about a supersonic airplane startup based in Colorado.
From kit plane to supersonic
I joined Boom Supersonic as the 15th employee in 2016. With an aircraft capable of flying 500 nonstop miles, I planned the first two legs of a nearly 3,000 mile cross-country adventure, concurrently with the transition to my new job. I flew the roughly one-thousand miles from California to my new home in Colorado. With the plane now home in a hangar at Centennial Airport and me settled into my new position, I continued to plan the rest of my journey east. That's when I met a girl named Peggy and realized that I didn't want to do this alone.
One evening at home, I rolled out a map in front of Peggy. "I want to fly across the country," I told her. "…And continue on over another 280 nautical miles of open ocean to an island in the Caribbean." Trusting that I wouldn't do such a thing without careful planning, she agreed to join me.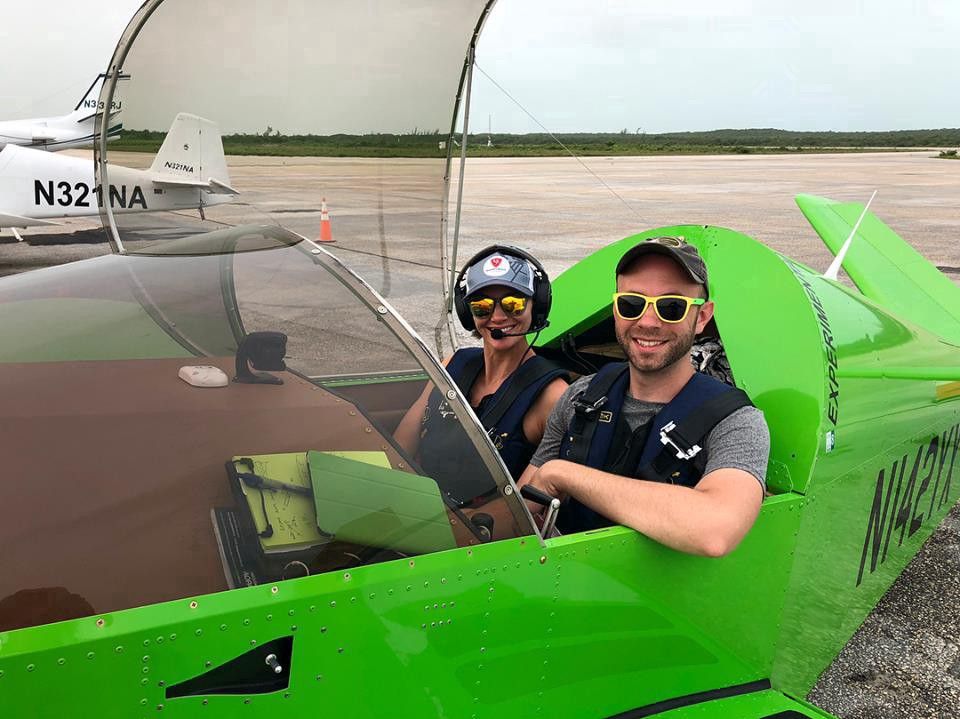 A dream realized
Peggy, My Marie III, and I set off in June of 2018 flying from Colorado to Alabama on the first day, and then on to Southern Florida the next. The most difficult challenge of my life was nearly complete. As the Atlantic sand passed underneath us on the third day of the trip, the feeling was indescribable — the decade-long vision was complete.
An idea became a passion, that passion fueled a lot of hard work, and that brought me to where I am in life today.