"SAF is going to drive a significant amount of change in the aerospace industry over the next five years, with the geopolitical and economic environment influencing how the market will evolve and who will be driving the change."
This is the thesis of a report, "Sustainable Aviation Fuel on the Rise" co-authored by Ben Murphy (VP of Sustainability at Boom), Raman Ram (Principal, Americas Aerospace & Defense Leader at Ernst & Young) and Rosco Newsom (Principal, Aerospace & Defense Practice, EY-Parthenon at Ernst & Young).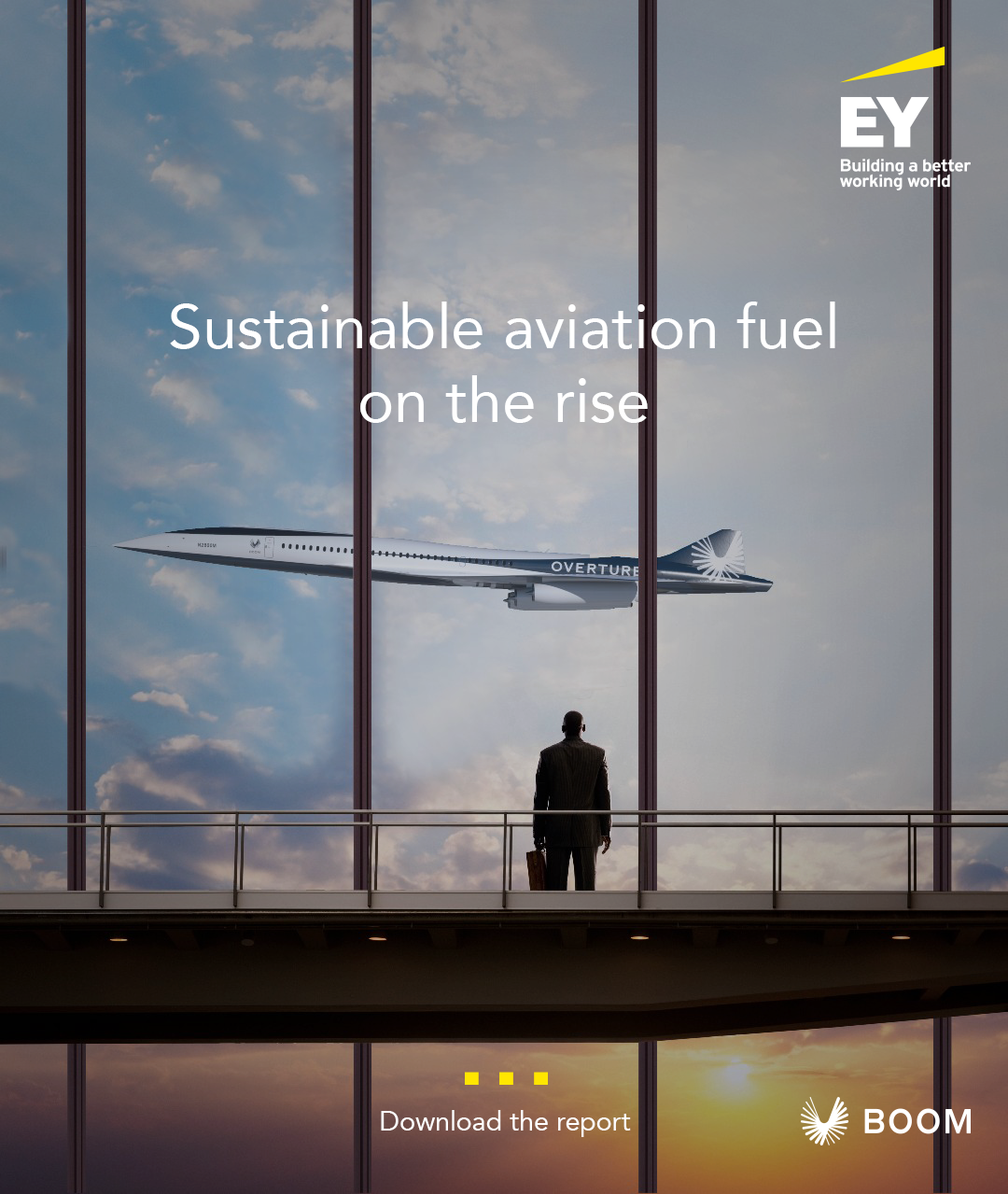 As SAF sources and supply continue to develop, it is critical to understand how different geopolitical scenarios shape the future of SAF in order to effectively participate in the SAF economy and capitalize on the promising opportunity each scenario presents. The report takes a closer look at four potential scenarios and their impact on SAF through a variety of lenses.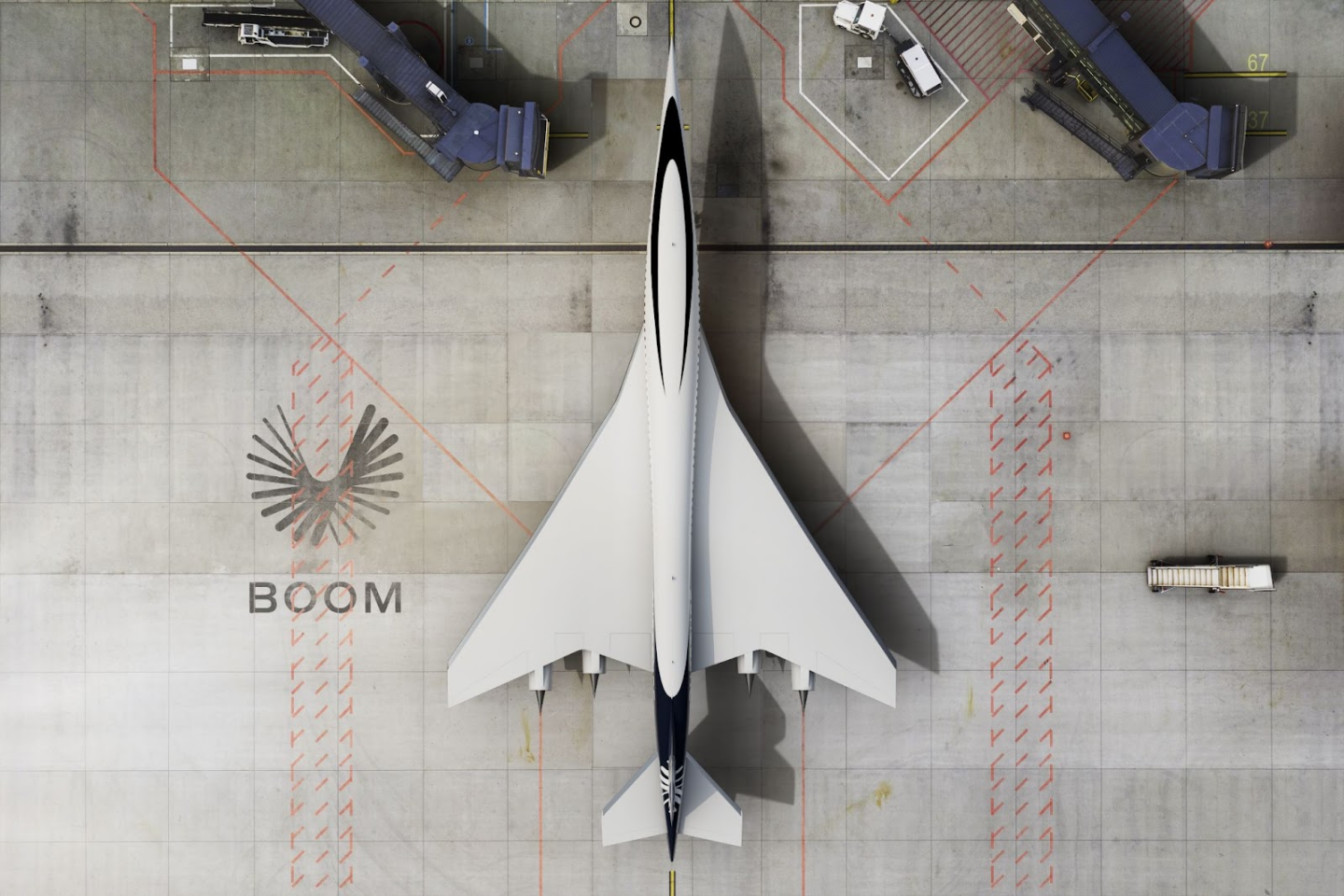 The report notes: "The surge in investment, new entrants and agreements around SAF in the present day underscores the importance of tracking market dynamics and developments. It is not a matter of if SAF will be adopted as a fuel source for aircraft, but rather when adoption will scale up and where it will be used."
The four geopolitical scenarios discussed in this report are: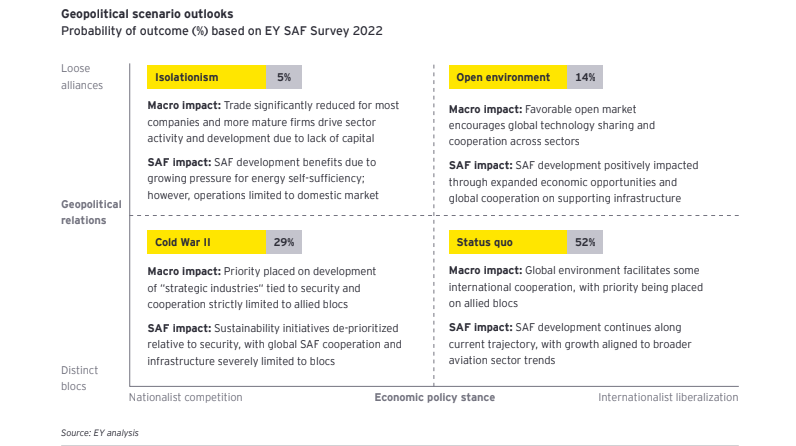 In addition to this report, a recent study from Boom's Dr. Akshay Ashok and Ben Murphy looked at scaling SAF in the next decade. Lessons learned from exponential growth in renewable energy industries provide ample evidence that SAF production can scale to meet aviation needs, if public and private initiatives are aligned.
At Boom Supersonic, we're committed to making the world more accessible with our supersonic airliner, Overture — optimized for speed, safety, and sustainability. It's designed to operate on 100% SAF while flying at twice the speed of today's fastest passenger jets. We are proud to partner with sustainability-minded airlines and organizations like the Sustainable Aviation Buyers Alliance (SABA), which works to make SAF more available to customers. Such actions by industry and government are crucial to scaling SAF and enabling the aviation industry to achieve its net zero carbon goals, and will allow aviation to continue to play its vital role in the global economy while protecting the climate.
Boom Supersonic plans to achieve net zero carbon by 2025, building on the significant progress outlined in our 2021 Environmental Sustainability Report. Notably, Boom achieved carbon neutrality through reduction initiatives and high-quality carbon credits in 2021.
A key part of Boom's sustainability strategy focuses on scaling SAF, paving the way for net zero Overture operations and aiming to make sustainable aviation fuels the industry standard.
Read the full Boom and EY report here.