Chief Test Pilot Bill Shoemaker sat in XB-1's open-faced simulator, preparing for "take-off."
"Left throttle coming up." His voice echoed through Boom's control room, as he ran through the motions of testing XB-1's throttle controls. "Mil…Max…Mil…Idle."
"Center throttle coming up," he continued. A deafening silence thickened the room between each update to throttle position. "Mil…Max…Mil…Idle."
"Right throttle coming up," he finished, as new waves of data rolled across the screen. "Mil…Max…Mil…Idle."
The brief test concluded as another voice came on the speaker: "30 seconds for airborne pickup." Test Conductor Nick Sheryka began the countdown.
Shortly, the first flight demo for XB-1 was underway. This preliminary exercise aimed to kick off the official flight test rehearsal process and bring everyone in the right headspace of safety and focus. For this first completely scripted event, the goals were as simple as getting everyone familiar with the communication, language, and expectations.
It should come at no surprise that Boom has begun flight test demos even before rolling out an assembly-ready aircraft. Since 2018, the team has continued to develop and optimize a state-of-the-art custom flight simulator for pilot training. Ergonomics testing, human factor evaluations, and even the build of a second generation flight simulator have all served as testaments to the lengths the company prioritizes safety.
This first demo was led by the most seasoned flight test employees within the company, including pilots Shoemaker and Guarante, as well as Chief Flight Test Engineer Jeff Mabry. All are former military test pilots with years of experience, having accomplished first flights of other test aircraft in a similar fashion. Operating as Test Conductor, Sheryka also brought significant first flight experience, including work with the personal aircraft he built in Mojave.
In discussing the demo afterwards, Mabry explained: "We've started the process of flight test training with a demo so that our team can begin to understand everything that first flight entails. By the time XB-1 takes flight, we will have practiced so many times that they will be ready for absolutely anything."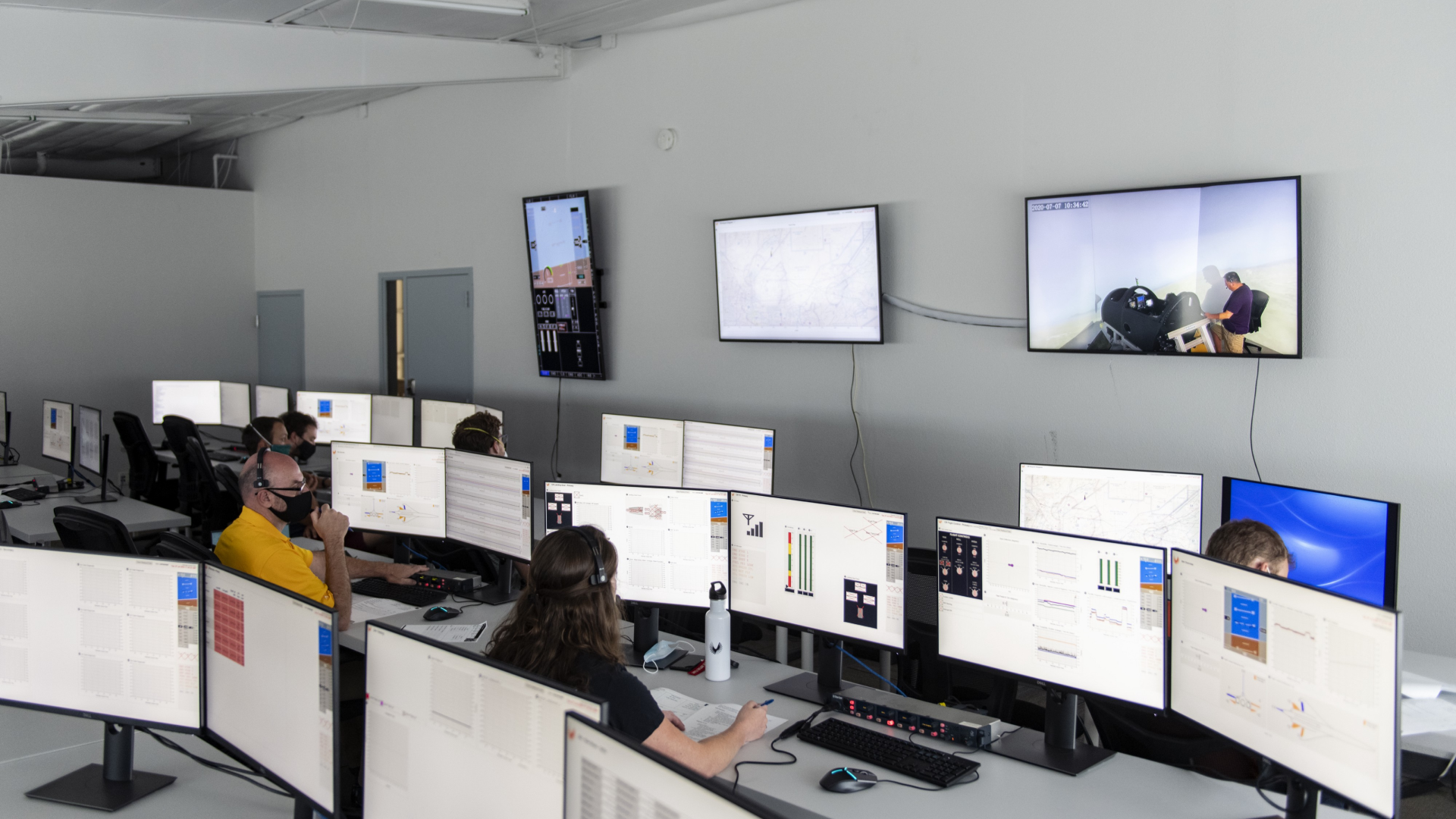 The demo defined a strong foundation for the future mission rehearsals to come. "Mission rehearsals, which we will begin later, will be significantly more involved and unscripted," said Mabry. "This event allowed us to exercise all the pieces at once in a picture-perfect scenario."
At present, the team has plans to run hundreds of flight rehearsals with all 30 team members, practicing every possible event in the first few flights at least once. "We will continue throwing absolutely everything at them between now and first flight so that ideally, there isn't anything that can surprise them," said Mabry.
Mabry expects the team to be ready for anything and has plans to be creative with his training. "When we are running rehearsals, all 30 team members and disciplines will be focused on live data rolling across their screen and making decisions based on the information," Mabry explained. "But it's not enough to just read data — I will manipulate certain data coming down from the aircraft for an engineer to identify. They should all be able to catch those discrepancies and verbalize the implications."
As the team continues to add more contributors and challenges to the flight demo process, the reality and excitement is setting in. "We're incredibly excited to see this program come to life," concluded Mabry. "Everyone is working extremely hard to make this happen."