C is for cargo, F is for Fighter and H is for Helicopter… Are aircraft names as simple as they seem? Here's a primer on how thousands of aircraft got their names, including Boom's XB-1.
The naming of aircraft is an arcane code with some rough logic, a helping of aviation history, a bit of magic, and a touch of patriotism thrown in. Cracking the code can be tricky. Many countries, manufacturers and armed forces have their own methods.
Here's the key to deciphering the code:
Both commercial aircraft and general aviation aircraft (which are used for private and recreational flying) are usually identified by manufacturer's names, makes and model numbers. Examples include the Bombardier CRJ-900, which is manufactured by Canada's Bombardier Aerospace. The acronym CRJ represents the type of aircraft (Canadair Regional Jet) and 900 stands for its model. The same pattern can be applied to almost all civilian aircraft, but manufacturers have been known to skip numbers and take a generous amount of creative license.
Another general aviation example is the Cessna 172 Skyhawk. Introduced to the market in 1955 and manufactured by Cessna Aircraft Company, it's often identified by its name only, Skyhawk. But the Cessna 172 Skyhawk has another identity as a military aircraft in service with the US Air Force and Army, where it's known as the T-41 Mescalero (more on this below).
When it comes to military aircraft, many countries use their own designation systems. In 1962, the US Armed Forces consolidated its system among all branches to create the Tri-service Aircraft Designation System. Each aircraft is recognized by a letter that designates its purpose, whether it's flown by the US Air Force, US Navy, US Marine Corps, US Army or US Coast Guard.
Every aircraft has a baseline designation with an uppercase letter indicating the aircraft's mission, such as T for trainer, followed by a dash and a number. A second mission letter is used when aircraft has a modified purpose, and a name might also be tacked on. The T-41 Mescalero mentioned above is a Trainer used by the US Air Force for student pilots. There are four versions: T-41A, T-41B, T-41C and T-41D. Following a military tradition of drawing names from Native American tribes, its name is from the Mescalero Apache Tribe in New Mexico.
Not surprisingly, X represents Experimental. Many will recognize the name X-1 as the plane in which Chuck Yeager broke the sound barrier in 1947. NASA also uses the X designation for its own research aircraft.
Common military designations include: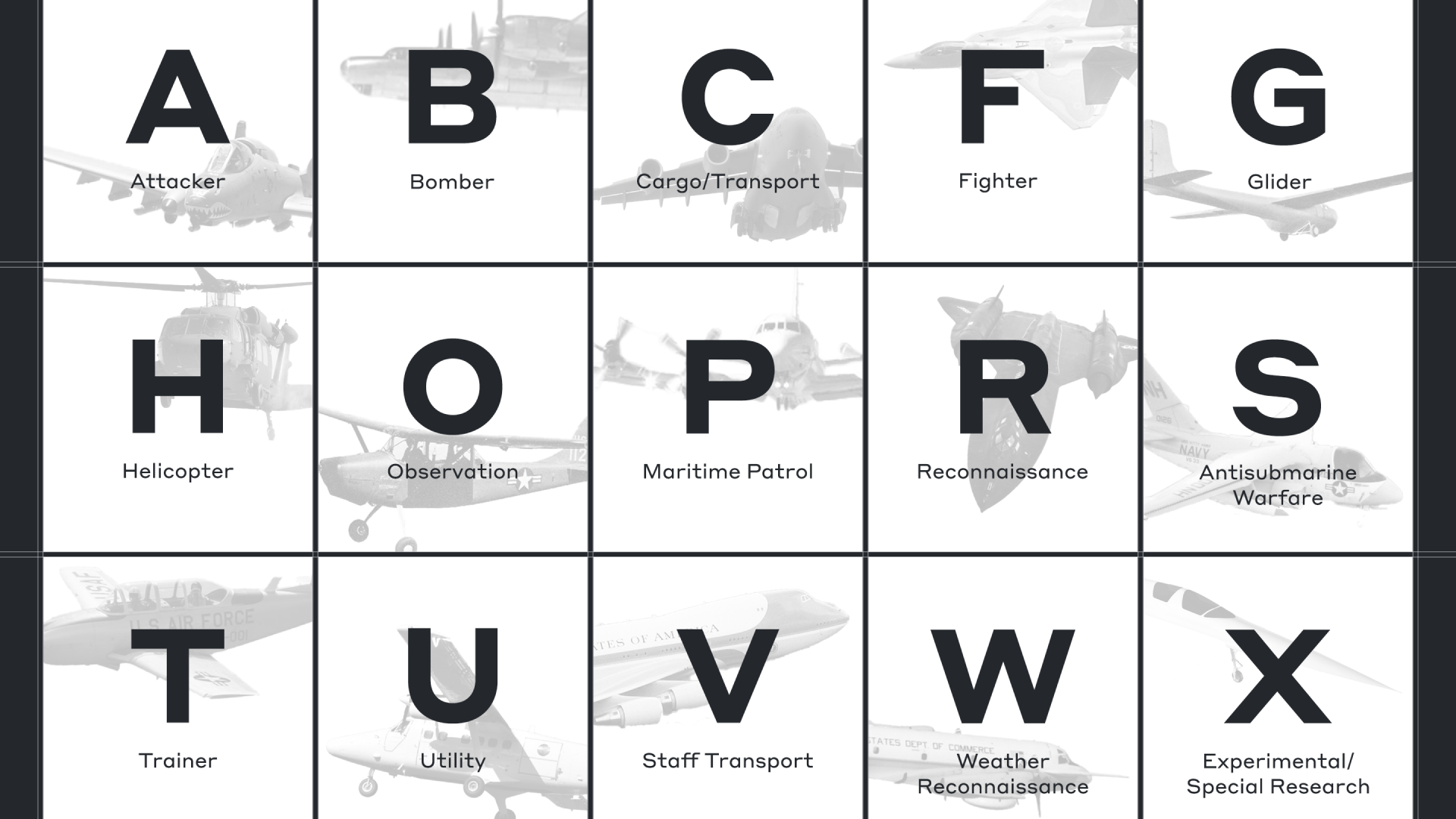 An example of the application of the Tri-service Designation System is the UV-18B Twin Otter, which is flown at the US Air Force Academy for cadet parachuting. U represents Utility and V represents Staff Transport, while 18 represents the model number and B represents the version. In the civilian world, it's identified by the manufacturer's name, DeHavilland DHC-6, and simply as a Twin Otter. As its name suggests, it has two engines.
XB-1 Deciphered
When it comes to Boom's XB-1, it's easy to decipher our own twist on the code. X is for Experimental, B is for Boom and 1 is the first. We gave a grateful nod to Chuck Yeager's achievements in X-1 during the naming process.