A passion for flight unites everyone at Boom Supersonic. But the team knows that the progress witnessed in aerospace over the past 100 years didn't come easily, and that everyone who flies today owes a debt of gratitude to the pioneers and innovators who came before them.
Boom recently joined with the National Aviation Hall of Fame (NAHF) and National Aeronautic Association (NAA) for a Museum Monday Twitter chat to shine the spotlight on record-setting and barrier-breaking leaders in aviation. The goal? Tell the stories of those who paved the way for the advancements and technologies we see in hangars and on runways today.
The team featured Charlie Bolden, Olive Ann Beech, Russ Meyer, Hap Arnold, Joe Engle and Jimmy Doolittle. These six individuals have one thing in common: they're NAA Collier, Harmon, Mackay, or Wright Trophy award-winners, and each is inducted into the NAHF. (See our guide below for more about each trophy.)
Read on for highlights about how their unique career paths contributed to the growth and development of the aerospace industry.
The Space Explorer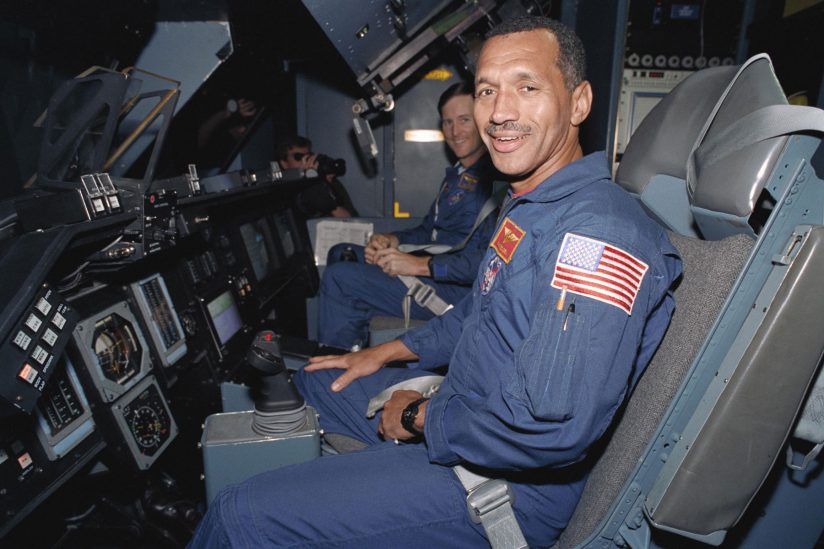 Who served as the 12th Administrator of NASA after traveling to orbit four times aboard the space shuttle between 1986 and 1994? Major General Charles Frank Bolden, Jr., aka Charlie Bolden.
Bolden's 34-year career with the Marine Corps also encompassed 14 years as a member of NASA's Astronaut Office. Highlights from his space missions include the deployment of the Hubble Space Telescope and the first joint U.S.-Russian shuttle mission, which featured a cosmonaut as a member of Bolden's crew.
Technical assignments were also a significant focus of his astronautical career. Bolden served as pilot on the Space Shuttle Columbia in 1986, and as the Mission Commander for Space Shuttle Atlantis in 1992 and Space Shuttle Discovery in 1994. In total, he logged more than 680 hours in space.
In 2009, President Barack Obama named Charlie Bolden as NASA administrator. He was the second astronaut and first African American to hold that position.
As head of NASA, Bolden led the safe transition from 30 years of space shuttle missions to a new era of exploration focused on the International Space Station and space and aeronautics technology development. He also established a new Space Technology Mission Directorate to develop cutting-edge technologies for the missions of tomorrow.
The Aviation Entrepreneur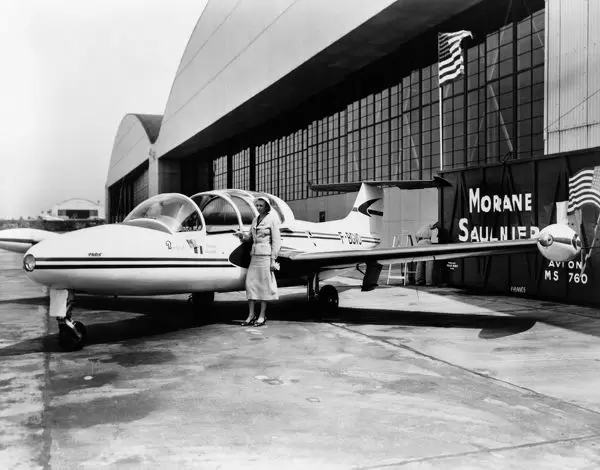 Who took the Beech Aircraft Company from a $6.5 million market value in 1950 to a value of $800 million — the equivalent of $2.4 billion in today's dollars? Olive Ann Beech, who co-founded the company and ran it alongside her husband Walter Beech.
From an early age, Beech enjoyed breaking gender roles. Born in 1903, she opened her own bank account at age seven and acted as family accountant. Beech went on to become the first woman to lead a Fortune 500 company.
In the early days of Beech Aircraft, she convinced her husband that winning the 1936 Bendix coast-to-coast speed dash would be even more impressive if the aircraft, a Beech Staggerwing C17R, was piloted by women. She was right. Louise Thaden and Blanche Noyes flashed across the Los Angeles finish line to win the Bendix trophy in a record 14 hours and 44 minutes. People couldn't stop talking about the barrier-breaking win — and the aircraft.
From that point on, Beech Aircraft grew dramatically, with employment rising from a few hundred workers to almost 14,000 during World War II. After Walter Beech died in 1950, Olive Ann Beech became company president.
Demand for military aircraft kept Beech Aircraft growing, as did the burgeoning space program. The company supplied aircraft and products for NASA's Gemini, Apollo, and space shuttle programs. During Beech's nearly 20 years at the helm, sales tripled.
Beech Aircraft became Beechcraft, which created the hugely popular (still today) Bonanza and King Air aircraft. The company later became Raytheon. Beechcraft's line of iconic King Air turboprops and Baron G58 and Bonanza G36 piston aircraft are now manufactured by Textron Aviation.
The Military Strategist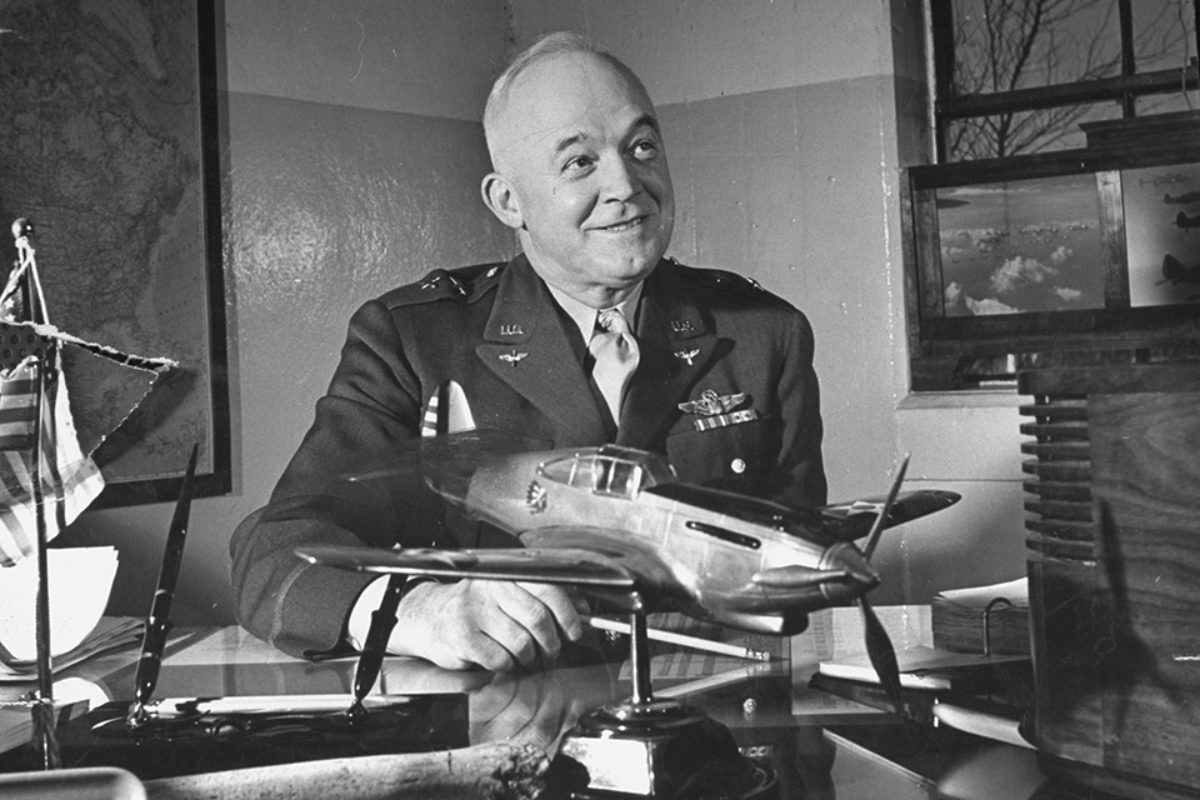 Who was taught to fly by the Wright Brothers and was appointed the first general of the U.S. Air Force (Army Air Force)? Henry Arnold, aka Hap Arnold.
Henry Arnold earned his nickname, "Hap," because of his near-constant smile. His love of flight started early. In 1911, he earned his wings at the Wright Brothers Flying School at Huffman Prairie in Dayton, Ohio.
Arnold spent more than 42 years in his country's service. During his career, he helped the U.S. air arm grow from a fledgling corps of two planes to the largest air armada the world has ever seen.
Arnold became chief of the newly established Army Air Force in 1941. As commander of the Army Air Force in World War II, he grew the service from 22,000 men with 3,900 planes to nearly 2,500,000 men and 75,000 aircraft. As part of his wartime service, he made a 35,000-mile tour of North Africa, Middle East, India and China, and attended the Casablanca Conferences. In March 1943, he was promoted to four-star general.
Arnold is known for many firsts. He was the first military aviator to use radio to report observations. He was the first U.S. pilot to carry mail, flying a bundle of letters on Long Island, New York. He is credited as the first pilot to fly over the U.S. Capitol. He is also credited as the first to carry a Congressman as a passenger.
The Test Pilot Astronaut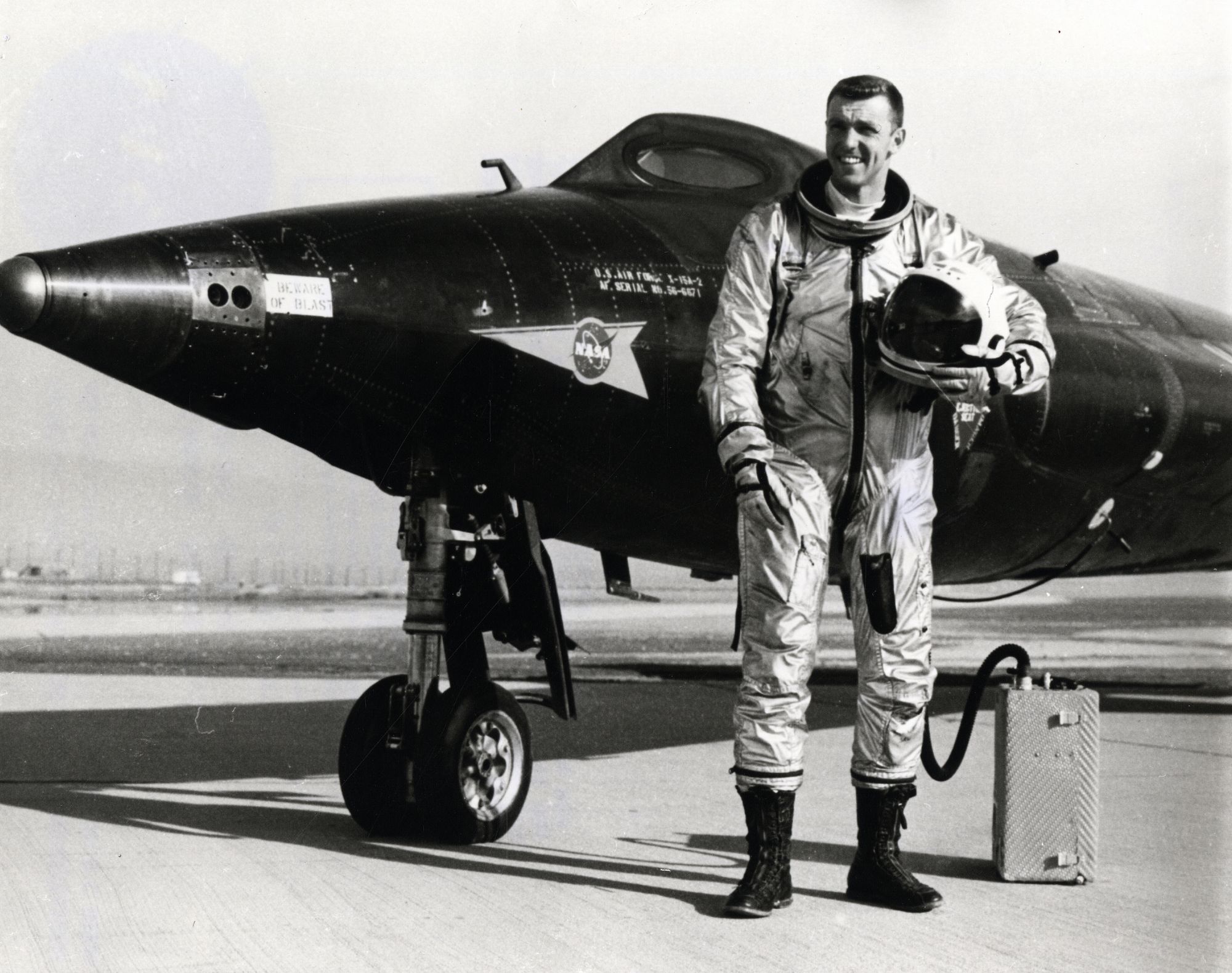 Who earned his astronaut wings as an X-15 pilot, becoming America's youngest astronaut at age 32? Joe Engle, the only human to have flown two different types of winged vehicles in space: the X-15 and the Space Shuttle.
Engle flew F-100 Super Sabres with the U.S. Air Force 474th Fighter Day Squadron and the 309th Tactical Fighter Squadron. Recommended by Chuck Yeager for test pilot school, he went on to become a test pilot in the rocket-powered X-15 aircraft research program. He flew the X-15 16 times and on three flights, reached altitudes of more than 50 miles (80 kilometers).
Engle flew 185 different types of aircraft (including 25 different fighters) during his career, logging more than 15,400 hours of flight time — 9,000 in jet aircraft. As one of the most experienced aviators ever to become an astronaut, he played a key role in the development and employment of the Space Shuttle.
Assigned to NASA in 1966, Engle was the first and only astronaut recruit to have previously flown into space. In 1981, he was in command of STS-2 in the Space Shuttle Columbia. During this highly significant mission, he manually flew Columbia from space through atmosphere reentry to explore the shuttle's aerodynamic characteristics. In fact, Engle is the first person to ever manually fly the shuttle from its re-entry speed of Mach 25 to a landing.
Among his NASA missions, Engle flew as commander of an action-packed mission in the Discovery. During STS-511, the crew not only captured, repaired, and redeployed the SYNCOM IV-3 satellite, but also deployed three new communications satellites.
The Aviation Advocate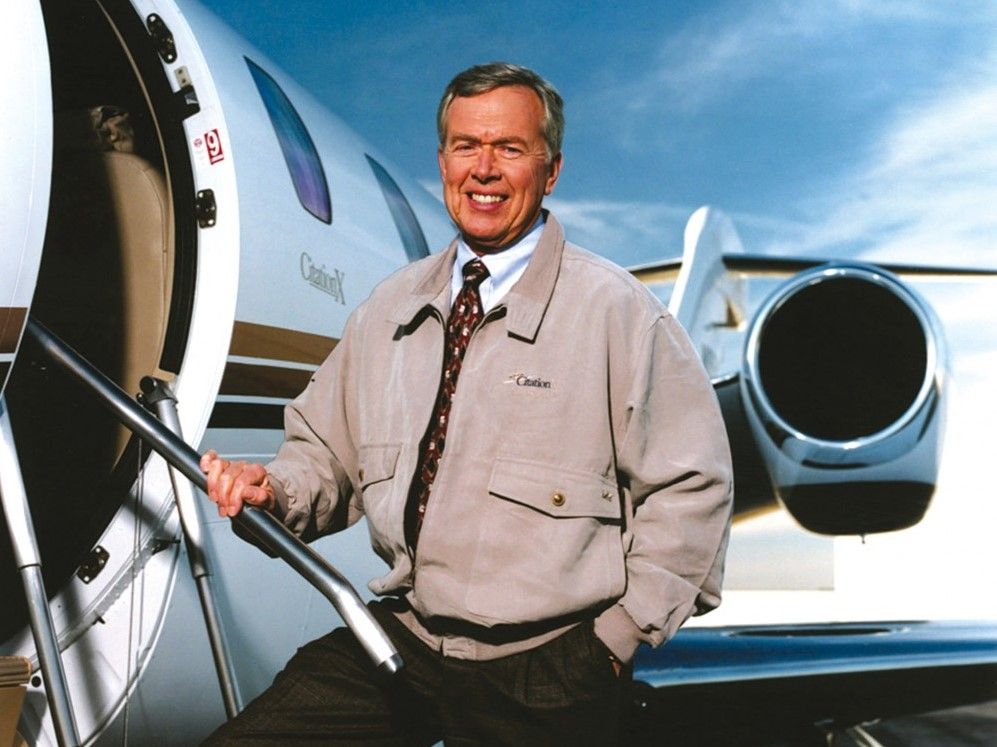 Who led Cessna for 28 years and is also a commercial, instrument-rated pilot with more than 17,000 hours of flight time? Russ Meyer.
Early in his career, Meyer served as an aviator in both the U.S. Air Force from 1955 to 58 and Marine Air Corps Reserves from 1958 to 1961. Meyer went on to lead Cessna from 1975 to 2003 as Chairman and CEO, and was named Chairman Emeritus in 2005. During his years as Chairman, Cessna delivered 67,000 aircraft, including almost 5,000 super-midsize Citation business jets. Today, it's estimated that Cessna has manufactured a third of the estimated 16,000 business jets in service worldwide.
Meyer is the originator of the Citation Special Olympics Airlift, where hundreds of Citation owners transport athletes to the Special Olympics games. The airlift has become the largest peacetime effort in aviation history. Meyer also played a key role in the development of the "Be A Pilot" program that resulted in tens of thousands of new pilots entering the profession.
An active aviator for 65 years, Meyer is type-rated in almost every Citation model. When asked about his contributions to aviation, he counts the passage of 1994's U.S. General Aviation Revitalization Act (GARA) as his greatest accomplishment.
The Air Racer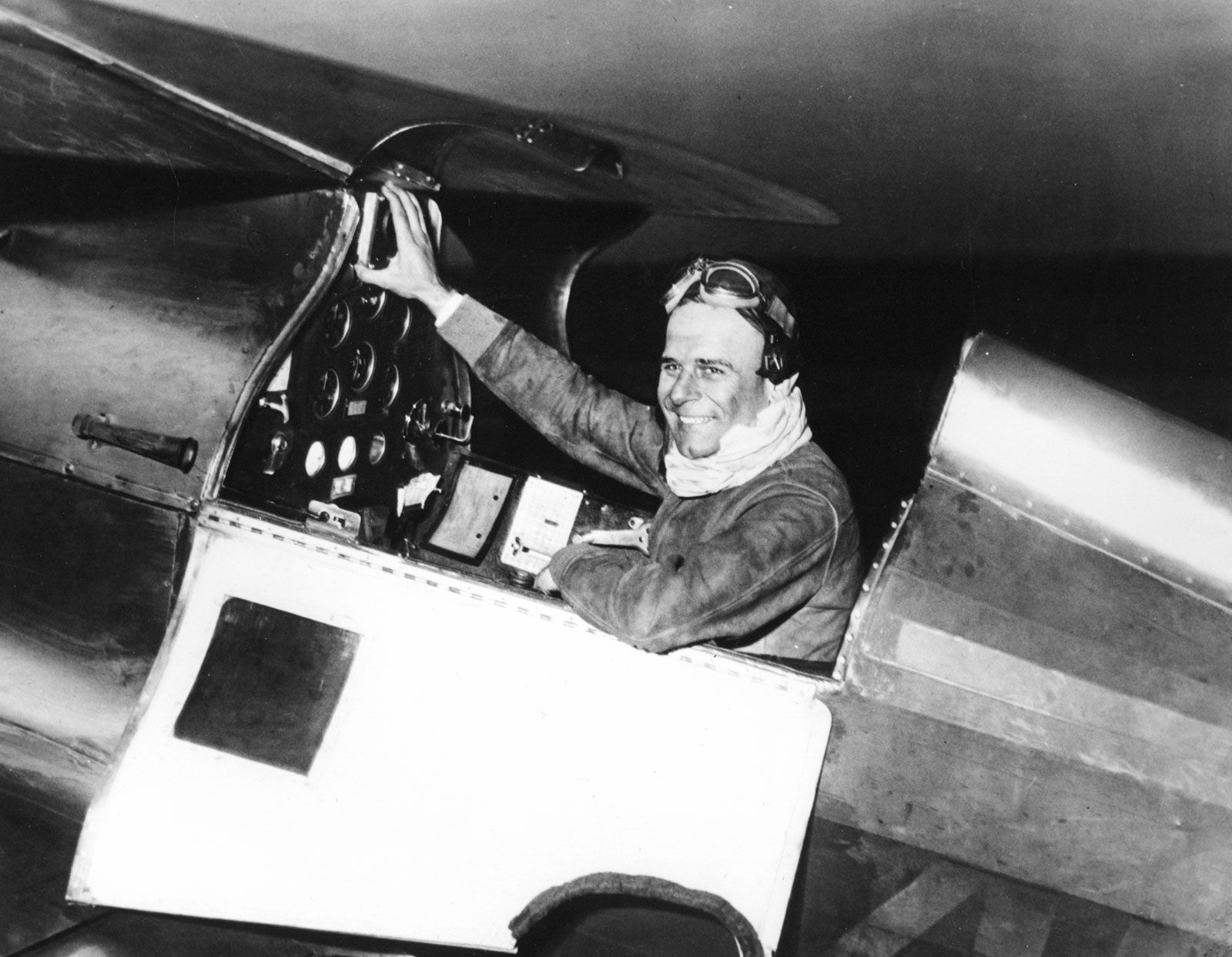 Who made the world's first totally blind flight? James "Jimmy" Doolittle, the first Air Force general to wear four stars.
After winning his wings during World War I, Doolittle flew with the border patrol. In 1922, he made the first transcontinental flight in less than a day's time. Doolittle earned a master's and doctorate of science in aeronautics from the Massachusetts Institute of Technology, and then won the Schneider Cup Seaplane Race in 1925 and made the first outside loop in 1927.
In 1929, Doolittle went on to pioneer the science of instrument-only "blind flying" when he took off, flew a set course, and landed without seeing the ground. In the 1930s, he flew in the National Air Races, winning the Transport, Bendix, and Thompson Trophy races.
Returning to active duty in 1940, he helped plan for warplane production. Following the attack on Pearl Harbor, Doolittle led a flight of carrier-based bombers in a historic raid against Tokyo, for which he received the Congressional Medal of Honor. Afterwards, he commanded and led the 12th, the 15th, and the Eighth Air Forces to victory.
Curious to learn more about aerospace pioneers?
The National Aviation Hall of Fame and National Aeronautic Association offer a wealth of free resources, digital archives and exhibits to explore the legacies of the people who created a world where the sky was no longer the limit.
Thank you to Amy Spowart, President and CEO of the National Aviation Hall of Fame, and Greg Principato, President and CEO of the National Aeronautic Association, for contributing their time and expertise to Boom's Museum Monday series.
Award Guide
Collier Trophy (Robert J. Collier Trophy) is awarded annually by the National Aeronautic Association "for the greatest achievement in aeronautics or astronautics in America, with respect to improving the performance, efficiency, and safety of air or space vehicles, the value of which has been thoroughly demonstrated by actual use during the preceding year."
Harmon Trophy (Harmon Aeronaut Trophy) is awarded by the National Aeronautic Association for the most outstanding international achievement in the art and/or science of aeronautics (ballooning) for the previous year. Earlier in the trophy's history, it was also awarded for outstanding achievements in aviation and to outstanding aviators.
Mackay Trophy is awarded is awarded for the "most meritorious flight of the year" by an Air Force person, persons, or organization. The United State Air Force determines the winner and the National Aeronautic Association presents the trophy to the winner.
Wright Trophy (Wright Brothers Memorial Trophy): In 1948, NAA established this award to honor the memory of Orville and Wilbur Wright. The association created the Wright Brothers Memorial Trophy, which has been presented by the President of NAA annually on or near the anniversary of the historic first flight, at the Aero Club of Washington Annual Wright Memorial Dinner. The trophy is awarded annually to a living American for "significant public service of enduring value to aviation in the United States."