Boom's Lead Manufacturing Engineer Ryan Bocook arrived at the office before sunrise. It wasn't unusual for him to visit the hangar on Saturdays to work through unfinished projects, but there was one thing that made this day different.
Today, Bocook's 9-year-old son Christian tagged along for the ride.
At Boom, employees benefit from a company culture founded on realness. Like many of his teammates, Bocook is a father and husband, just as much as an engineer. That's why Boom offers flexibility to parents and families and it's one of the many reasons the company continues to attract top talent.
Unlike a lot of young boys growing up in Colorado, Christian was thrilled to forego a day of play to spend his weekend at the office with Dad.
"He would have been completely happy to just sit at my desk and play the Gameboy," said Bocook. "I don't think he completely knew what he was in for, but he was so excited that he woke up at 5:30 A.M. ready to go."
Christian may not have known what to expect from his Dad's office, but he quickly learned that Boom's headquarters is a place filled with magic.
"I gave him a little tour when we arrived and grabbed a snack from the kitchen on our way to my desk. His mind was already blown that there were so many snacks available. Then the Saturday morning burritos arrived for our weekend crew, just as someone buzzed by on one of our shop scooters. It just got better from there."
As the hangar came to life with shop floor activities, Christian quickly forgot about his Gameboy plans. "Our shop radio was cranked. Everyone fell into their usual morning routine and Christian discovered the classic Concorde pinball machine."
"He asked me if this is what all workplaces are like," shared Bocook. "I couldn't help but laugh as I shook my head 'no.'"
Music, burritos, and pinball aside — Christian spent a piece of his morning helping out Boom's team.
"Qi, our inventory and delivery specialist, asked Christian if he wanted to help organize the flight hardware drawers and his face lit right up," said Bocook.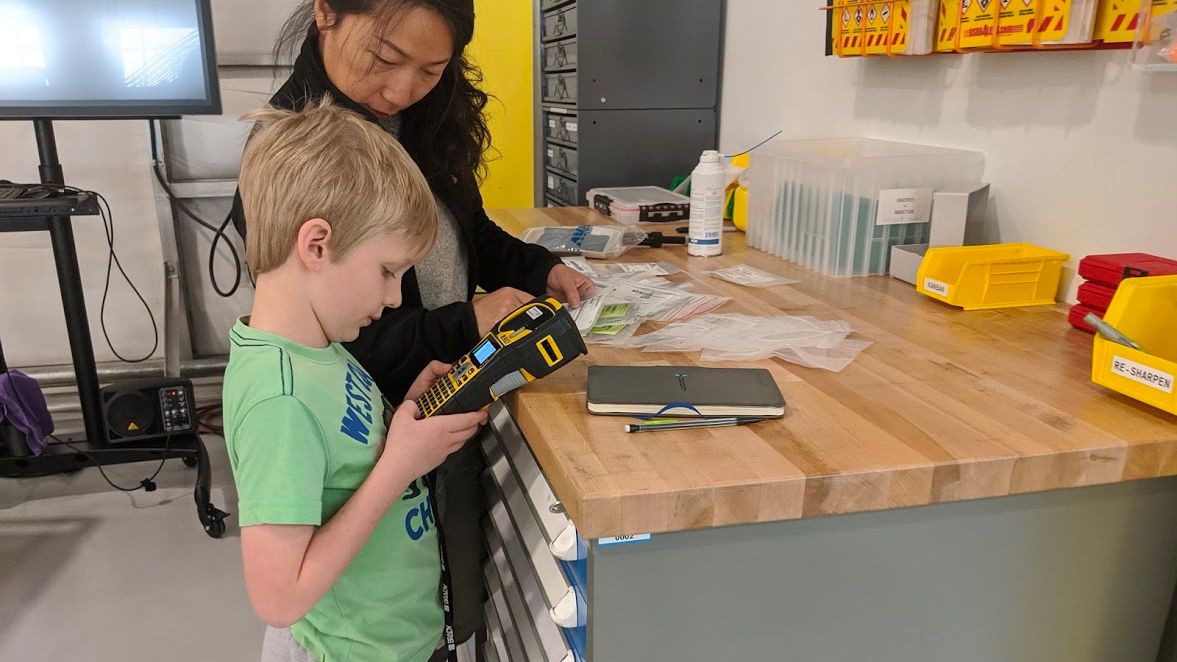 "We worked to bond in L clips and install parts into the wing, while Christian became the perfect, focused sidekick. He learned about metrology with Tim and Todd, as they made progress on the main landing gear bay, and got to meet and help the rest of the team."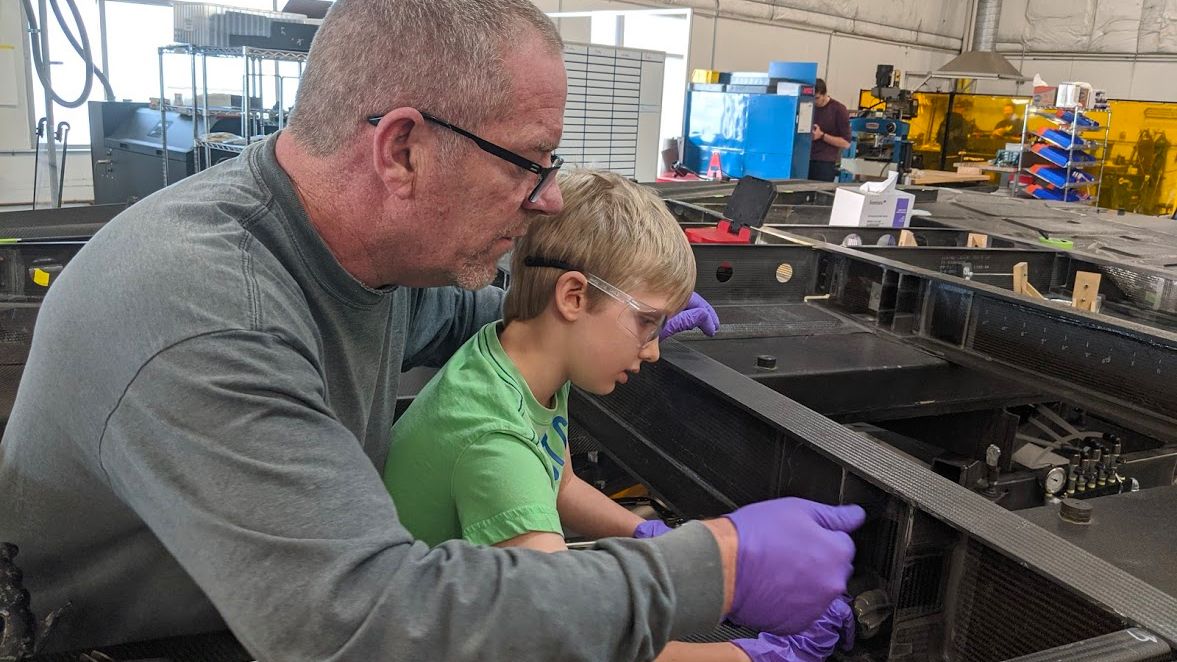 "For me, it really went to show how awesome of a place Boom is to work," said Bocook. "The people here are not only the best in the industry — they care about others and pay it forward. Everyone was encouraging Christian in his curiosity for XB-1. That's what it's all about."
"At the end of the day, Christian told me he planned to work at Boom when he grew up. I agreed that was a great idea."
Another productive Saturday morning in the office became a day to never forget for 9-year-old Christian and a point of pride for the dad building a supersonic airplane.