Now more than ever, sustainability is influencing where people choose to travel and how they reach their destinations.
In turn, developing solutions to deliver a more sustainable end-to-end travel experience across the U.S. is vital to successful sustainable travel, encompassing everything from transportation, food and lodging to how travelers select a destination.
This critical issue is top-of-mind for Tori Emerson Barnes, Executive Vice President, Public Affairs and Policy, at the U.S. Travel Association, the leading voice for all segments of U.S. travel and tourism.
As the industry prepares for post-COVID recovery, the Association is spearheading efforts to integrate sustainability into every aspect of the travel experience. During their National Plan for Vacation Day, Barnes shared insights into how the industry is pivoting to build sustainable travel experiences that benefit people and the planet for generations to come.
The U.S. Travel Association is a driver of more sustainable travel for the industry at large. How does your work promote sustainability?
Sustainability is a key component of our larger policy platform for the future of travel–it presents both a significant challenge and an opportunity. The challenge is that, today, many people believe travel and sustainability are incompatible. But that's certainly not the case. Every sector of travel has made tremendous strides to lower carbon emissions, reduce waste and protect the environment. So, part of our work is to promote what's already being done and to encourage consumers to take advantage of sustainable travel practices that already exist.
But we can't stop there. The real opportunity is to achieve the aggressive goals that our industry has set for the future. From sustainable aviation fuels (SAF) and electric vehicles (EVs), to hotels powered by renewable energy or the preservation of beaches and natural attractions, the travel industry is poised to be a leader in achieving our national and global climate goals. The other part of our work is to advocate for policies that will make our industry's goals a reality.
We have a tremendous responsibility to continue to do more — but there doesn't have to be a choice between travel and a more sustainable future. They can, and must be mutually compatible.
If we can achieve both, people won't have to choose between seeing the world or saving it, as one of our corporate CEOs very intelligently put forward in our recent Future of Travel Mobility conference. And we'll have built a more vibrant, profitable and sustainable travel industry for the future.

By investing in infrastructure, governments can make travel more sustainable. How do these investments work?
If we look at the carbon footprint of travel, the majority of emissions come from transportation. If we're going to make travel more sustainable, we have to make transportation more sustainable. And to do that, we need investments in infrastructure.
For example, as the majority of trips in the U.S. are taken by car, travel cannot be truly sustainable unless we expand electric vehicle infrastructure. The Biden administration has been ambitious in establishing its vision for an electrified future, setting a goal of installing 500,000 new EV charging stations by 2030. The sooner we can achieve widespread coverage for EV charging stations, the sooner we can make the "great American road trip" into the "green American road trip." To do this, as we deploy EV charging stations, we must do so with the traveler in mind throughout the process.
Other key issues we're championing include infrastructure investments to accommodate emerging technologies like the Hyperloop, high-speed rail, eVTOLs, and supersonic aircraft. And we've also been a huge proponent of upgrading America's airports to increase energy efficiency, reduce waste and deliver sustainable aviation fuels.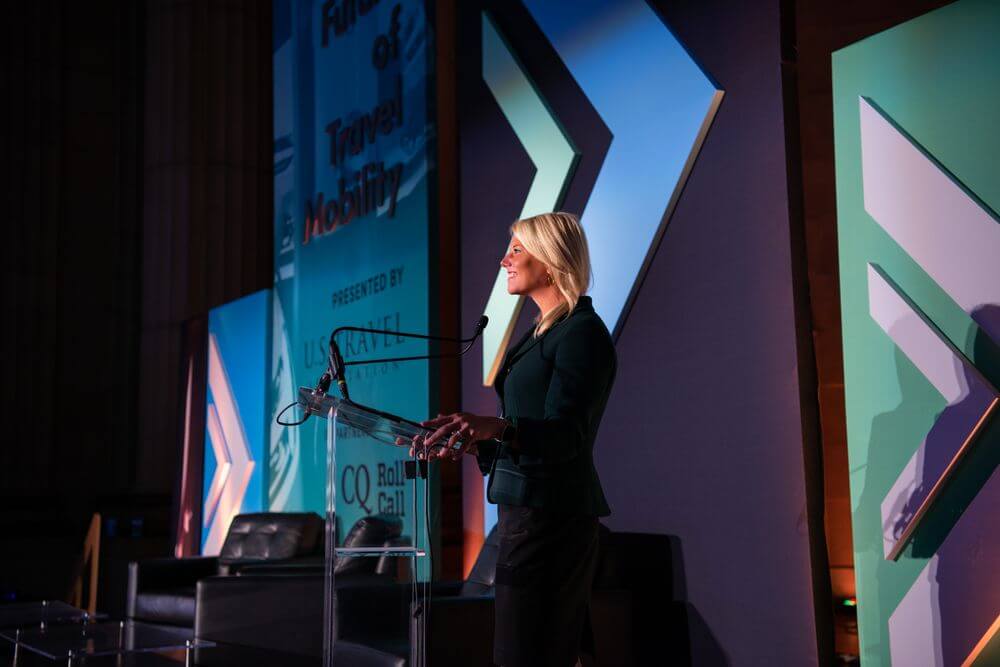 Is there a particular industry sector making advancements that people might not associate with sustainable travel?
Nearly every sector of travel has taken strides to increase their sustainability efforts — and some projects undertaken are not always top of mind when we think of the industry as a whole. For example, the national parks have been leading the way in toward sustainability by installing EV charging stations to help make travel to and around the parks greener. Progress has also been made to electrify the National Park Service's own vehicle fleets.
In the aviation sector, sustainable fuels (SAF) have the power to completely change the industry. Airlines have set aggressive goals for the future, but there are infrastructure, cost and other issues creating short-term challenges. If the federal government could make progress in addressing these issues — for example, by providing production and purchasing incentives for sustainable aviation fuels — it would propel the industry towards a more sustainable future.
At a local level, beach replenishment programs are crucial to protecting coasts, creating new habitats and enhancing beaches for recreation. Local governments, the Army Corps of Engineers and the U.S. Department of the Interior have worked together for decades on beach replenishment projects that protect our environment and are a vital economic driver for travel.
Supersonic commercial flights are on the horizon for international/transoceanic routes to and from the U.S. How will faster flights change the industry?
The trend in international inbound travel is that — between security lines, customs delays or capacity constraints — it is taking longer than ever to get from place to place. Supersonic commercial flights can drastically cut a traveler's in-flight time, helping to make the overall travel experience faster and encourage people to take to the skies more frequently.
Additionally, many travelers value having a sustainable option, particularly travelers from Europe. As many of the United States' top inbound markets are in Europe, more sustainable flights can help restore, protect and grow a critical segment of international inbound travel.
The economic opportunities for both are measurable and substantial. A recent survey of Americans found that 18% would travel more frequently if they had access to more sustainable flight options. Even more astounding, 47% of Americans said they'd travel more frequently to faraway destinations if they could fly on supersonic commercial flights.
If any business could do something to boost customer demand by 47% — or even 18% — I know they'd do whatever they could to make it happen; that's how the travel industry feels about the potential for supersonic, more sustainable flights.
Sustainable travel isn't solely about the traveler; it's about the workforce supporting the travel experience. Can sustainability initiatives improve the workplace experience?
Sustainability can certainly have an impact on the success of a business, which in turn can reinvigorate its workforce.
Corporate sustainability goals can help attract and retain talent. Many workers are "mission focused" and are happier working for a company whose values reflect their own. By leading on sustainability, our industry can lead in attracting top talent for the future.
Companies that engage in face-to-face business meetings have a competitive advantage, but many businesses also have internal sustainability goals that they need to hit, so they avoid business travel. Providing greener options for business travel — such as sustainable aviation fuels — can allow businesses to engage face-to-face, improve sales, enhance communication, build relationships and ultimately increase profits, while still adhering to sustainable travel practices.
Travel organizations across all sectors of the industry are pioneering sustainability solutions. I've highlighted airlines several times and I could name so many other sectors, but two that stick out are car rental companies and hotels. Car rental companies have been redesigning their fleets to include EVs, outfitting their locations with state-of-the-art chargers and taking crucial steps towards achieving long-term sustainability on our roadways.
In the hotel and lodging sector, many properties have achieved LEED certified status, established food waste management programs, and have shifted their housekeeping practices to reduce waste. These have had a measurable impact today and will only do more in the future.
National Plan Your Vacation Day is January 25. How can people plan more sustainable travel experiences?
A sustainable option for National Plan for Vacation Day is to choose a destination or attraction that's off the beaten path. For example, the Colorado Tourism Office has an initiative dedicated to dispersing visitors to every part of the state, beyond the main tourism hotspots.
Choosing tertiary destinations is a great way to see more of our country, support small businesses and reduce crowding in population centers.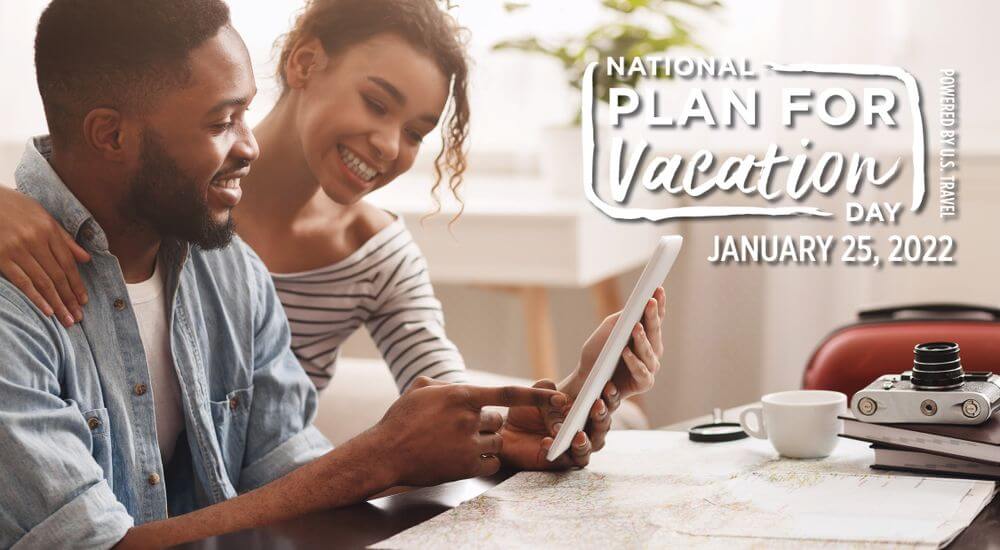 While the U.S. travel industry continues to face headwinds due to Covid-19, what are the bright spots that you're seeing?
Although domestic business travel and international inbound travel are still far below pre- pandemic levels, domestic leisure travel has rebounded and nearly fully recovered. There is still a strong desire among Americans to get out there and travel.
While the current economic forecast says domestic business travel and international inbound travel won't recover until 2024, we're optimistic that timeline can be shortened through smart federal policies.
This is also an opportunity to rethink how we travel and how travel will change in the future to ensure that we're able to share the beauty, excitement, learnings and culture that come with travel long into the future.
---
Learn more about the U.S. Travel Association here. Watch more highlights from the U.S. Travel's Future of Travel Mobility conference here, an explore Boom's work to build a more sustainable future of travel here.