Historically, supersonic flight has been an experience reserved for military pilots, air racers, and even astronauts. But thanks in part to the collaboration between Boom and Japan Airlines, access to supersonic speed will soon become a reality for millions of travelers worldwide.
In 2017, Boom and Japan Airlines formed a strategic partnership aimed at developing Overture, the world's fastest and most sustainable airliner. Investing $10 million with the option to purchase up to 20 Overture aircraft, Japan Airlines has continued to support Boom's supersonic vision by sharing expertise and perspective on operation and the inflight experience.
Why does this matter?
The return of supersonic travel will offer a variety of benefits. A flight aboard Overture will grant meaningful time at the final destination, reduce a traveler's post-flight fatigue, and even increase the convenience of traveling more often.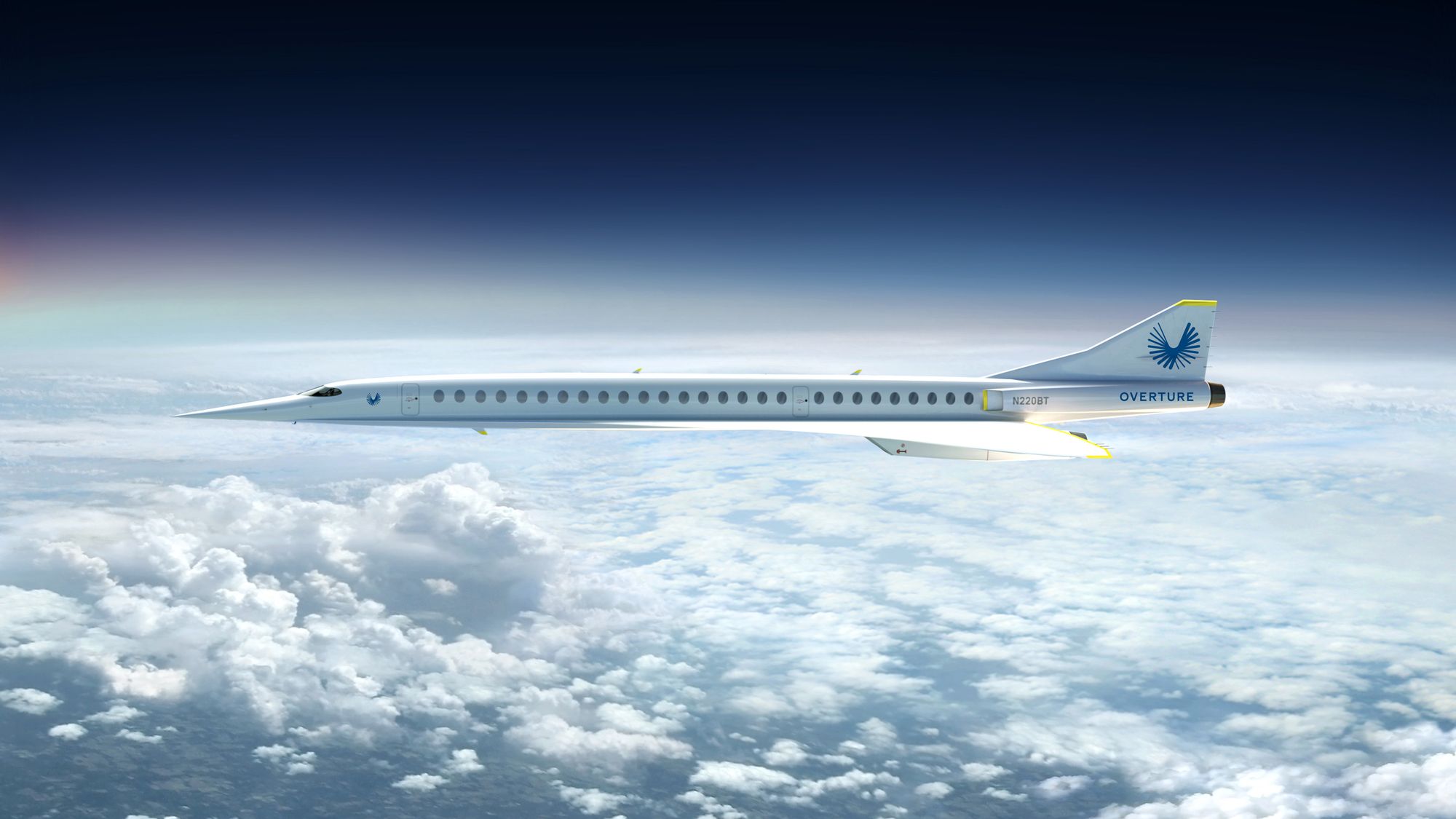 High speed access.
"A reduction in travel time would help travelers get to their destinations faster and equally important, return home more quickly," says Yusuke Yabumoto, Japan Airlines Director of the Silicon Valley Investment and Innovation Group. "World hubs like Tokyo could be reached from Seattle in 6 hours instead of 10, just as a Tokyo flight to Honolulu could be made in a short 4 hour jaunt, rather than a full 8 hour day."
"The given benefits of supersonic flight are clear," says Boom Founder & CEO Blake Scholl. "With added time, you can spend less time in the air and more time where it counts. Vacations can be extended and we can conduct business trips in hours instead of days."
Inflight relaxation.
Boom and Japan Airlines are driving to improve not just flight speed, but the inflight and post-flight experience as well. "Supersonic travel comes with a number of intrinsic benefits," says Scholl. "Shorter time on a plane means less sitting and less jet lag. While that's already going to be an added value for travelers, we're looking at Overture as an opportunity to dramatically advance the comfort, relaxation, and wellness benefits of being onboard. We asked ourselves, 'What if you could arrive feeling better than when you left?'"
Japan Airlines has a strong track record of exceeding its customers' needs and has been recognized for its punctuality, customer experience, and most recently, for its enhanced health and safety measures. Bringing meaningful industry experience to the table, Japan Airlines is helping Boom answer some of those key traveler questions. "We share core values of safety and inflight comfort," says Yabumoto of Japan Airlines. "With Boom, we're focused on developing the latest and most innovative solutions to meet those needs."
The partners have worked together for years in a co-location program between Boom's headquarters in Denver and Japan Airlines' base in Tokyo. "We offer our knowledge and experience in airline service," adds Yabumoto. "Combine this with Boom's technology, and you have a package for very reliable supersonic travel."
More destinations, more often.
A surprising secondary benefit of supersonic travel is less about the trips we take and more about the possibilities we can't yet imagine. One pre-COVID research study found that while 76% of Americans would like to travel more often, time and cost were two of the biggest preventative factors. Scholl highlights that supersonic travel will enable people to not only access more remote destinations but travel more frequently with that gained time. "We're removing the barriers that prevent people from experiencing the planet, by making flight not just faster, but more convenient and efficient for customers."
It has been years since the last supersonic airliner flew travelers across the world, but innovation in speed has continued forward. Scholl shares that this new technology is a piece of what enables a higher performance aircraft design. "We now work with rapid design software, new materials, and advanced propulsion systems that allow us to develop a high-performance airliner." By improving how supersonic aircraft are designed, Boom is able to push forward key features and improvements that customers care about.
Building a better future.
The technology for supersonic travel is supporting more than just performance. These high-efficiency aircraft also provide advanced sustainability value. "Overture will be able to fly at 100-percent carbon neutrality, meaning travelers can rest easy with the understanding that their trip will come at less impact to the environment," says Scholl.
"Boom is a partner that aligns with our vision for faster travel and for more sustainable flight, says Yabumoto of Japan Airlines. "And they have made significant investments to ensure environmental considerations are part of key decisions for Overture." Some of these investments include Boom's partnership with environmental-fuel supplier Prometheus, Overture's ability to operate on alternative fuel, design optimized for high-efficiency aerodynamics, and signing of Terra Carta and The Climate Pledge.
Travel faster. Experience more. Feel better when you arrive.
In less than a decade, travelers will enjoy much more than a speedup in transport time. Scholl and Yabumoto emphasize that there are many future benefits of supersonic travel. Greater access, inflight comforts, improved aircraft performance, and sustainability are just some of the ways Boom and Japan Airlines are ushering in a new era of travel.