Earlier this year, XB-1 was moved from Boom's hangar in Centennial, Colorado to the Mojave Air & Space Port in Mojave, California, continuing preparations for first flight. The aircraft has undergone extensive ground testing since arriving, including medium-speed taxi test events reaching 90 knots (104 mph).  
In preparation for flight, Boom's test pilots, including Tristan 'Geppetto' Brandenburg and Chief Test Pilot, Bill "Doc" Shoemaker, have completed hundreds of hours in the simulator for aircraft evaluation, operations development, training, and human factors assessments. The test pilots also maintain flight proficiency in a T-38 trainer aircraft, the same aircraft that will be used as a chase plane for all flight tests of XB-1. In August, XB-1 received its experimental airworthiness certificate from the Federal Aviation Administration (FAA), following a detailed aircraft inspection. Boom has also secured letters of authorization to allow Chief Test Pilot Bill "Doc" Shoemaker and test pilot Tristan "Geppetto" Brandenburg to fly XB-1.
Geppetto is a graduate of the United States Naval Test Pilot School (USNTPS) and TOPGUN Adversary. During his career, he has completed 2500 total flight hours in 30 different aircraft and executed over 200 carrier arrested landings. We caught up with Geppetto from the Mojave Air & Space Port to learn about what inspired his passion for aviation, his impressive naval background, and a road-less-traveled runway in the Outer Banks of North Carolina that leads to perfect beach days.
What inspired you to pursue a career in aviation?
In short, a yellow Piper Pawnee. I grew up on a farm in North East Colorado and I was pretty sure I wanted to be a farmer, just like my granddad. I was helping him irrigate a hay field one day when the yellow Piper Pawnee flew low and fast right over our heads, continued down lower, sprayed a mist in a wide, straight line, then shot up in the sky to turn around and do it all over again. My granddad explained the concept of agricultural aviation to me and I was fascinated. I clearly remember standing in the mud, leaning on a shovel, being bitten by mosquitos, and thinking, "and he gets paid for that?"
What career paths can someone take in becoming a pilot? Why did you choose this one?
The more I fly, the more I appreciate the diverse types of flying and the different career paths people take to get there. It seems like just about every pilot I fly with has had some different experience and can teach me something new. One of my friends went to college for an aeronautics program to become a pilot. Now she's a flight instructor teaching new students how to fly. Although she hasn't been flying as long as I have, she's been able to teach me some things about flying small airplanes or stories about flying with students that have helped me become a better pilot. Many of my friends fly for the airlines, another flies medevac helicopters, and I've even made friends with a couple of ag-pilots, like the one who inspired me to become a pilot in the first place.
For me, I chose the military route. I was in high school on 9/11, so that had a pretty big impact on me. I was already considering the military, so that just cemented it in my mind. The Navy was my choice because I wanted to fly off of aircraft carriers. While at the Naval Academy, I studied Aerospace Engineering and took a class in Flight Test Engineering from one of my professors who was a Navy Test Pilot. I loved the idea of approaching flight from an engineering perspective, really figuring out what the airplane was doing and why, and ultimately how to make it better.
After graduating from the Naval Academy, I went to flight school and was selected to fly the F/A-18 Super Hornet. I absolutely loved flying the Super Hornet operationally, but I was still interested in helping to develop the future of Naval Aviation and was selected to attend the U.S. Naval Test Pilot School and fly developmental flight tests at Air Test and Evaluation Squadron 23 (VX-23) in Patuxent River, MD. While at VX-23, I had the opportunity to test new systems on the Super Hornet before they were released to the fleet. The experience I gained while at VX-23 has served me well in preparing to fly XB-1.
What's the most memorable moment you've had in the air?
There have been a lot of them. From landing on an aircraft carrier in the middle of the Pacific Ocean, to flying a Mirage 2000D through the French Alps, to landing an Albatross on Lake Mead, to flying with my daughter, I've been very blessed to get to do some pretty cool things in the air. The one that really sticks in my mind is an event called the "Sailor of the Year Flight." Once a year, one or two exceptional Navy Sailors are allowed to choose a pilot to take them for a ride in a two-seat F/A-18. I have been fortunate enough to be that pilot a couple of times, which means the world to me. It takes a lot of people to get an F/A-18 in the air and most of them never get to experience what is made possible by their hard work.
To take a well-deserving Sailor up, show them what they make happen, and dedicate an entire flight to just doing the things they want to experience, means a lot to me. It's hard to beat hearing the exhilaration in my plane captain's voice as he says "I'm okay" after pulling 7.5 Gs, or the excited scream of an airframer in my back seat as we accelerate down the runway in full afterburner and pull into the vertical.
What is your favorite route or place to fly?
There is a small little runway on the Outer Banks of North Carolina. My wife, daughter, and I used to fly down there in our Mooney from Patuxent River, MD when we were stationed there. The runway is right on the beach. We'd park the plane, walk across the runway, over a sand dune, and find ourselves all alone on one of the best beaches in the world. I love how that little airplane made the world so much more accessible. What would have been a six or seven hour drive was just over an hour in the plane. I'm not sure I would have the memory of seeing my two-year-old little girl running away from the waves as they crashed on that beach without that airplane!
Tell us about your experience at Boom working with the XB-1 team.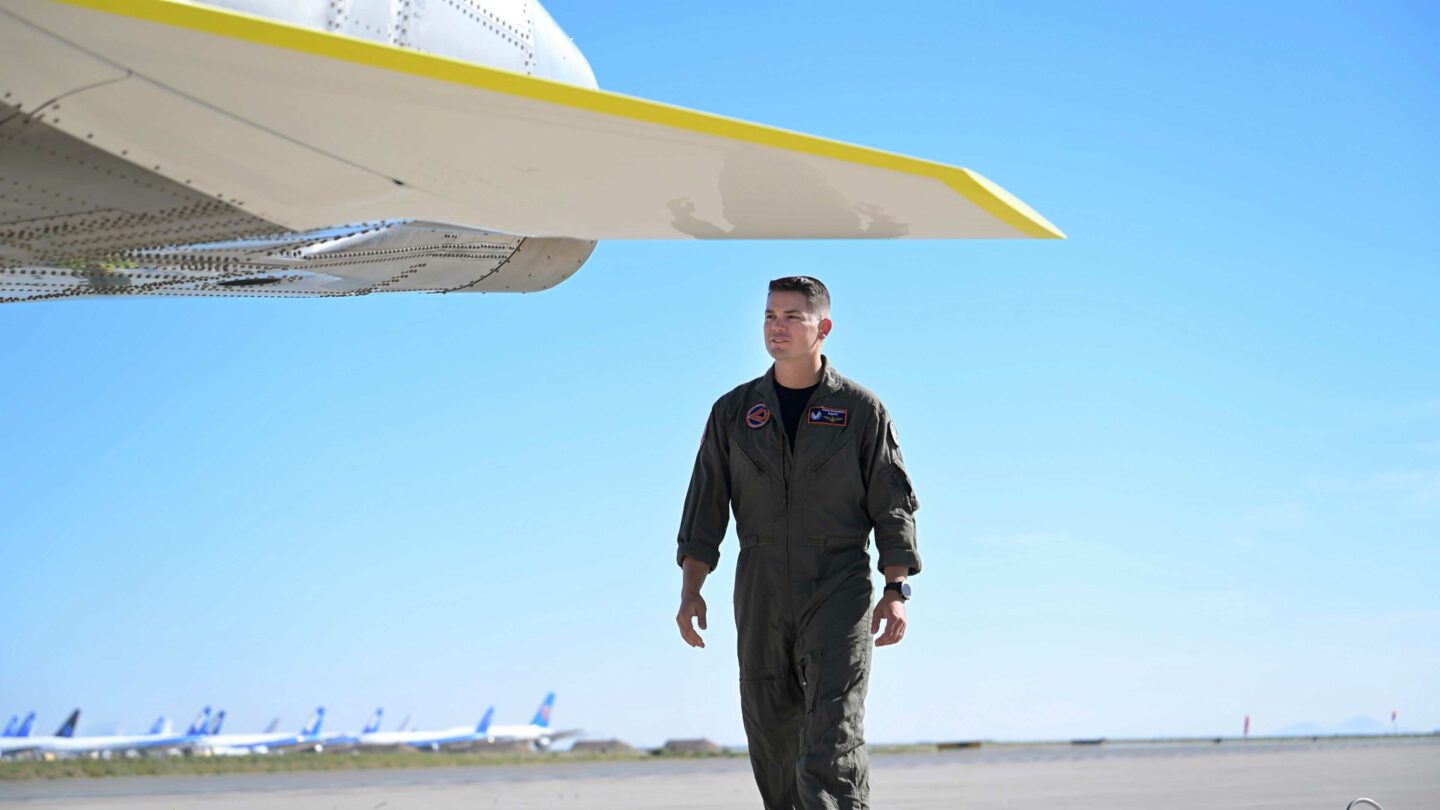 I've been with Boom full time for about a year now. I joined as XB-1 was getting ready to be sent out to Mojave. One of my first projects was to write the flight manual to include the emergency procedures. This provided a great opportunity for me to learn the systems of the aircraft and think about how we would handle any circumstance as a team.
The really cool part of this was that I had access to the engineers who designed the systems and the technicians who physically built the airplane. I was absolutely blown away by the talent of the team- everyone is truly an expert at what they do! Since then I've been working to help prepare the team to transition their mindset from designing and building an airplane to testing an airplane. Part of that is testing the emergency procedures we worked on together in the simulator and the best part is taking those same engineers and technicians flying in the T-38 so they can have a better understanding of what we will be doing in XB-1.
What are you focused on now?
I'm in Mojave with the XB-1 team getting ready to fly. We're going through the last bits of ground testing to make sure this incredible airplane is really ready to fly.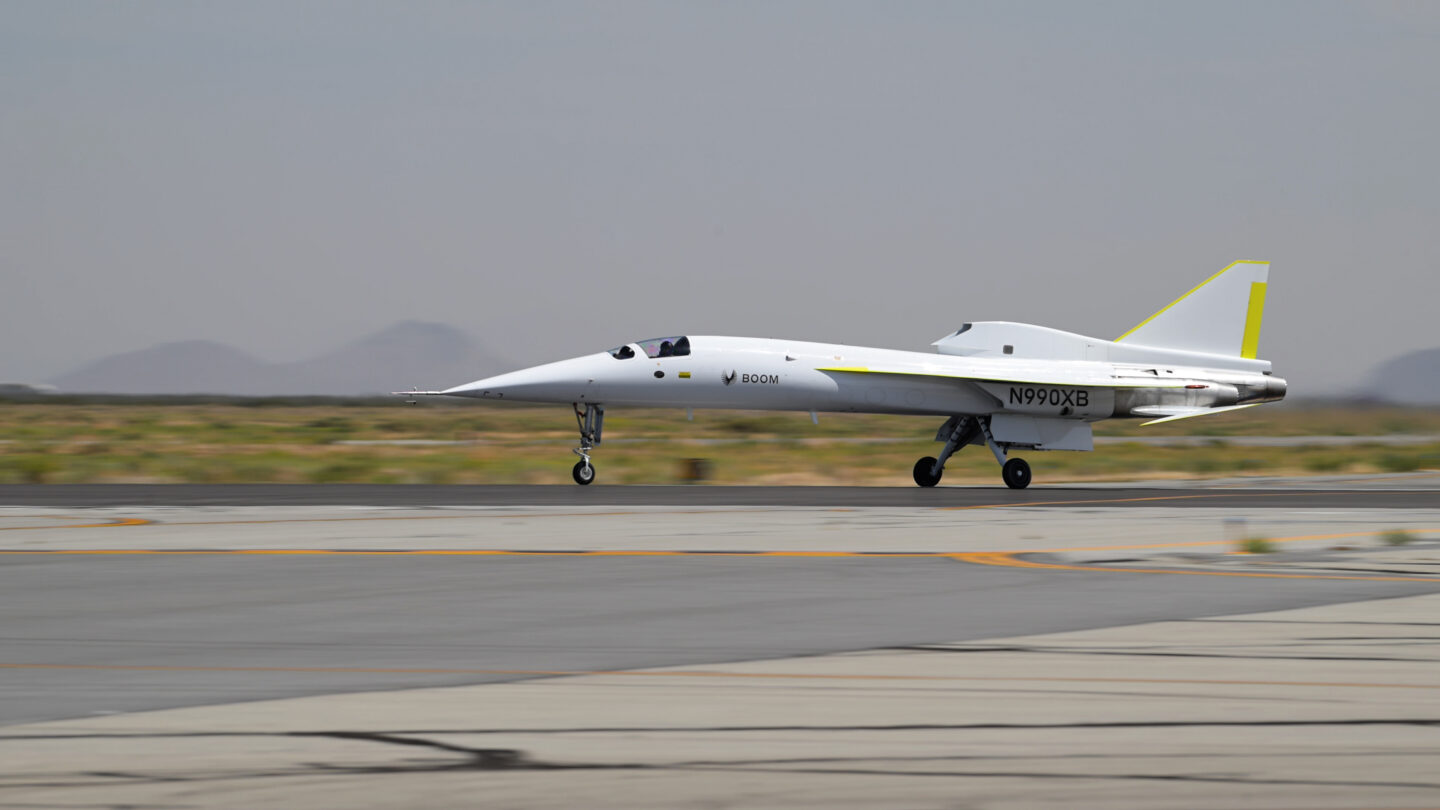 How often do you fly, and what do you fly?
Flying is definitely a perishable skill, and we will want to be on our A-game when it's time to fly XB-1. Doc and I are both flying a CF-5D, T-38A, L-39C, and a couple small airplanes about six hours a month to keep our skills sharp. One of the things we practice is landing the T-38 from the backseat. We won't be able to see out of the front of XB-1 when we land, so we're practicing landing with reduced visual cues. In order to do this, we have a Landing Signal Officer (LSO) watching from the side of the runway and talking to us to help us land safely.
This is a somewhat familiar process since Doc and I both landed under LSO control in the Navy, but it's been really interesting translating that process designed for airplanes that fly a constant glideslope to touchdown to an aircraft that flares to land. I'm also flying the F-5N with VFC-204 in New Orleans as a Navy Reservist. We provide adversary support to F/A-18 and F-35 squadrons training new pilots or preparing to deploy.
What has been the most exciting moment working at Boom and what are you looking forward to?
The most exciting moment so far was my first time getting to work with the team and run a ground test. I remember walking up the air-stairs to get in XB-1's cockpit, looking around thinking "surely someone is going to stop me." It was also cold that day and we had to remove the snow and ice from the ramp before we could start. I knew I was with a good team when everyone, regardless of their job, was out there with a shovel trying to get the ramp clear so we could get going.
Flying XB-1 will truly be a dream come true. The team has been working very hard to get to this point, and the first flight is not far away. Projects like this don't come around very often and getting to be a part of it is very special. I'm grateful to be a part of this team and can't wait to see what we can do!
XB-1 progress and development
XB-1 leverages 60 years of progress in airplane technologies like carbon fiber composites, advanced avionics, and digitally-optimized aerodynamics. The aircraft features a carbon composite and titanium fuselage. Its ogive (modified delta) wing enables safe operation at takeoff and landing as well as supersonic speeds. The three General Electric J85 engines that power XB-1 produce a combined maximum thrust of 12,300 pounds of force (lbf).
Watch recent taxi tests here and stay tuned for updates as XB-1 continues preparations for first flight.